Photos By Duane Vickers
As someone that has been attending concerts for well over 30 years, I've seen quite a few and have traveled well outside of wherever it was that I called home at the time to attend many shows. I've slowed down on that quite a bit in recent years mainly because the level of performance from a lot the bands of my day (The 80s) isn't good enough anymore to make it worth the trip. Most of the bands from that era of rock have gone thru lineup changes and in some instances, are down to their last original member and sound nothing like what brought us to them in the first place. Now with that said there's still an 80's rock band out there performing all over the world and at the highest level that I travel coast to coast to see and that of course is NIGHT RANGER. The band is celebrating their 35- year anniversary as well as their latest album Don't Let Up which was released back in March of this year on Frontiers Records.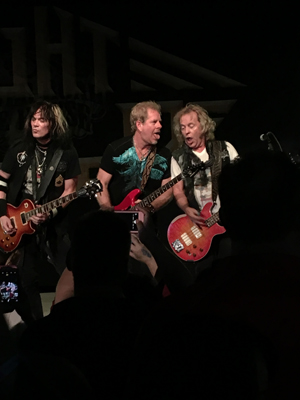 Luckily when this show was dropped into their schedule it was just going to be a short under a three- hour drive from Houston to New Braunfels, TX. I had never been to this venue but I knew that it booked a lot of country bands. We had no issues finding the venue but it was literally out in the middle of nowhere. They say to never judge a book by its cover and that's certainly the case with the River Road Ice House. Looking from the outside you'd probably ask how any band is going to play here, but that's quickly answered once you enter. I found this to be a great venue for fans with a big open standing area in front of a nice sized stage on par with what you'd see at maybe a House of Blues. Behind the standing area there's a hill that has seating running up the hill and a lot of standing room behind that with a courtyard complete with a bar and tables. Adjacent to the stage there's rooftop seating. The owner told me they could fit around 2,000 people. The only complaint I had was that getting into the venue was a bit unorganized.
We did a meet and greet before the show so we missed local opening band STOMPDRAG. At 10:00 PM it was time for NIGHT RANGER. In what has become somewhat customary the band hit the stage with "Touch Of Madness" off of their most successful release, Midnight Madness. No matter how many times I see it, Brad Gillis (Founding Member, Lead Guitars) never disappoints in closing this song out with his own "Touch of Whammy Bar Madness" to set the tone and let you know that you're about to have your ass kicked. Gillis has mastered his craft and stage presence thru the years and along the way has managed to become one of the most influential guitarists to come out of the 80s.
Next the band seamlessly went into "Four In The Morning" from 7 Wishes with Eric Levy (Keyboards) letting loose with the opening keys and Jack Blades (Founding Member, Lead Vocals, Bass) doing what Jack Blades does best, delivering an ultra-high energy performance and making the audience his for the next hour and thirty minutes.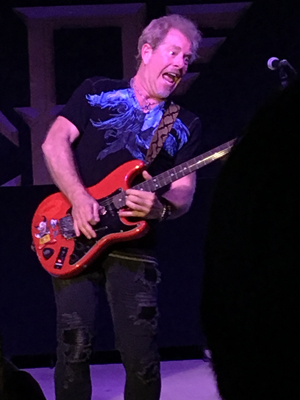 "Sing Me Away" from their debut Dawn Patrol was next with Kelly Keagy (Founding Member, Lead Vocals, Drums) on vocals. It was great to see Kelly back behind the kit tearing it up after taking some time off earlier this summer following a procedure to correct a heart abnormality. Back and stronger than ever Kelly gave a stellar vocal performance while keeping perfect time.
Next the band paid homage to Blades time in the Super Group DAMN YANKEES with the hit "Coming Of Age". For me that will always be a NIGHT RANGER song. It would have just as easily fit on to one of their albums. They followed with "Secret Of My Success" from Big Life and The Secret Of My Success soundtrack.
Taking a break in the set Blades announced to the crowd "It's great to be back in Texas, it's been a while" and that "NIGHT RANGER first played Texas in 1982 opening for Sammy Hagar" which brought a lot of cheers from the audience. Then Blades asked "How many are seeing NIGHT RANGER for the very first time" and surprisingly there were a lot of hands raised. At that point Blades announced the band's new album Don't Let Up and went into the opening track "Somehow Someway" and of course live shows being what they are there was a technical glitch on the opening line but laughing it off and carrying on the band delivered just fine. Afterwards Blades laughingly told the audience "That's what we in the music business call a Fuck Up".
Going back to the 7 Wishes album, it was Keagy's turn again on vocals delivering the hit "Sentimental Street". Then came some guitar recognition as Blades introduced newest member Keri Kelli (Lead Guitar, Vocals) and informed the audience that Kelli had played in the ALICE COOPER BAND for ten years which lead into the band covering "Schools Out" for an audience sing along. Then paying tribute to Gillis' time with Ozzy Osbourne the band covered "Crazy Train". The audience loved it, but my only complaint here is that NIGHT RANGER has so many great songs that don't get played, this is where they could fit into the setlist. However not every audience is filled with diehards so for the band, having the audience singing along playing the covers here goes over pretty well.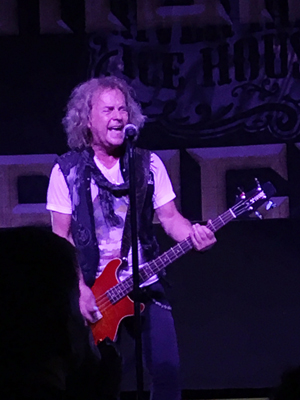 Rounding the set out were the DAMN YANKEES cover "High Enough", "Goodbye" from 7 Wishes, "When You Close Your Eyes" from Midnight Madness and "Don't Tell Me You Love Me" off of Dawn Patrol. Not leaving the stage the band closed the show with their mega hit "Sister Christian", with great audience participation, and their rock anthem "You Can Still Rock In America", both from Midnight Madness.
On a hot night in Texas after starting their day in Jefferson City, Missouri NIGHT RANGER came in showing no signs of jetlag and took control of the packed house and delivered a high energy set full of hits and had fans old and new singing right along with the band. Father time being undefeated, you'd expect a band with 35 years into it to show some signs of slowing down, maybe with some other bands but not with NIGHT RANGER. Brad Gillis and Keri Kelli work the stage from both directions, trading leads and sharing dual harmonies. It's really been exciting to watch Kelli's progression in the band over the past few years and to see the chemistry grow between he and Gillis on stage. Jack Blades continues to be the consummate front man taking control of the audience like only he can while delivering the vocals just like he recorded them. Jack Blades didn't get the memo that it's 2017, not 1985 because you're seeing the same guy pour it all out there just like he did back then. I can't say enough about Kelly Keagy's performance. After facing some pretty serious surgery just a few months back, the guy just sings his heart out and completely destroys the skins.
The guys have a great time on stage, it truly shows and their energy feeds the crowd. You can't fool an audience and that's always been NIGHT RANGER, big guitar fun rock. And over the years they've not been immune to lineup changes but with the nucleus of the band (Blades, Gillis and Keagy) intact and their creative juices continuing to give life to new great material, along with Keri Kelli and Eric Levy NIGHT RANGER is still bringing it and giving their fans a great night of rock and thankfully they show no signs of letting off the pedal.
Setlist
"Touch Of Madness"
"Four In The Morning"
"Sing Me Away"
"Coming Of Age" (DAMN YANKEES)
"Secret Of My Success"
"Somehow Someway"
"Sentimental Street"
"Schools Out" (ALICE COOPER)
"Crazy Train" (OZZY OSBOURNE)
"High Enough" (DAMN YANKEES)
"Goodbye"
"When You Close Your Eyes"
"Don't Tell Me You Love Me"
"Sister Christian"
"You Can Still Rock In America"