NOCTURNAL RITES Phoenix


By Alex Yarborough, Orlando Contributor
Friday, September 29, 2017 @ 3:55 PM


| | | |
| --- | --- | --- |
| | | |
NOCTURNAL RITES
Phoenix
2017 AFM Records




We last heard from Swedish power metallers NOCTURNAL RITES in 2007 with their album The 8th Sin. Fast-forward ten years; a decade somehow simultaneously seems like forever, and not very long at all. The appropriately titled new album, Phoenix, the band's ninth studio album, finds the band rising from the ashes to stake their claim as one of the best in the genre once again. Bassist Nils Eriksson described the absence as "kind of mind-boggling. We never planned for this hiatus, time just sort of flew". This was a band I followed closely, and I was puzzled by their disappearance. I find it humorous that the band just called it "taking their time working on the next album". Since the last album, the band added Per Nillson (SCAR SYMMETRY) on guitar (replacing Nils Norberg), and still features Owe Lingvall on drums, Fredrik Mannberg on guitar, and Johnny Lindqvist on vocals.

Phoenix begins with the dynamic, dark riff and bounce of "Heart Black As Coal". Staccato power chords give way to a high-reaching impassioned chorus and keyboard accents. Next track, "Before We Waste Away", is a standout track featuring a sing-along chorus fans will love. "The Poisonous Seed" is a speedier track propelled by keys and double bass drumming. "Repent My Sins" plays effectively on a more emotional mid-tempo feel that NOCTURNAL RITES are so good at presenting. The band released a performance video for the song that you can view on KNAC.COM HERE. "What's Killing Me" is a frantic, fast-paced power metal track; check out the lengthy solo on this song. "A Song For You" is another pick of mine, featuring an impressive melody from Lindqvist, who really drives the song from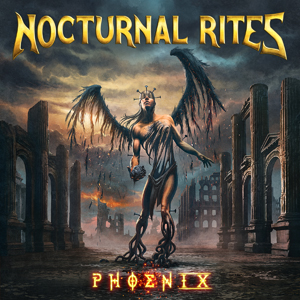 beginning to end. But nothing compares to the emotion and chorus of "The Ghost Inside Me". Wow, this song is amazing--simply a masterpiece. "Nothing Can Break Me" and "Flames" are solid tracks, and "Used To Be God" features a satisfyingly heavy riff. "Welcome To The End" is a worthy closer, featuring a quicker tempo and big chorus. The orchestral accents give the song a prog element as well.
Phoenix is supremely crafted and produced for maximum heaviness. The guitar work and drumming is exceptional, and Jonny Lindqvist has never sounded better. How good is this guy? He's amazing. If you are already a NOCTURNAL RITES fan, you will not be disappointed in Phoenix. Fans of bands like KAMELOT and BRAINSTORM are going to love Phoenix as well. It's a fine return, and helps ameliorate the absence of NOCTURNAL RITES during the past decade. Let's hope this new album keeps them operating on a regular basis again, with albums and tours. The band is already set to reprise their ProgPower USA appearance in Atlanta in 2018. Phoenix features 11 tracks, clocking in at 47 minutes and will be released September 29th in Europe and October 6th in the US. Welcome back NOCTURNAL RITES!
4.7 Out Of 5.0
Grab your copy of Phoenix in the KNAC.COM More Store right HERE.




Please log in to view RANTS

If you don't have a username, click here to create an account!