All Photos By "Gnarly" Charlie
It was a sell-out crowd at the legendary Troubadour last Thursday, as Michigan rockers GRETA VAN FLEET played their first of four headlining dates scheduled for this month in Los Angeles.
Opening the show was WELLES, a Nashville-based band fronted by singer/guitarist Jeh-sea Wells. The foursome played a half-hour set of raw, guitar-driven songs with a psychedelic post-grunge flair.
GRETA VAN FLEET kicked off their set with "Talk On The Street", an unreleased song that the energetic crowd clearly recognized from YouTube. They quickly built the excitement as they followed with "Black Smoke Rising", the title track of the EP released last April, and the crowd was theirs.
Although the young band is unabashedly derivative of LED ZEPPELIN, they are also undeniably talented. While the most prominent member is lead singer Josh Kiszka, what drives the band is drummer Danny Wagner and bassist Sam Kiszka. Together, their rhythm provides a lush bottom that is the soundscape for Josh's vocals and brother Jake Kiszka's guitar work.
Displaying even more of their bluesy side, the band kicked out "Evil (Is Going On)", a Willie Dixon classic, most noticeably covered by HOWLIN' WOLF. They delivered with a brash swagger, Josh riffing off Jake's blustery guitar licks, and that powerful rhythm of bass and drums was an ample platform for Josh's vocals to soar.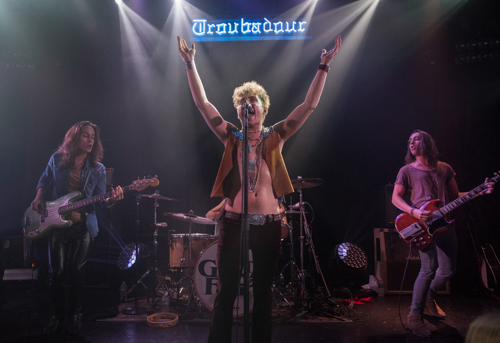 "Highway Tune", the chart-topping, debut single from their EP was performed with a luster that rivals the studio version. Danny Wagner took the spotlight at the end of "Safari Song", playing a short, but thoroughly impressive drum solo. A stratospheric scream by Josh Kiszka was a perfect accompaniment to the audience's thunderous applause.
Setlist:
"Talk on the Street"
"Black Smoke Rising"
"Edge of Darkness"
"When the Cold Wind Blows"
"Flower Power"
"You're the One"
"Evil (Is Going On)"
"Watching Over"
"Lover Leaver Taker Believer"
"Highway Tune"
"Safari Song"
Check out some more photos from the show!
All Photos By "Gnarly" Charlie