WEDNESDAY 13/EYES SET TO KILL In Ottawa, Canada


By Andrew Depedro, Ottawa Corespondent
Friday, October 27, 2017 @ 12:08 AM


| | | |
| --- | --- | --- |
| | | My Home Sweet Turkeycide: WEDNESDAY 13 And Guests Give Thanks To The Brass Monkey For Stuffing Them Full Of Early Canadian Pilgrim Cheer, October 8, 2017 |
Profanity! Moral Outrage! Butterball turkey from Costco! Cranberry sauce! Stuffing!

And, also, my friend Dennis had just moved back to Ottawa after several years living in Toronto so this was the perfect setting for his homecoming. Not to mention that with half of the bands on this bill being from the US, they likely weren't expecting an early Thanksgiving feast until at least a month later depending on how long the Condolences Across America tour would be carrying on across the continent.

With that said, due to a sudden but thankfully easily resolvable emergency, I'd missed the local openers DISTORTHEAD and CREEPING BEAUTY but managed to make it in time for REPULSUR's set. The female-fronted quartet from Dallas describe themselves as "gun-slingin' sons-a-witches out to shock your rock and glam your shim sham!!! Put our noise in your ear holes!!!" who like breaking things with baseball bats. As opposed to, say, Eveready Ed, who just breaks stuff by accident. In real life, they likely kept their dressing room clean and orderly and without damage from baseball bats. Otherwise, would that have been any way to thank your hosts after a full turkey meal? Anyway, REPULSUR channel their rage into some decent glam with some modest helpings of punk rock, giving their sound a modern feel. Frizzy-haired goth-looking frontwoman Leringitis channels as many of her influences at once (they range from Bowie to Marc Bolan to Prince to Jack White among others) as she belts out numbers such as "Static Electric Welcome" and "The After School Special" while her backing band, comprised of Kitty (guitar), Dave (bass) and Eddie (drums - he even broke a cymbal at the end of a song. This isn't just Kafkaesque - it's KNAC-esque!) create the chaotic soundtrack of glam, punk, funk and whatever else can be fitted tight enough inside the proverbial box for it to be spectacularly broken. Their name might initially come off as a band trying too hard to shock, but sometimes first perceptions are meant to be obliterated. It's where REPULSUR clean up well in that department.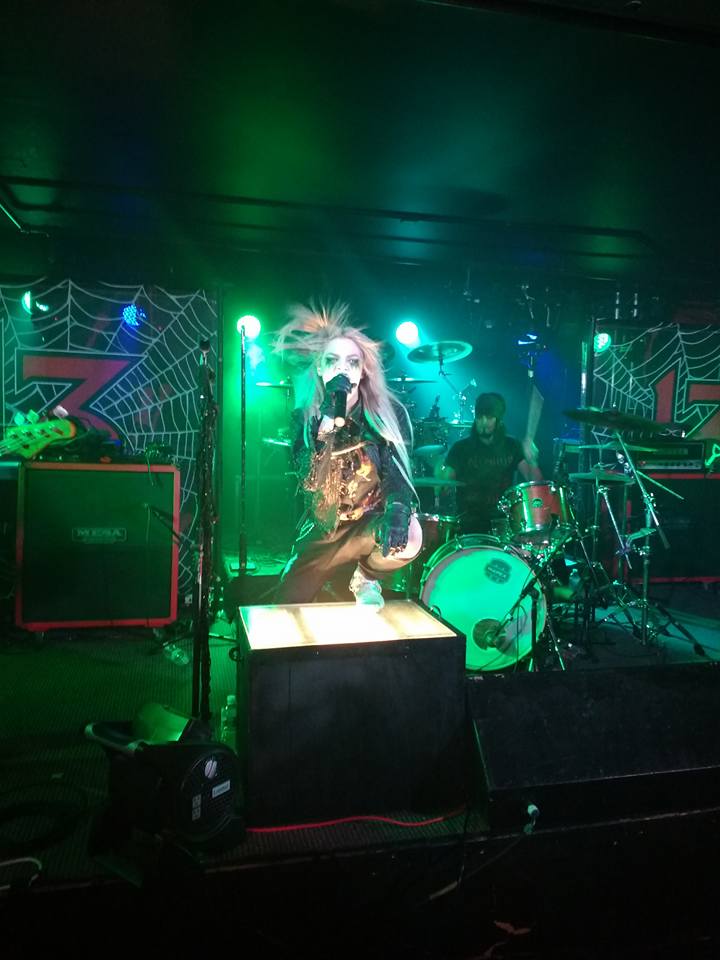 https://www.facebook.com/Repulsur/
https://www.repulsur.com/
Co-headliners EYYES SET TO KILL take the stage with what appears to be a significantly different lineup than from what I've known about the Phoenix, Arizona-based band. Formed back in 2003 by sisters Alexia and Anissa Rodriguez, the band have brought their brand of hardcore/emo hybrid to the masses, with five studio albums under their belts to boast of. Four years since 2013's Masks the current lineup is narrowed down to a quartet. Specifically, it's Anissa Rodriguez who's not in the lineup, having left the band last year. Vocal duties are shared between the pink-haired vocalist Alexia and rhythm guitarist AJ Bartholomew, particularly during "Haze" and "Little Liar". And while they've never been particularly high on my musical radar, EYES SET TO KILL managed to get my attention as Alexia belted out the closing number "Darling". She was a burst of energy throughout the performance, bouncing around the stage yet in full control of her domain whether she was handling the mic or handling rhythm guitar duties. In short, EYES SET TO KILL seemed like a band focused and destined for further stardom regardless of the obstacles before them. Maybe they should consider a name change to EYES ON THE PRIZE. Or not.
https://www.facebook.com/eyessettokill
https://www.instagram.com/eyessettokillofficial
(I'll probably end up joining the dreaded Instagram community in due time based on Alexia's recommendation)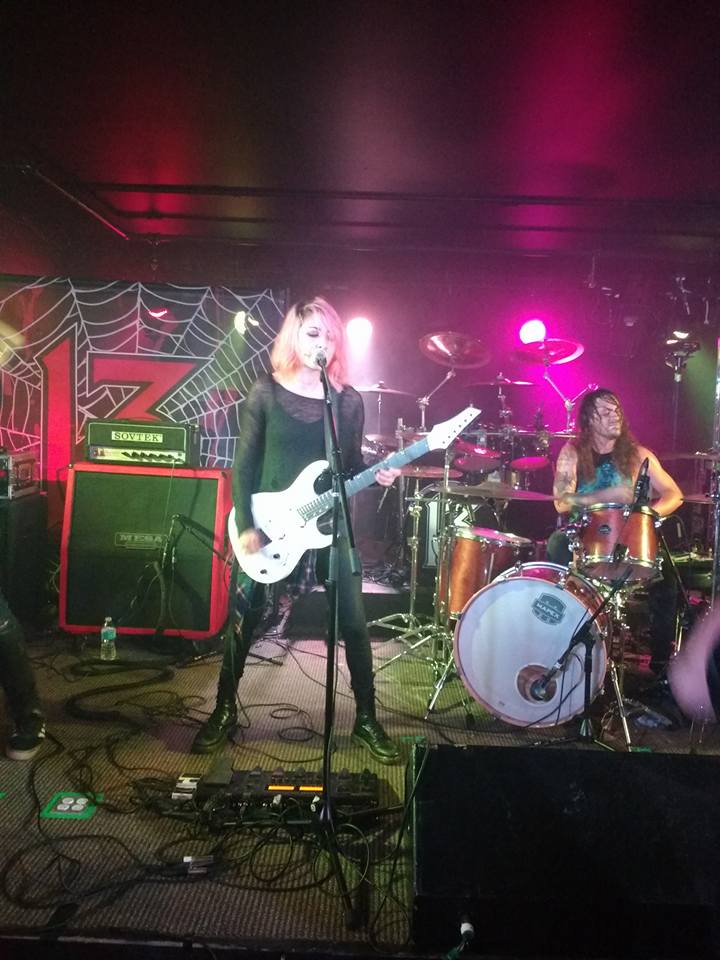 He might have come out a bit too soon during the height of the MARILYN MANSON's mid-90's goth/industrial hype with his first known band the FRANKENSTEIN DRAG QUEENS FROM PLANET 13, but over time, WEDNESDAY 13 has hit success on his own terms. And while also not a performer or band that gets my attention as much as they probably should, WEDNESDAY 13 definitely put on an eye-catching show that was as much all-thrills as it was all-frills. Flanked by his corpse-paint-wearing bandmates and a dizzying light show that somehow managed to not invoke seizures amongst the large crowd, WEDNESDAY 13 worked off his turkey meal with as much of his current material - his recent and seventh album Condolences - as his earlier work to the crowd's delight. He opened with "What The Night Brings" and took the crowd on a 90-minute hellbound ride with no intentions of stopping. WEDNESDAY 13's songs are often steeped in horror themes such as "I Walked With A Zombie" and "The Ghost Of Vincent Price" or straight-up goofy songs from his FRANKENSTEIN DRAG QUEENS era such as "Rambo" and "I Love To Say Fuck". But it's the more serious songs such as "Eulogy XIII" and the title track of his latest album that brings out WEDNESDAY 13's inner monster and makes good on its promise to both shock and awe without any cartoonish theatrics (granted, he occasionally reads from a copy of a hotel room bible during "Eulogy XIII" but it's strictly for lyrical impact; at least he wasn't flattened by faulty stage props). By the end of the show, we've all been able to exorcise our proverbial demons and sweat out that turkey stuffing thanks to the ghoulish freakshow that was WEDNESDAY 13 13's live show.
And I got caught up with Dennis from our Metal Nite At The Royal Oak days and got photo ops with the frontwomen of REPULSUR and EYES SET TO KILL despite being the only concertgoer dressed in fluorescent green and having cycled to the show.
Thanks be to the Brass Monkey for putting this show together and to Skotti for putting together a massive turkey feast for all of the bands involved!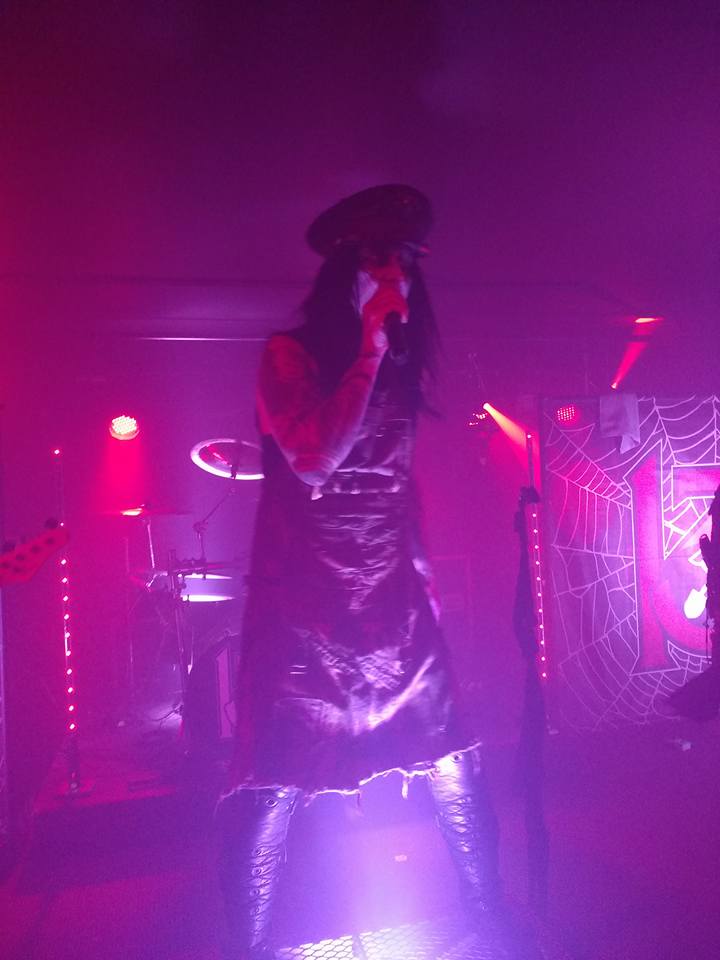 http://officialwednesday13.com/
https://www.facebook.com/officialwednesday13
Setlist:
"What The Night Brings"
"Scream Baby Scream"
"Keep Watching The Skies"
"Cadaverous"
"Rambo" (FRANKENSTEIN DRAG QUEENS FROM PLANET 13 cover)
"Serpent Society"
"The Ghost Of Vincent Price"
"I Want You Dead"
"Condolences"
"Prey for Me"
"I Walked With A Zombie"
"Eulogy XIII"
"I Love To Say Fuck" (FRANKENSTEIN DRAG QUEENS FROM PLANET 13 cover)




Please log in to view RANTS

If you don't have a username, click here to create an account!