WITHERFALL Nocturnes And Requiems


By Nathan Dufour, Great White North
Tuesday, November 7, 2017 @ 12:45 AM


| | | |
| --- | --- | --- |
| | | |
WITHERFALL
Nocturnes And Requiems
2017, Self Released




Nathan According to the font of all human knowledge, "A supergroup is a music group whose members are already successful as solo artists or as part of other groups or well known in other musical professions." By that measure, WITHERFALL ostensibly fits the bill. Comprised of current and former members of the brilliant WHITE WIZZARD, the criminally underrated INTO ETERNITY and CIRCLE II CIRCLE, and the perennially loved ICED EARTH, one would be forgiven in the thought that WITHERFALL is an attempt to cash in on name recognition and simply rehash ideas already presented in the musician's other endeavors. That would be wrong.

A collaborative effort between Jake Dryer, Joseph Michael, and the dearly departed Adam Sagan, Nocturnes And Requiems shows artists aware of their past, of their strengths, and looking forward to the creation of something wholly original. "What We Are Dying For", second track of this virgin outing, perfectly encapsulates what WITHERFALL are about: soaring vocals, spot on guitar work, rumbly bass, and percussive perfection. Setting the bar high is a wonderful place to start off, especially for such a seasoned stable of players.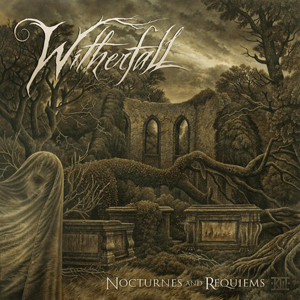 Reaching into ballad territory while not fully embracing that concept in the same way it may resonate in your mind, "The Great Awakening" finds Joseph Michael stretching his voice out with spectacular results before finding a mid range timbre, backed by minstrel-esque strings in the background, lending shades of delicate and emotive resonances before the song explodes into a climax of full band insanity, Sagan hammering away on the drums like they owe him money, before transitioning seamlessly into the next track "End Of Time". This is progressive metal with a flair not unlike a story once told about Metroplis. Scenes flash through my memory, specifically of first being told about WITHERFALL around 2013 or 2014 by my friend, Adam Sagan.
The album title came to Sagan in a dream, and as a first outing years in the oven, Nocturnes And Requiems is not perfect, but damn close. The album is a must for all fans of progressive metal and power metal as well, as the band definitely flirts with that side of the spectrum without trying to take the fire from the dragon. It hits hard, the care and love of composition clearly heard through each of the eight tracks on display here. But don't just take my word for it, WITHERFALL has recently signed with Century Media, are re-releasing this album, and are up for 2 Grammys. The band has also recruited yet another powerhouse drummer in Steve Bolognese, also formerly of INTO ETERNITY, and you should definitely watch out for them in the future.
Adam Sagan smiles from beyond. You did good, buddy. You all did.
4.75 Out Of 5.0




Please log in to view RANTS

If you don't have a username, click here to create an account!