WARRIOR SOUL Back On The Lash


By Daniel Höhr, European Correspondent
Monday, December 18, 2017 @ 1:55 PM


| | | |
| --- | --- | --- |
| | | |
WARRIOR SOUL
Back On The Lash
Livewire/Cargo Records UK




On their present release, Back On The Lash, Kory Clarke and his colleagues from WARRIOR SOUL – the press info lists Stevie Pearce on guitar and Christian Kimmet on bass – seem to be returning to past musical values in the form of simple rock songs with a clear 'fuck you' attitude. It kind of picks up where the 1993 Chill Pill album left off: rough and intense rock 'n' roll, a good dash of punk, a pinch of hardcore and a generous dose of vulgarity.

The 32-minute long profanity fest on Back On The Lash starts with the 1:44 track "American Idol", which is not more than Kory shouting over a dull guitar riff, whose lack of originality is hard to beat but the track definitely sets the tone for the rest of the album, ending with the line: "fuck you, I am the American Idol". You hear the whole band on the second track, "I Get Fucked Up", a dirty booze-drenched rock 'n' roller about, well, getting fucked up. The band grooves like hell, the sound is full and fat, and this needs to be played loud. And it pretty much continues in this vein – stomping hard rock, simple but effective riffs that AC/DC would have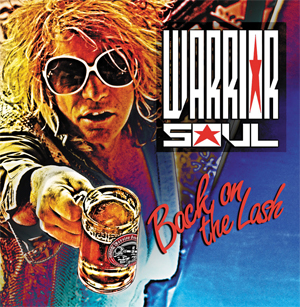 discarded but that work perfectly here, basic formulas and song structures as well as Kory's coarse voice always in the foreground. In the enormously catchy title track we learn that Kory is "back on the booze", which is the ubiquitous leitmotif on Back On The Lash. "Thrill Seeker" features some great lead guitar parts and a killer bass groove. "Black Out" is enormously punky while "I Got The Rock" reduces the tempo a little bit but not the intensity. "That's How We Roll" sums up the sentiment of the album and ends with the words "you can't save rock 'n' roll". Can't you?
This WARRIOR SOUL release shows the fucked up side of rock 'n' roll, presented by someone who obviously knows what he is singing about. Whether or not you can put up with nine tracks of that sort, is a question of taste (or the lack thereof). For my taste this is a bit too much baddest motherf*cker attitude but the killer grooves, the enormously fat sound and Kory's rough, straight in-your-face vocals make up for this. This album needs to be played at a volume that will seriously endanger your speakers and eardrums, just as much as the amount of booze mentioned in the lyrics pose a serious threat to anybody's liver. Good fun, if you're into it.
3.0 Out Of 5.0




Please log in to view RANTS

If you don't have a username, click here to create an account!





RIOT V Armor Of Light

THE DARKNESS, DIARRHEA PLANET In Cleveland, OH With Photos!

STRYPER God Damn Evil

ANTHRAX Kings Among Scotland DVD

TED POLEY, SUPER TROUP In New Bedford, MA

BEHEMOTH Messe Noire: Live Satanist

BONFIRE Temple Of Lies

MICHAEL SCHENKER FEST In Ybor City, FL With Photos!

DIRKSCHNEIDER In Worcester, MA With Photos!

MAD HATTER Mad Hatter

BULLETBOYS From Out Of The Skies

MINISTRY In Portland, OR With Photos!

ALTARS OF GRIEF Iris

THE IRON MAIDENS In Houston, TX With Photos!

KAMELOT The Shadow Theory

JUDAS PRIEST, SAXON, BLACK STAR RIDERS In Ottawa, Canada With Photos!

FOREIGNER, CHILLIWACK In Ottawa, Canada

LITTLE CAESAR Eight

JUDAS PRIEST, SAXON, BSR In Worcester, MA

VELVET VIPER Respice Finem

MARCO MENDOZA Viva La Rock

JUDAS PRIEST Firepower

ANGRA Omni

MICHAEL SCHENKER FEST In Cleveland, OH With Photos!

WAR OF THRONES Conflict In Creation