HOLLYWOOD UNDEAD, BUTCHER BABIES In Santa Ana, CA With Photos!


By Chris "Chili" Pirri, So Cal Contributor
Wednesday, December 27, 2017 @ 8:45 AM


| | | |
| --- | --- | --- |
| | | At The Observatory 12-11-17 |
All Photos By Chris Pirri
I had December eleventh marked on my calendar for a few weeks. This was the day HOLLYWOOD UNDEAD and BUTCHER BABIES were coming to The Observatory in Orange County, California. The venue is mere miles from my house and a great intimate theater to see bands. As I pulled up to the theater I could already see that a line was formed and wrapping back and forth with UNDEAD fans. However, I did see a few of us that came to support Carla and Heidi of the BUTCHER BABIES. Once I got my photo pass I headed inside to get ready for the onslaught of music that was coming my way.
Unfortunately the first opening act was a rapper by the name of Demrick. He just seemed out of place and the crowd was not really feeling his vibe. Demrick just was not my cup of tea so I headed to the back to get some fresh air and relax before things got crazy. Next up was BUTCHER BABIES who took the stage on time. As soon as the lights went out and they took their spots the crowd went berserk with the fiery opening number "Lilith" off their newest CD by the same name. Carla and Heidi are pure entertainers and you can just tell that the stage is their home. They have passion in their eyes and so much energy that they make a kitten seem dull. This is the first time I have seen them live and it will not be my last. They played a ball-busting eleven song set that just blew the doors off the theater. The guttural sounds that these ladies can deliver are just downright impressive and alone worth the price of admission. By the time they got to their last song of the set, "Underground And Overrated", they were still full of vitality and had the crowd moshing amongst each other.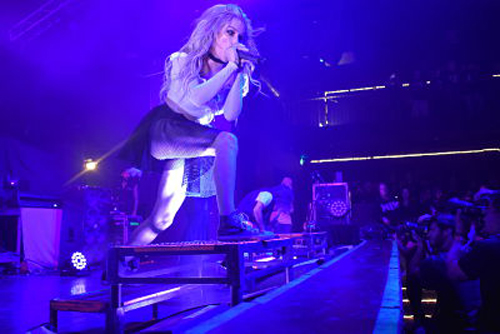 SET LIST:
"LILITH"
"BURN THE STRAWMAN"
"MONSTERS BALL"
"BUTCHER"
"HUNTSMAN"
"KOROVA"
"#IWOKEUPLIKETHIS"
"POMONA"
MEDLEY: "THEY'RE COMING TO TAKE ME AWAY"/"IGNITER"/"MAGNOLIA BLVD"
"HEADSPIN"
"UNDERGROUND AND OVERRATED"
Closing out the night was HOLLYWOOD UNDEAD. This is who the majority of patrons came to see perform. They hit the stage one by one with their traditional masks on and performing "Whatever It Takes". Right away the crowd was singing along and showing their support for the masked villains. After their third song "Been To Hell" they took off their masks and greeted the crowd. This got the rambunctious crowd even more energetic. HOLLYWOOD UNDEAD was touring to support their newest album Five which came out in October. I will admit I'm not the biggest fan of rap/metal/rock all infused into one, but this band actually had me tapping my foot and enjoying my time at the show. The big highlight of their set for me was listening to "Dead Bite", which was released on their album Notes From The Underground. The lyrics to this song are fun and actually made me laugh. Overall, HOLLYWOOD UNDEAD impressed me. They play off the crowd great and also can get a party started within seconds.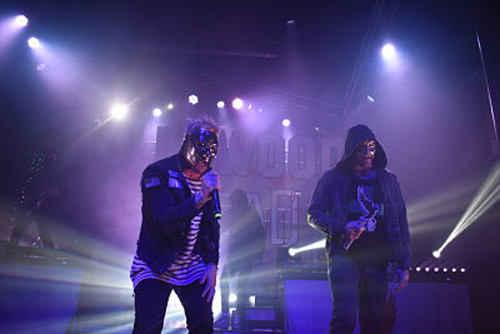 SET LIST:
WHATEVER IT TAKES"
"UDEAD"
"BEEN TO HELL"
"CALIFORNIA DREAMING"
"DEAD BITE"
"RENEGADE"
"COMIN' IN HOT"
"WAR CHILD"
"FOLSOM PRISON BLUES" (COVER)
"BULLET"
"ANOTHER WAY OUT"
"BAD MOON"
"RIOT"
"DAY OF THE DEAD"
"EVERYWHERE I GO"
"HEAR ME NOW"
Overall this was a great concert very fun and spirited. I will have to say I don't understand why these bands toured together. My guess is that they were both trying to gain more fans by crossing genres and showcasing their talents. Well if that was the goal I believe it was achieved. Looking at the spectators as they left, all had smiles on their faces and were saying what a great overall experience they had.

Check out some more photos from the show!
All Photos By Chris Pirri




Please log in to view RANTS

If you don't have a username, click here to create an account!






CRADLE OF FILTH Existence Is Futile

BEAST IN BLACK Dark Connection

MASSACRE Resurgence

DREAM THEATER A View From The Top Of The World

JAY JAY FRENCH Twisted Business: Lessons from My Life in Rock 'N' Roll

BLACK LABEL SOCIETY, PRONG And OBITUARY In Portland, OR With Photos!

GEMINI SYNDROME 3rd Degree - The Raising

DORO/WARLOCK Triumph And Agony Live

BETWEEN WORLDS Between Worlds

ALCATRAZZ V

BEHEMOTH Sventevith (Storming Near the Baltic) Reissue

ALICE COOPER, ACE FREHLEY In Nashville, TN With Photos!

CARNIFEX Graveside Confessions

BLOOD RED THRONE Imperial Congregation

GUS G. Quantum Leap

BILLY IDOL The Roadside EP

AVATAR, MAGIC SWORD In Houston, TX With Photos!

APRIL WINE, MONKEYJUNK At The Ottawa Bluesfest

MINISTRY Moral Hygiene

CRYPTA Echoes Of The Soul

SKILLET In Houston, TX With Photos!

Immortal Axes: Guitars That Rock Book

IRON MAIDEN Senjutsu

GRINDER BLUES El Dos

GEORGE LYNCH Seamless Review #2

IN THIS MOMENT, BLACK VEIL BRIDES In Houston, TX With Photos!

WARLANDO Festival 2021 Photo Gallery

KISS In Ridgefield, WA With Photos!

LAURENNE/LOUHIMO The Reckoning

TREMONTI Marching In Time

ROCKLAHOMA 2021 Day 3 Photo Gallery

ROCKLAHOMA 2021 Day 2 Photo Gallery

ROCKLAHOMA 2021 Day 1 Photo Gallery

CARCASS Torn Arteries

SETH La Morsure de Christ