PHILIP H. ANSELMO & THE ILLEGALS Choosing Mental Illness As A Virtue


By George Antony, Australia Contributor
Friday, January 5, 2018 @ 1:34 PM


| | | |
| --- | --- | --- |
| | | |
PHILIP H. ANSELMO & THE ILLEGALS
Choosing Mental Illness As A Virtue
Housecore Records




You'll need to sit comfortably in a safe place to listen to the master of roar, PHILIP H. ANSELMO & THE ILLEGALS' new offering, Choosing Mental Illness As A Virtue. Released 26th January 2018 by Anselmo's own record label, Housecore Records. This is the subsequent album to THE ILLEGALS' debut album, Walk Through Exits Only, in 2013. Having just released the Red EP with SCOUR in November 2017 and touring with SUPERJOINT throughout 2017, Anselmo has been prolific. Stating that he wanted this album to be relentless, it definitely is. You're accosted by maddening psychosis song after tormented song.

Anselmo reveals that after being so staunch with his vision for THE ILLEGALS' first album, there was more collaberation on this album and some changes in the band with Stephen Taylor - SUPERJOINT - on guitar, Mike DeLeon - FLESH HOARDER, BEING KILLED - on guitar, Walter Howard - GRIEVED, OPPRESSIVE FORCE - on bass and remaining is the original drummer, Jose Manuel 'Blue' Gonzalez - SUPERJOINT, WARBEAST.

I've been a colossal fan of Anselmo for decades ever since metal legends PANTERA's album, Cowboys From Hell, and I've revered his vocal abilities. So I tend to relish everything he puts his hand to, including Choosing Mental Illness As A Virtue. This album blares you in the face with the agitation of mental illness, filling your head direly and yet you feel acceptance. You're here, it is what it is.

The genres of sludge metal, black metal, hardcore and thrash all combine here. Anselmo explains, "This is my contribution to ugly music right this second in a heavy metal vein". The guitar sounds range from riffs that are taunting and sickeningly distorted, to shredding alongside Anselmo's grievous vocals which traverse death growls and witches bellowing screams with an antagonized inner dialect, doggedly struggling in waves of defiance and fragility. The drumming is thrash metal speed with broken up beats and clean breakdowns throughout each track. Although to me the drumming seems to be a lower volume allowing the guitars to speak.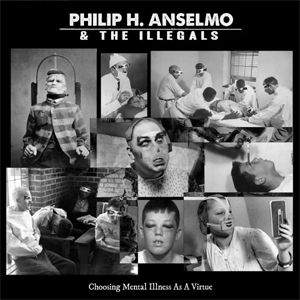 On the final track, "Mixed Lunatic", I personally find I can't listen to the first 22 seconds as it mimics how I would perceive a schizophrenic episode would enact within the mind. Concluding this track, and the album, at the final 116 seconds the vocals cease suddenly. An impassive guitar repeats over a spent heartbeat drum allowing you to contemplate and recover from you experience.
Anselmo extrapolates that this album "is going to get hated; it's going to get loved. Like every record I've ever done, I put zero expectations upon my peers, critics, or the general fucking public. If you take one thing away from it, let it be this: Do not bog yourself down to one brand, character or whatever. Have the guts to spread your wings and fucking flourish. I can promise you this is a beginning. As my music trickles out over the next two years, it's going to be quite the roller coaster ride. This new Illegals is just the tip of the whole fucking avalanche".
4.0 Out Of 5.0




Please log in to view RANTS

If you don't have a username, click here to create an account!