EXHUMED Death Revenge


By Peter Atkinson, Contributor
Tuesday, January 9, 2018 @ 1:39 PM


| | | |
| --- | --- | --- |
| | | |
EXHUMED
Death Revenge
Relapse Records




Given the steady evolution of the band's sound since its splatter metal beginnings nearly 30 years ago, I suppose it shouldn't come as a real surprise that EXHUMED might one day try its hand at a conceptual work. The band's sonic maturation has been especially pronounced since its reformation in 2010 after a five-year hiatus, with 2011's All Guts, No Glory and 2013's Necrocracy marking its finest work, despite ongoing lineup changes.

Though still greasy, grimy death metal at its core, it had grown considerably more sophisticated and less interested in the shock value of old – a la CARCASS, whose influence, especially from the Necroticism era, is pretty thick here – mixing in sinister melody, clever arrangements and even moments of subtlety and levity while still retaining its visceral edge. Death Revenge, in a certain respect, marks a pinnacle of the band's recent run, and is presented much like a classic horror film put to music.

EXHUMED's sixth full-length, Death Revenge is a story of grave robbery, murder and the illicit trade in corpses in 19th-century Scotland, inspired by the grisly deeds of William Burke and William Hare. The industrious, insidious pair killed nearly 20 people over a period of just 10 months in Edinburgh in 1828 and sold the bodies of their victims to Dr. Robert Knox, who used them for dissections during his anatomy classes. Burke, with fitting irony, was dissected in an anatomy theater after his execution by hanging in 1829.

To help tell the tale, which is spelled out in meticulous detail, EXHUMED welcomes back former bassist Ross Sewage after 15 years away to share the vocal duties with mainman/guitarist Matt Harvey – with Bud Burke moving from bass to guitar. After the "Death Revenge Overture" sets the mood with its eerie piano and strings, the two-headed - and sometimes three-headed, when Burke chimes in - Cookie Monster attack gets into full-roar on "Defenders Of The Grave". With Harvey handling the raspy growls and shouts and Sewage doing to pukey gutturals – essentially taking on the roles of Burke, Hare, Knox and others - the two bob, weave and harmonize, in the gnarliest sense, over the band's razor sharp, riffy death metal soundtrack.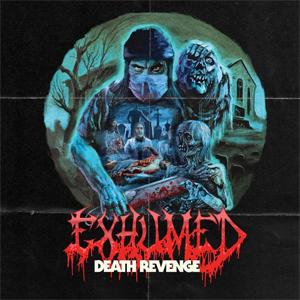 EXHUMED wisely resist the temptation to go overboard with the typical concept album trappings – intrusive interludes/effects, overblown narratives and compositional complexity. "Gravemakers Of Edinburgh" briefly revisits the intro's classical atmospherics midway through, before the band blasts off again with "The Harrowing", as does the opening and conclusion to otherwise epic metal instrumental "The Anatomy Act Of 1832". But these devices add nuance without introducing cheese and make an already twisted tale that much more disturbing.
Oddly enough, Death Revenge is also probably the catchiest album in EXHUMED's long, somewhat disjointed career. The songs, for the most part, are short and punchy – as is the band's usual modus operandi – but even more rife with nifty, bruising hooks, something that almost disguises just how brutal things are, especially when Sewage gets down and dirty with his vocal parts and drummer Michael Hamilton kicks into grind mode. The nimble, almost MAIDEN-esque guitar harmonies that dart in and out of tracks like "Lifeless" and "Night Work" help in that regard as well.
EXHUMED does a stellar job here of making what is some pretty nasty business – musically and thematically - downright palatable, and tempering its big ambitions with an underground aesthetic that it refuses to relinquish, even after three decades in the trenches. Let's hope it never does.
4.5 Out Of 5.0




Please log in to view RANTS

If you don't have a username, click here to create an account!