ENSIFERUM Two Paths


By Peter Atkinson, Contributor
Monday, January 22, 2018 @ 11:23 AM


| | | |
| --- | --- | --- |
| | | |
ENSIFERUM
Two Paths
Metal Blade Records




My appetite for pagan/folk/warrior metal has never been that great. Most of it struck me as pretty hokey – with too much fluff, frilliness and, in many cases, "folk" and not enough actual "metal." But there are a few exceptions – Finland's ENSIFERUM and, by extension, former guitarist Jari Mäenpää's WINTERSUN, being the most notable.

ENSIFERUM found the right balance between the metal and folk elements early on, and has managed to largely maintain that over its 20-plus year career that really peaked with 2009's brilliant From Afar. The band's seventh album, Two Paths, follows a similar, umm, path as the releases that followed From Afar – Unsung Heroes and One Man Army – boasting a more anthemic, epic sound that emphasizes resounding riffs and sing-along choruses at the expense of some of the technicality, finesse and savagery of earlier material.

And while that's all good and fine, a third straight go-round with this approach gives Two Paths a saminess that takes something away from its overall impact, though the album still makes for an entertaining, bombastic jaunt. But it could have been much more.

Two Paths gets off to an energetic start with the one-two punch of "For Those About To Fight For Metal" and "Way Of The Warrior". Both are feisty calls to arms buoyed by bracing guitars and tempos and monumental choruses, and still feel plenty grand despite the departure of longtime keyboardist Emmi Silvennoinen - replaced here by ex-TURISAS accordion player Netta Skog who has since already departed. But the momentum soon ebbs, and it's a bit of a mixed bag from there.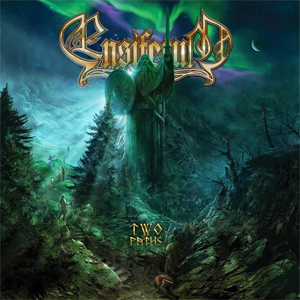 The title track is a clunky, mid-tempo ditty that seems geared for the mainstream with its thin, somewhat ragged clean vocals - either by guitarist or bassist Sami Hinkaa or guitarist Markus Toivonen, not sure which - and big hard-rock hooks that don't generate much excitement. Same goes for "Don't You Say", which offers more of the same – an alternate version included as bonus track on deluxe editions with guitarist/frontman Petri Lindroos' feral rasp featured throughout is far superior. The otherwise ferocious "King Of Storms" stumbles again with the vocals, this time on awkward growly spoken passages that trade off with Lindroos.
Skog gets a chance to really show her chops, both as accordionist and clean vocalist, on "Feast With Valkyries" with great effect, even with the injection of its buoyant – if familiar - mead hall chorus. Her cleans sound far more natural and dramatic, and her accordion adds a perky twist to the epic "I Will Never Kneel" and the oddly ebullient, almost MOTORHEAD-like "God Is Dead".
It's too bad Skog seems so underutilized here, which is perhaps why she left. She may well have salvaged the otherwise mediocre "Two Paths" and "Don't You Say", if given the chance, and some more space for her accordion – especially if it meant a bit less symphonic pomp – probably wouldn't have hurt. But ENSIFERUM opted to remain in its comfort zone, and missed an opportunity to make a more intriguing, potentially transformative work.
3.0 Out Of 5.0




Please log in to view RANTS

If you don't have a username, click here to create an account!