G3 In Los Angeles, CA With Photos!


By Charlie Steffens aka Gnarly Charlie, Writer/Photographer
Tuesday, January 30, 2018 @ 10:48 AM


| | | |
| --- | --- | --- |
| | | At The Orpheum Theatre, January 19, 2018 |
All Photos By Gnarly Charlie
In 1996, guitar maestro JOE SATRIANI spearheaded G3. His vision of himself with two other prodigious guitarists onstage, in synchrony, brought swift acclaim. The first of its kind, this mainly instrumental, traveling show celebrates the virtuosity and attraction of the electric guitar. G3 has undoubtedly inspired wannabe shredders globally to take up the six-string. After seeing a G3 concert live or on DVD, scores of weekend warriors might want to dust off their lonely Stratocasters and possibly resuscitate that defunct garage band.
The Los Angeles stop of this year's G3 tour was at the Orpheum Theatre, a great old venue in downtown LA that has seen the likes of talented acts, dating back to the MARX BROTHERS in the mid-1920s, LITTLE STEVIE WONDER in the 60s, on up to hard rock and metal bands of today. The Orpheum holds about 2,000 people and has an indescribable vibe—a great place for a séance. One of the best qualities of the great old theater was the quality of the sound—well-mixed and resonant without the muddiness that can haunt rock guitars in larger venues.
The night went off without a hitch. Phil Collen (DEF LEPPARD, DELTA DEEP), along with fellow axemen John Petrucci (DREAM THEATER) and Satriani, divvied-up their individual sets fairly evenly. Collen went first, and his blues-based group, DELTA DEEP, provided singer Debbi Blackwell-Cook and drummer Forrest Robinson, along with bassist Craig Martini (PAUL GILBERT) as the backing band. Fellow DEF LEPPARD comrade Vivian Campbell brought his guitar onstage to wild applause, and joined Collen for abbreviated versions of "Love Bites" and "Hysteria". That was it for singing onstage until later in the show.
Next came John Petrucci, opening his set with the main theme of Hans Zimmer's "Wonder Woman", followed by "Jaws Of Life", where he straightaway showed the audience his G3 worthiness. (He's been on the G3 bill several times, dating back to 2001.) Petrucci deftly works his frets with technical savvy, with a combination of crunch and clean licks. The man's phrasing and guitar tone are unparalleled. Mike Mangini (DREAM THEATER) hammered the back beat, creating a soundscape in which Petrucci soared, and took the audience with him.
A primed audience cheered as Joe Satriani took the stage with keyboardist/guitarist Mike Kenneally, bassist Brian Beller, and drummer Joe Travers. Satriani and his band started the set with "Energy", a brisk number from the newly-released What Happens Next album. "Catbot", another new song, has a sound and instrumentation reminiscent of PRINCE, and grabbed the crowd's attention. Kenneally got to unleash his guitar chops during "Super Funky Badass". Dubbed "G4" by Satriani, Kenneally played a blistering solo while the maestro took over on rhythm guitar. Serious music was being played with the light-hearted spirit and energy of camaraderie; there are no dark, brooding artists in the Satriani camp. Six songs from the 11-song setlist were from the new album, just released this month. Not much time to become acquainted with the songs for many, but the new stuff really holds up It was disappointing that "Flying In A Blue Dream" wasn't in the set, but closing numbers "Always With Me, Always With You" and "Summer Song" satisfied fans who came to hear old favorites.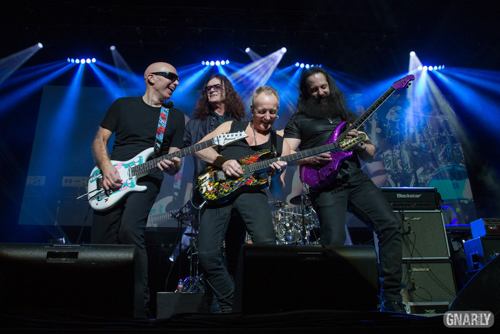 The G3 encore will be remembered for years to come. Closing the show, singer/bassist GLENN HUGHES (BLACK COUNTRY COMMUNION, DEEP PURPLE, TRAPEZE), drummer Chad Smith (RED HOT CHILI PEPPERS), CHICKENFOOT), and guitarist Vivian Campbell (DEF LEPPARD, DIO) got up onstage with the G3 for a no-holds-barred All-Star jam that included Don Nix's "Going Down", STEVIE WONDER's "Superstition", and DEEP PURPLE's "Highway Star", which had the audience on their feet and shouting with the sheer energy of it. Hughes' vocals defy his years, he has not lost a note. The jam was an amazing end to a great night of music.
Check out some more photos from the show!
All Photos By Gnarly Charlie




Please log in to view RANTS

If you don't have a username, click here to create an account!