Fireball Ministry Exclusive: Worshipping At The First Church of Rock n' Roll


By Frank Meyer, Contributing Editor
Thursday, January 17, 2002 @ 2:19 PM


| | | |
| --- | --- | --- |
| | | Worshiping At The Alter Of Roc |
The "stoner rock" title is a hefty mantel to lean on. Some bands embrace the tag while others abhor it. Generally it means you are adept at all that is Black Sabbath, understand the dynamics and mythology of Led Zeppelin, dig the powerfuck fury of the MC5 and have all the Trouble, Obsessed and Kyuss albums. Hey, that's a lot to live up to...but badass mofo Rev. James A. Rota II ain't one to back on a dare....

Fireball Ministry — Rev. James A. Rota II, guitar, vocals; Emily Burton, guitar; bassist Janis Tanaka (L7) and drummer John Oreshnick (ex-Muzza Chunka) — look beyond the trappings of the stoner rock genre and pour some classic rock, blues and punk into their sonic cocktail. With a heavy dose of fuzzy riffs, smooth vocals, and more hooks than a bait shop, this band seeks to convert fans to their rock n' roll religion and believers outta anyone that'll listen. And they're listening…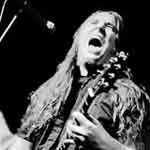 Their hard-hitting debut album Oů Est La Rock? (Bong Load Records), mixed by Tom Rothrock and Rob Schnapf (Fu Manchu, Beck, Toadies), featured guest appearances by former Megadeth skinsman Nick Menza and Guy Pinhas (ex-Obsessed, Acid King). They received glowing reviews from Kerrang!, Metal Maniacs, and Metal Hammer, Mean Streets and played at the 1999 NXNW and 2000 SXSW music conferences. Oů Est La Rock? was featured on Fox Sports Net's Blue Torch and the band backed it up with a performance at the November to Dismember Metalfest. Over the past two years they have shared bills with Danzig, Fu Manchu, Nebula, Unida, The Atomic Bitchwax and Raging Slab. Last year they were also nominated for a 2001 LA Weekly Music Award for Best Hard Rock/ Metal band. Whew!

Fireball Ministry's second effort, FMEP, was a CD EP of covers and originals released via Small Stone Records. The album featured a guest appearance by Fu Manchu's Brad Davis and is a collection of new material as well as a blistering homage to the music that has inspired them such as Alice Cooper and Aerosmith.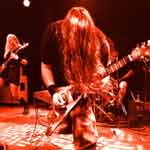 The band had just supported Mr Danig at his intimate show at the Roxy in Hollywood on December 29th when I had a chance to catch up with the Rev himself and get the scoop on what's up in the world of Fire these days.

Ladies and gents, welcome to the First Church of Rock n' Roll

KNAC.COM: So what hat are you guys working on right now?
JAMES A. ROTA II: We actually are working on getting a new deal right now. We'll see how it goes. We're going to be doing some recording in January for some interested folks, but if that doesn't work out a new full-length will come out in the spring on Small Stone. Either way, we just want to keep putting out stuff.



KNAC.COM: What's your personal drug of choice?

ROTA: Judas Priest

KNAC.COM: Any new song titles or info on next album you can give me?
ROTA: Some songs we'll probably be recording are "Daughter of the Damned," "Flatline," and "The Sinner and He Who Kills." We also have the tentative title, Fireball Ministry's Ten Commandments, with album art to be done by genius Dan Brereton.

KNAC.COM: Where did you guys tour for the last album?
ROTA: We did a couple of U.S runs with Fu Manchu and a tour this summer with Spirit Caravan. We're planning on going over to Europe around Wacken time in 2002. The events of Sept. 11th put a damper on us going to Europe in the spring like we had hoped. But I swear we'll get there soon.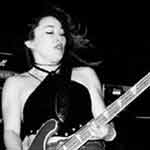 KNAC.COM: Gimme the funniest tour story for the last coupla tours? Babes, drugs, car crashes, roadies, fan crazies, arrests, whatever was the funniest shit...
ROTA: The last night of the Spirit Caravan tour we played in Pheonix. We had a place to stay that night at a friend of Scott Hamilton's (the owner of Small Stone). Janis (our bass player) was celebrating with a bottle of Maker's Mark and when we pulled up to the house we were staying at, there was a bit of a party going on. The owner was like, "Do whatever you guys want! There's food, there's beer, there's a pool! Whatever you want." As the words were coming out of his mouth, the clothes were coming off of Janis and she jumps in at a party full of people bare ass into the lighted swimming pool. We had a few people on head check to make sure she didn't drown.



"I only hope people can look past monikers of any kind and realize that it's just rock."

KNAC.COM: Does every member of the band smoke pot?
ROTA: No. Actually only one regular user.

KNAC.COM: What's your personal drug of choice?
ROTA: Judas Priest

KNAC.COM: How annoyed do you get being asked about the term "stoner rock?"
ROTA: I don't get annoyed. I only hope people can look past monikers of any kind and realize that it's just rock. As long as a category doesn't get in the way of the music then I could care less what it's called. I think that we've been thrown into the "genre" but we don't really jam out or write songs with a lot of solos in them like some of the other bands. It has been a definite hindrance in the past as far as people maybe not checking us out, but other than that I ain't got a problem with it.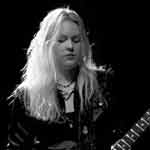 KNAC.COM: Who is the most fun band to tour with?
ROTA: So far Spirit Caravan because Gary and Sherm are a show unto themselves. It was also a totally insane to be able to hang with Wino every night and watch them play. Fu Manchu is great too because it's like touring with family.

KNAC.COM: Where were you on Sept 11?
ROTA: I was asleep and got a frantic call from my mom in New Jersey because she couldn't get a hold of my brother and sister in NYC. I asked what was wrong and she just told me to turn on the TV. I was frozen in time for about five minutes as I took it all in. Everyone that I know pretty much is in the New York/New Jersey area being that it's my homeland. When I finally got in touch with my brother, he told me that he watched the whole thing happen from Broadway and Houston St., standing in front of his work. He said that he thought they were filming a movie at first and that he'll be telling people about what he saw until the day he dies. I feel kind of bad that I'm not living there anymore, kinda like I'm betraying the city when she needs me most. It's hard to explain, but NYC is more like a person than a city. It was like they attacked a family member more than a place. I hope I don't live long enough to ever see something even half as awful as that again.

KNAC.COM: What did you ask for for Christmas?
ROTA: I just wanted like to know that it's gonna be safe to fly in airplanes and for Rob Halford to rejoin Judas Priest. Is that too much to ask?

Top photo by Yvette Gonzalez






Please log in to view RANTS

If you don't have a username, click here to create an account!