URIAH HEEP In Ottawa, Canada For Two Nights


By Andrew Depedro, Ottawa Corespondent
Friday, February 16, 2018 @ 12:24 AM


| | | |
| --- | --- | --- |
| | | Rockers Take The Brass Monkey On Eve Of North American Tour, February 6 & 8 |
The life of a reviewer for both The Loudest Dot Com On The Planet and his local Hash House Harriers chapter while coinciding with one's day job is not always the easiest of work/life balances as I'd found out recently. It was two weeks ago when I was living the life of a gypsy, having headed off to the mighty slopes of the Adirondack Mountains in upstate New York and the open bars of the town of Malone three hours early from work so as to scribe about the event known as LAFFTER 14. It was two days of easy livin' and cavortin' with many harriettes, making the OH3 kennel proud while standing on a slope and shunning my cubicle religion, thinking that the world was mine. However, being away for too long from my desk duties meant that I was skiing when I should've been filin' that day according to my three high priestess team leaders Sumayeh, Lea and Kelly (we prefer not to use the term "boss" that much up in the workplace in Canada as it's a bit too hierarchical and we're all about equality for all). Luckily, with some moderate finessing done Saul Goodman style - and that my team leads are easy-going anyway - a deal was made for me to make up my time to coincide with two opening nights in my fair city of a way overdue 52-city North American tour by one of the pioneering progressive rock bands of the early 70's.

And it coincided with flu season too!

February 6

Twenty to eight in the morning and all this cubicle time killin' and two of them women gonna put me to an early grave as I resume my filing duties while serenading the team with my heavy metal playlists. Team lead Lea was the first to get down with the sickness as she braved the cold to come in. Her deep coughing fits sound like she's auditioning for CANNIBAL CORPSE. After two brainstorming sessions with other team lead Sumayeh - whose cubicle is near mine which she'd chosen - Lea's flu has gone viral after a few visits. Her bouts of coughing so pronounced that at one point I swore I heard the opening riff to "Sweet Leaf" follow them, Sumayeh gives in and takes her sick day come lunch time, "Sick As A Dog" by AEROSMITH randomly playing on my phone as she passes my cubicle. Miraculously, team lead Kelly is not affected by the flu bug going around. She'd probably found a way to cook up that foul-tasting Marmite cagada she nearly poisoned us with the week before to make into some sort of Australian version of Buckley's mixture. I hide in my cubicle for the rest of the work day, wait out my hour and tail it to the nearby Salute Italian Bar & Grill by 5 PM. I spend a couple of hours chatting with two brothers from Newfoundland who end up including the headliners - guitarist/founder Mick Box, keyboardist Phil Lanzon, drummer Russel Gilbrook and bassist Davey Rimmer - in our conversation (they were sitting in the table behind me and I was hesitant about bothering them while they were having dinner) and we almost lose track of time. Luckily the band members themselves don't. And now they know which festivals in Newfoundland to hit up next time when they're on tour.

By 7 PM, the doors to the Brass Monkey are open and fans are gathering to line up. I immediately beat the crowd rush before the first band of the evening take the stage. That band would be openers the RIOT POLICE who are the complete opposite of what the legendary headliners sound like. The Ottawa-based quartet are essentially an indie surf-rock band whose influences range from bands of HEEP-like levels of awesomeness (THE BEATLES) to bands that aren't (COLDPLAY, Sam Roberts....the rest of their list in their bio to be honest. Yes, even Kendrick Lamar. Sorry, guys.) and they've been together for over a decade. Comprised of Alex Boyd (lead vocals, bass, guitar), Max Gibson (guitar, vocals), Riley Hawkins (guitar, vocals), and Taylor Harris (drums), they've put out two studio albums and are about to release a new album titled Movement in late March. Needless to say, they're far from being a band that bustles my musical hedgerow, but respect to their work ethic and for being so damn polite. Opening with their new song being the title track of their upcoming album, the RIOT POLICE deliver a well-run show full of optimistic yet realistic songs such as "Cut Ties Loose" and "Tomorrow". I'm still not sure if their happy-go-lucky vibe is entirely what I needed after mellowing to AEROSMITH's entire loud and rambunctious 70's catalogue for 8 hours at work but maybe I didn't know that I did at the time. While not bad, I must've been searching for something a bit more heavier to put these guys on an even level with the headliners. Maybe Movement will be just that album to do it for the RIOT POLICE once it's released. By the closing number "Those Days", I'm literally nicknaming these guys OFFICERS NICE.

https://www.facebook.com/riotpolice
http://www.theriotpolice.com/

The RIOT POLICE might've been very humble in their performance but it's time for headliners URIAH HEEP to bring on the very 'eavy. And by fuck do they deliver with a monstrous version of "Gypsy" with Victoria, BC-born singer Bernie Shaw hitting the massive falsettos that original singer David Byron was known for back in the day. Next to SABBATH, ZEP and DEEP PURPLE, URIAH HEEP were the soundtrack to the early 70's, with eight albums almost released back to back during that period. And just about every one of those albums, from 1970's Very 'Eavy Very 'Umble to 1973's Sweet Freedom, got the live treatment that night. The old-school numbers "Look At Yourself", "Shadow Of Grief" and the anthemic and most awesome jam "Stealin'" all kept the momentum going, mostly thanks to Bernie who encouraged us to sing along by the climax. Then it was time to bring out a new song titled "The Law", a (naturally) heavy driving tune which showcases everything riveting and dynamic about URIAH HEEP's music. Guitarist Mick Box - quite possibly the most happiest-looking axeman I've ever seen to grace a stage - delivers some thundering riffs that go up against the equally bombastic Moog organ work of Phil Lanzon. And I can't say if I've ever seen a bass player work the stage in actual platform shoes given that he looked at least to be in his mid-30's, but Davey Rimmer definitely brought the 70's fashion vibe with the long hair and stylish black bell bottom jeans as his thumping four-string strumming sealed the classic Heep sound on latter songs such as the 11-minute rager "The Magician's Birthday" and the fast riveting closing number "Easy Livin'". For a song whose bass and organ lead intros almost makes the listener want to chant out the words to "Waterloo" by ABBA at first, "Easy Livin'" is a fine gem of a song, clocking in at just about three minutes and highlighting the HEEP's finest musical qualities - the rolling keyboards, the tight rhythm section, the melodic guitar and the operatic vocals, which Bernie Shaw replicated to the tee. Small wonder that they once held the record for being the world's loudest band back in the day (a title once held by THE WHO in the late 60's) because those earplugs came in handy during the show.

Very 'eavy, very 'umble, and now very looking forward to Thursday's show!

Setlist:
"Gypsy"
"Look At Yourself"
"Shadow Of Grief"
"Stealin'"
"The Law"
"Sunrise"
"The Magician's Birthday"
"One Minute"
"Between Two Worlds"
"July Morning"
"Lady In Black"
"Easy Livin'"
February 8
"Take some medicine!"
"I already did!"
"So take some more!"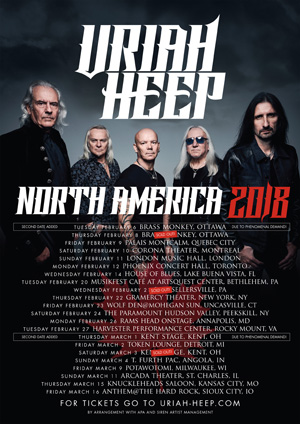 I'm not a medical expert by any means, but I think team lead Lea should've stayed at home that day if she was still feeling under the weather. And to make matters worse, my neighboring work colleague Monique is the latest to get sick. Lea is evidently trying to take us out one by one with her flu virus Predator style at this point. The lyrics to "Warzone" by ARMORED SAINT have never resonated so true as they did that day. This would be the best time to engage in some polite finessing of all three team leads. And by "finessing" I mean "buy a round of peppermint tea for everyone so as to stave off Lea's cold - including myself". The juice of power helps bring harmony to the cubicle village as I'm thanked by all for keeping the flu at bay until 5 PM once more. Then it's back to the germ-free sanctuary known as Salute Italian Bar & Grill once more to tuck into some pizza and generous-sized pints of Ambar before I almost forget that the doors of the Monkey open at 7 PM. I'd also found out from Salute's esteemed barista that the headliners have opted for pho for supper that night before the show, likely hindering my chances significantly in getting photo ops with the band members. Too busy to be annoyed at the long lineup of people ahead of me outside as I plan on how to get to meet the band (or at least Mick Box because I'm not picky that way) in the easiest and quickest manner (because don't piss off the team leads by showing up late the next day as two of them are still probably recovering from their colds - and they're picky that way), I eventually run into LYCANTHRO frontman James Delbridge inside who also has the same idea. After plotting our move to catch some hang time with one of the 70's most legendary underrated bands, it's time for me to resume reviewer duties.
As a reviewer, I have to be blunt about the second opening band CRISIS CTRL CLUBAS. I just simply found 'em to be somewhat underwhelming. I suppose that being a duo made it easier for them to snag the opening slot for the second night of HEEP's Ottawa show given how massive HEEP's own stage layout is like, but I just wasn't taking to them. I'd seen them opening for John Corabi about three years ago and I could have sworn that they were a trio at the time. They had too many synth effects for a two man band and the background keyboard sound effects sounding off while their frontman/keyboardist/guitarist switched instruments in between numbers just came off as kinda awkward. Like, MILLI VANILLI backing tape malfunction awkward. The drummer was the real talent in keeping everything consistent; otherwise, this Hogtown duo are past time in hiring a third member because even the name is a serious misnomer at this point. A club of people would be defined as having more than two people within their group. As it stands right now, these guys are a duo and should consider renaming themselves the CRISIS CTRL CREW or something. Or, y'know, bring in a third member. Just because, say, the PER SHOP BOYS or ERASURE started off as duos when they broke big in the new wave scene in the mid-80's didn't mean that they'd always tour as a duo. They had session musicians on the sidelines that had their back while on stage while keeping themselves as the focal point of attention. Neil Tennant and Andy Bell haven't moved a three-piece Casio keyboard set onto any stage they've played on since 1983 because they hire sound crew people to do that. Simply put, guys: You're taking on too many roles as two people and you need to expand your lineup a bit. Otherwise, in case one of you get sick before a gig, I know someone who can make Buckley's mixture out of Marmite......
https://www.crisisctrlclub.com/
Moving on to the headliners, URIAH HEEP make their last night in Ottawa a memorable one. The setlist didn't deviate much from Tuesday's set but the riveting performance more than compensated for it. We did finally get a better idea as to when the new album Living The Dream would be released according to Bernie Shaw, who hinted on its release happening "sometime around the early summer" and with Ottawa-born, LA-based producer Jay Ruston (STONE SOUR, BLACK STAR RIDERS, WINERY DOGS, STEEL PANTHER) in charge; a tour "possibly in September" would follow, with another Ottawa stop likely as well. They resumed their set with "The Law", which, as it turned out, while still a classic-sounding HEEP song, it's not exactly a new song either, having been on 2014's Outsider album. That aside, the highlights of the second show were a strong-sounding version of "Stealin'" and "Easy Livin'" complete with crowd participation, and a solid rendition of "The Magician's Birthday" and "The Wizard" back to back. And Mick Box still looks like the happiest guitarist in the music industry. After that full house he'd just played to on the eve of URIAH HEEP's first proper North American tour in 15 years, who could blame him?
After the show, both James and I attempted to put Operation Meet And Greet Heep into practice by waiting by the band's merch booth - only to find out that the band and their crew were on the opposite side of the venue 15 minutes into our not-well-thought-out plan. Once we sorted out our mistake and made it to the meet and greet, the event was worth it. James got his copy of Demons & Wizards vinyl signed and I not only got to get my photo taken with the grinning Mack Daddy of 70's prog rock himself, but also strong words of encouragement from him to review the show for KNAC.COM.
Skotti, Dion and the Brass Monkey staff for snagging this show for two nights.

Salute Italian Bar & Grill for fueling many a rock machine for two nights.

James for the ride home.

My three team leads Sumayeh, Kelly and Lea for putting up with classic 70's arena rock and occasional local doom metal emanating from my cubicle at acceptable levels.

Team lead Lea again for not giving me her cold on both opening nights and for graciously accepting the peppermint tea which seems to be slowly healing her.

Team lead Sumayeh again for bugging team lead Lea to take more medicine for her cold - which would've been peppermint tea anyway.

Team lead Kelly again for running out of Marmite.

All three team leads again for funding my contribution to the local arts and *ahem* living the dream.

And, finally, to URIAH HEEP for choosing Ottawa to kick off their North American tour and to Mick Box for encouraging my contribution to reviewing local shows and promoting local talent for KNAC.COM.

http://www.uriah-heep.com/
https://www.facebook.com/uriahheepofficial

Setlist:
"Gypsy"
"Look At Yourself"
"Shadow Of Grief"
"Stealin'"
"The Law"
"Sunrise"
"The Magician's Birthday"
"The Wizard"
"One Minute"
"Between Two Worlds"
"July Morning"
"Lady In Black"
"Easy Livin'"




Please log in to view RANTS

If you don't have a username, click here to create an account!