MARILYN MANSON In Hollywood, CA With Photos!


By Chris "Chili" Pirri, So Cal Contributor
Sunday, February 18, 2018 @ 9:52 AM


| | | |
| --- | --- | --- |
| | | At The Hollywood Palladium – Jan 15th |
All Photos By Chris Pirri
"I love the Bible. It's so thick I could knock you out with it." – Marilyn Manson Back in October Marilyn Manson was involved in a stage accident while climbing a prop that held two large hand guns together. The mishap caused his leg to break in two places. A direct cause of gun violence as the shock rocker would later go on to say. All jokes aside he had to cancel his next nine shows and re-schedule them for a later date. However he was back at it in early November performing at "Ozzfest Meets Knotfest" in a motorized wheelchair.
Going into this sold out show I was a little worried that the accident would still be bothering him and either the show would be short or not up to par with a typical Manson concert. Nothing can be farther from the truth. The show started off with supporting act AMAZONICA who is a DJ. I could be wrong but I just don't like having a DJ open up for a rock or metal concert. I look forward to going to a concert and seeing who the supporting acts are. This is a great way to see someone that I never heard of or an act that is just starting to make it big with their first hit song. This is no stab in AMAZONICA's back she did a great job at getting the crowd singing and head banging to songs by PANTERA, AC/DC, and DIO.
Once AMAZONICA left the stage the crowd eagerly moved forward toward the barricade as the night's main event Shock Rocker himself Marilyn Manson was ready to begin his sermon. The lights went out and we were treated to Marilyn Manson front and center singing his opening number "The Reflecting God" in his motorized pontiff chair as I like to call it. Yes he was still in a chair but the great news is he walked around a lot with the help of his protective boot. As the saying goes time heals all wounds and you could tell he was feeling better and was more active than the before mentioned concert for "Ozzfest". He had an abundance of energy that the crowd fed off of and even Manson himself said he was having a great fucking time performing in Los Angeles. Whether the vitality came drug induced or from passion could be disputed, but who cares his voice sounded tremendous. In fact his stage hands were dressed as doctors and would come out and give him a drink and he even partook in a couple puffs of a now legal substance here in California.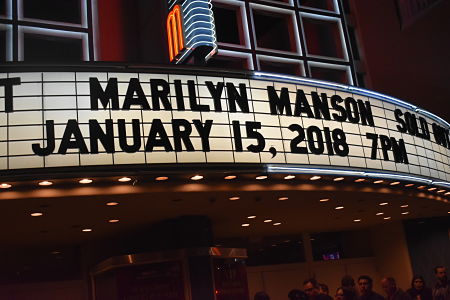 His set list covered six different studio albums with the most coming off of his latest release Heaven Upside Down which Manson is touring to promote. All the crowd pleasing songs were present and were placed all through the set. The band vigorously roamed the stage and gave the people a whole different show in the background. Manson closed the show out with two encores, "The Nobodies", which was a pleasant surprise to hear and a little slow paced but set the mood right for the finale. The final song ("The Beautiful People") was no big surprise at all, but one the sold out crowd was looking forward to. As we all sang out loud in our best voices I could tell the crowd was not ready for it to end and wanted more. All things must come to an end and as we all headed out back to the cars everyone was smiling and raving about how great it was and hope to see him again out here in the City of Angels!
Setlist:
"The Reflecting God"
"Deep Six"
"This Is the New Shit"
"Disposable Teens"
"mOBSCENE"
"Kill4Me"
"Revelation #12"
"The Dope Show" with an intro of "I don't Like Drugs (But the Drugs Like Me)"
"Sweet Dreams (Are Made of This)" – (EURYTHMICS Cover)
"Tattooed In Reverse"
"Say10"
"We Know Where You Fucking Live"
"Irresponsible Hate Anthem"
Encore:
"The Nobodies"
"The Beautiful People"
Check out some more photos from the show!
All Photos By Chris Pirri




Please log in to view RANTS

If you don't have a username, click here to create an account!






CLUTCH, SEVENDUST In Houston, TX

KING KOBRA Sweden Rock Live

DREAM CHILD Until Death Do We Meet Again

SCORPIONS, QUEENSRYCHE In Tampa, FL With Photos!

HUMBLE PIE Live At The Ottawa CityFolk Festival

BEHEMOTH Album Listening Party In Los Angeles For I Loved You At Your Darkest

THE DEAD DAISIES, HOOKERS 'N BLOW In Ottawa, Canada With Photos!

DRAGONLORD Dominion

STONE BROKEN Ain't Always Easy

BRANT BJORK Mankind Woman

KORPIKLAANI Kulkija

BRAINSTORM Midnight Ghost

SLEAZY WAY OUT, INSUFFICIENT FUNDS In Ottawa, Canada

DEEP PURPLE, JUDAS PRIEST In Jacksonville, FL W/Photos!

HELLOWEEN In Worcester, MA With Photos!

RED TIGER Evolution

ALTER BRIDGE Live At The Royal Albert Hall Featuring The Parrallax Orchestra

CLUTCH Book Of Bad Decisions

ANGRA In Winter Park, FL With Photos!

TALES FROM THE PORN H.M.M.V.

CARRY THE STORM i/E

PIG DESTROYER Head Cage

SAXON Strong Arm Of The Law Reissue

THE DEAD DAISIES In Houston, TX Photo Gallery

ALICE IN CHAINS, BUSH, THE CULT, STONE TEMPLE PILOTS In Ridgefield, WA W/Photos!

SUICIDAL TENDENCIES STill Cyco Punk After All These Years

OPERATION:MINDCRIME, TILL DEATH DO US PART In Portland, OR With Photos!

TNT XIII

DC4 Atomic Highway

CAL JAM '18 POP UP In Los Angeles With Photos!

SLAYER, LAMB OF GOD, ANNTHRAX, TESTAMENT And NAPALM DEATH In Ridgefield, WA With Photos!

JIZZY PEARL OF LOVE/HATE All You Need Is Soul

NIGHT DEMON Live Darkness

RAVENSCROFT Rebel

NASHVILLE PUSSY Pleased To Eat You

QUIET RIOT In Houston Photo Gallery

WARRANT, STEELHEART In Houston Photo Gallery