VOODOO CIRCLE Raised On Rock


By Andrew Depedro, Ottawa Corespondent
Monday, March 12, 2018 @ 10:43 AM


| | | |
| --- | --- | --- |
| | | |
VOODOO CIRCLE
Raised On Rock
AFM Records




I'm not sure how the whole concept of a supergroup is explicitly defined in continental Europe given that in North America the term is often met with much cynicism, with bands previously given the label fortunate to last beyond maybe two albums at best. So damned if I know how German melodic hard rockers VOODOO CIRCLE have not only stayed together since their inception in 2008, but have managed to release five studio albums including their latest album Raised On Rock in the span of a decade without imploding entirely given that all of their main members still keep their regular musical careers in focus.

Let's start with how the band came about back in the day as a side project of SILENT FORCE/PRIMAL FEAR axeman Alex Beyrodt (who still plays in both bands in case you're wondering). Yearning to form a project that incorporated more of his early musical influences such as RAINBOW, WHITESNAKE and YNGWIE MALMSTEEN to name a few, VOODOO CIRCLE was born but originally as a one-off project. With more of his bandmates in SILENT FORCE and eventually PRIMAL FEAR - among them bassist Mat Sinner who is also the other original member of the band - VOODOO CIRCLE soon came to be with their first full-length self-titled album released shortly after featuring the vocals of David Readman of PINK CREAM 69. The lineup continued for another four albums before David announced his departure from the band in 2016, his replacement eventually found in the form of Herbie Langhans (SINBREED, BEYOND THE BRIDGE, SEVENTH AVENUE) and VOODOO CIRCLE's latest album Raised On Rock being the band's first album with him at the helm.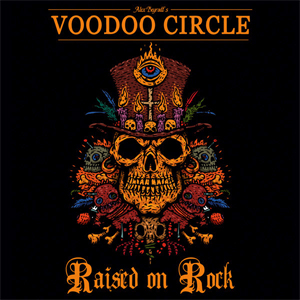 Where David Readman brings much of his own experience from his previous band into VOODOO CIRCLE's already streamlined brand of melodic hard rock, Herbie opts for a more rustic and blues-influenced vibe to add to Raised On Rock - the results suiting the heavy WHITESNAKE influences that Alex Beyrodt had long set for the band. Songs such as "Where Is The World We Love" and "Love Is An Ocean" are definite contenders for the Coverdale throne thanks to Alex's impassioned emoting and dulcet vocals. But it's the heavier numbers that are VOODOO CIRCLE's core, such as the driving single "You Promised Me Heaven" and "Higher Love" which incorporate the shake and tumble street savvy of Saints 'N Sinners era WHITESNAKE with the melodic overtones of early RAINBOW. Alex Beyrodt is certainly no slouch in his league either as his guitar work on "Ultimate Sin" and "Running Away From Love" in particular being rife with riffs straight from the Malmsteen/Blackmore/Sykes blueprint but with his own indelible stamp on the songs as well.
To summarize, you've got a supergroup such as VOODOO CIRCLE living up to the definition and capturing the magic of its influences thanks to an album such as Raised On Rock shaping up to be one of melodic hard rock's enchanting releases of 2018.
5.0 Out Of 5.0
http://www.voodoocircle.de/home/
https://www.facebook.com/voodoocircle/




Please log in to view RANTS

If you don't have a username, click here to create an account!






KRISIUN Scourge of the Enthroned

JUNGLE ROT Jungle Rot

BRUCE DICKINSON Scream For Me Sarajevo

ANTHRAX, TESTAMENT In Providence, RI

SAXON Wheels Of Steel Reissue

DIO DISCIPLES In New Bedford, MA

YNGWIE MALMSTEEN In Houston Photo Gallery

KIX Fuse 30 Reblown

OTEP Kult 45

HATCHET Dying To Exist

KIP WINGER In New Bedford, MA

STARS ALIGN TOUR Featuring JEFF BECK, PAUL RODGERS And ANN WILSON In Irvine, CA With Photos!

JINJER In Akron, OH With Photos!

FOREIGNER, WHITESNAKE In Houston Photo Gallery

FOO FIGHTERS, GRETA VAN FLEET At The Ottawa Bluesfest

ARMORED SAINT, ACT OF DEFIANCE In Montreal, Canada

FASTER PUSSYCAT In Portland, OR

ARMORED SAINT, ACT OF DEFIANCE In Allston, MA

KNAC.COM Reviews The VINNIE PAUL CELEBRATION OF LIFE Event In Dallas, Texas

DEVILDRIVER Outlaws 'Til The End Vol. 1

DEVIN TOWNSEND PROJECT Ocean Machine: Live At The Ancient Roman Theatre Plovdiv

OPERATION: MINDCRIME In Houston, TX With Photos!

MONUMENT Hellhound

THE IRON MAIDENS In New Bedford, MA With Photos!

TAD MOROSE Chapter X

KATAKLYSM Meditations

DIO DISCIPLES In Houston, TX With Photos!

IMMORTAL Northern Chaos Gods

SALTY DOG Lost Treasure

THE NIGHT FLIGHT ORCHESTRA Sometimes The World Ain't Enough

HALCYON WAY Bloody But Unbowed

MADBALL For The Cause

GRUESOME Twisted Prayers