OTEP Kult 45


By Peter Atkinson, Contributor
Wednesday, August 1, 2018 @ 11:26 AM


| | | |
| --- | --- | --- |
| | | |
OTEP
Kult 45
Napalm Records




OTEP — and namesake frontwoman/lone original member Otep Shamaya — has made quite a career as metal provocateur. Kult 45 is OTEP's eighth studio full-length since 2002, so obviously the band has been doing something right for all these years as far as a lot of folks are concerned.

What that is, though, seems to have escaped me, as nü metal/rap metal/groove metal/what-have-you left my radar screen ages ago. And while Shamaya's pointed lyrics often ring true, I find her "rage against everything" harangues rather exhausting, especially given their singular tone and dated delivery system.

Kult 45 is pretty much everything you'd expect of OTEP. With a fat, orange and very obvious target now occupying the White House, the band/Shamaya uses our 45th president as a jumping off point to chime in on a wide variety of hot-button issues. "I got something to say, and it's gonna be savage, fuck you in English and fuck you in Spanish," she hollers on "Invisible People". And say it she does with her usual vehemence, about the alt-right, racism/Nazi-ism, gun violence, sexual harassers/the #MeToo movement, immigration and, of course, "The Donald".

Oddly enough, the most poignant and effective song here is the quietest. The stirring "Be Brave", with its sparse piano and strings, recalls EVANESCENCE, as Shamaya's breathy, earnest vocals for once capture an emotion other than rage. It's a love song amid a sea of vitriol and seems the most genuine of the batch, with no "fuck yous" anywhere in sight.

Much of the rest of the album, though, sounds like warmed over RAGE AGAINST THE MACHINE — in one case quite literally, as a grating cover of "Wake Up" closes things out — with a hearty smattering of KORN, LIMP BIZKIT or KID ROCK before his SKYNYRD fixation. Oy! Kult 45 is a throwback to one of the most dubious periods in modern metal history — which I suppose is fitting given that this is arguably one of the most dubious periods of modern American history. But still.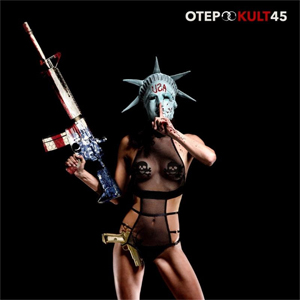 "Halt Right", "Cross Contamination" or "Molotov" are essentially protest versions of BIZKIT nuggets like "Break Stuff" or "Nookie". Sure, they are far smarter as far as the message goes, but they are presented in the same sort of ham-handed "tough-guy rap and roll" manner and quickly lose their impact. Worse is the straight up rap of "Undefeated", which is a litany of MSNBC talking points set to a pulsing, electronic beat, or the rather shameless RATM knockoffs "To The Gallows" and "Shelter In Place", both of which make the "Wake Up" cover that comes later kind of pointless.
The more hard-rocking moments tend to be the most tolerable here. "Said The Snake" and "Trigger Warning" are repetitious, but deliver plenty of heft and come across as songs rather than mere diatribes. And despite its rappiness, "Invisible People" certainly makes a lasting impression, as I've had that "fuck you in English and fuck you in Spanish ..." chant bouncing around my noggin for days.
There's no question of Shamaya's passion or the righteousness of her arguments — though most in the "Make America Great Again" crowd would no doubt disagree. But they are hamstrung by their overblown execution and general lameness of the soundtrack being played beneath. So what should be empowering ends up being more tiresome than anything else.
1.5 Out Of 5.0




Please log in to view RANTS

If you don't have a username, click here to create an account!