RAVENSCROFT Rebel


By Chris "Chili" Pirri, So Cal Contributor
Wednesday, August 29, 2018 @ 6:25 AM


| | | |
| --- | --- | --- |
| | | |
RAVENSCROFT
Rebel
Independent Release




Every now and then I browse the internet looking for new bands and see who is up and coming in the metal world. Low and behold I found a video called "Stand Up" from a band called RAVENSCROFT. After watching the video and really enjoying the song I found their website and started to explore. To my surprise they just released an EP called Rebel.

Rebel is a six song EP that showcases the diversity of metal/hard rock styles that this band has. The first track "Denomination" hits you in the face with the opening of some great guitar riffs by Brett Gorke. Then once the vocals kick in that are sung by Ralph Buso you get a strong feeling that this band has what it takes to make it. "Denomination" has strong influences of GODSMACK and is the standout among the EP. The next two songs on this EP, "The Chase" and the aforementioned "Stand Up" are very catchy with lyrics that will have you singing along in no time at all. On "The Chase" there is a nice moment between the bass player (Devin Baker) and drummer (Pat Magrath) who I found out just left the band and was replaced by Lonny Pasillas. I always seemed to be drawn into music more when the bass player and drummer have a minute that is all theirs on stage.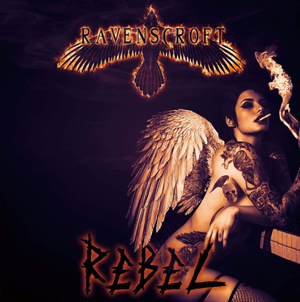 "My Dearest One" slows the EP down some but will remind you of a time when every band had a ballad. It brings me back to the days on the Sunset Strip in the late eighties where spandex and teased hair by White Rain were all common factors. Not really my cup of tea but it does show the range that this band can deliver. The final two songs on this EP are "Jaded" and "Rebel". "Jaded" does not do too much for me and makes me hit the skip button each time I hear it. I just find it filler for the EP. However once you get past this song "Rebel" closes out the EP very well. It bookends "Denomination" excellently and brings you right back to why you like this band. They have great melodies, very catchy lyrics and vocals that are impressive.
I'm looking forward to seeing someone discovering this band and giving them a chance to release a full studio LP. I think with the right production team and more hard rock driven songs this band can catch on. Head on over to their website at http://ravenscroftofficial.com/ to see their videos and hear their music. If you like it please support them and buy their EP.
3.5 Out Of 5.0




Please log in to view RANTS

If you don't have a username, click here to create an account!






THE END MACHINE In Los Angeles Photo Gallery

TRUTH CORRODED Bloodlands

THE IRON MAIDENS In Houston, TX Photo Gallery

THE RAVEN AGE In Paris, France With Photos!

ENFORCER Zenith

NOTHING MORE In Houston, TX With Photos!

KISS Live In Ottawa, Canada With Photos!

KIX In New Bedford, MA With Photos!

PERIPHERY IV: Hail Stan

GARY HOEY Neon Highway Blues

BLOODBOUND Rise Of The Dragon Empire

ANTROPOMORPHIA Merciless Savagery

AS STRANGE AS ANGELS Mirror Mirror EP

HYPOCRISY, FLESHGOD APOCALYPSE In Dallas, TX

ARCH ENEMY In Bangkok, Thailand

WHITECHAPEL The Valley

THE RAVEN AGE Conspiracy

TYGERS OF PAN TANG Hellbound, Spellbound Live 1981

SPIRITS OF FIRE Spirits Of Fire

EXUMER Hostile Defiance

BURNING RAIN Face The Music

MOTLEY CRUE's The Dirt Movie

MIKE TRAMP In New Bedford, MA

DEVIN TOWNSEND Empath

QUEENSRŸCHE The Verdict

MEGADETH Warheads On Foreheads

QUEENSRYCHE, FATES WARNING In Worcester, MA

Y&T In New Bedford, MA With Photos!

EXPERIENCE HENDRIX In Clearwater, FL With Photos!

OVERKILL, DESTRUCTION, FLOTSAM & JETSAM In Munich, Germany

TORA TORA Bastards of Beale

THE ELYSIAN FIELDS New World Misanthropia

IRON SAVIOR Kill Or Get Killed

BEAST IN BLACK From Hell With Love