TALES FROM THE PORN H.M.M.V.


By Larry Petro, News Monkey
Tuesday, September 11, 2018 @ 6:29 AM


| | | |
| --- | --- | --- |
| | | |
TALES FROM THE PORN
H.M.M.V.
RLS/Animal Records




Ahhh, the 80's, quite possibly the best and most decadent era of music in civilation's history. And while some of the bands from that era are now defunct, some continue to make music and others simply prefer to perform the same hits from yesteryear without any new music to speak of. But be that as it may, there are still bands out there, newer ones in fact, that draw their inspiration from that era and produce music that sounds like it could have easily come out during that time. Such is the case with TALES FROM THE PORN (the name alone sounds like something from the 80's does it not?), the Brazilian band whose latest album H.M.M.V is fronted by none other than Stevie Rachelle, he of TUFF band and Metal Sludge website fame. And what a great disc this is!

Right from the start you know what you're getting with H.M.M.V with the apropos leadoff track, "Back To The 80's". Just like that you get a sound that's a nice conglomerate of POISON, L.A. GUNS, FASTER PUSSYCAT, RATT, DOKKEN and even a smattering of old-schoool DEF LEPPARD with catchy guitar hooks and gang vocal choruses. "Back To The 80's" encompasses everything you knew and loved about the hairband decade of music. Check out the video for the track on KNAC.COM HERE.

And what 80s-themed sleaze rock record would be complete without the holy triumverate of song topics sex, drugs and rock'n'roll? All 3 are here on this disc and in spades, from songs like the uptempo "Hot Girls, Fast Cars" (with it's "really, really, really, really loud guitars") to the band's namesake track "Tales From The Porn" which is in actuality a nice band introduction with it's liberal, gratuitous use of the word 'motherfucker' (this is one you'll want to turn up to 11 and piss off your neighbors with), party anthem "Girls Wanna Party" and the mid-tempo "Perfect Love" which has all kinds of single potential and had it been released in the 80s would have probably been a smash hit for the band. There's even a nice, juiced up version of the Kenny Loggins hit "Danger Zone" that was featured in the Top Gun movie and Rachelle absolutely nails this one with his vocal delivery.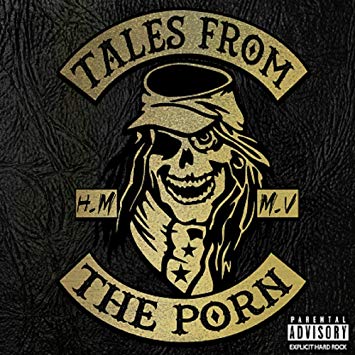 Looking at the album's credits you can see that Stevie Rachelle had a large hand in the composition of nearly all the songs contained herein and the end result is an album worthy of accolades. It's all killer and no filler here, which was a rarity even back in the heyday of this genre of rock. Cranking this disc in my Tahoe reveals a masterful job in the sound mix and production and the band has every right to be proud of the job done on H.M.M.V..
Listening to H.M.M.V. is like jumping into a time machine and being whisked away to the 1980s and for anyone who enjoyed the hairband era as much as this reviewer, this album is a must-add for your collection. It has that definite old-school feel to it but yet has a very modern sound and vibe which makes it completely relevant in today's music. My only regret is that I did not listen to this disc sooner because if I had it would have most definitely made my 'Best Of' list for 2017, likely in the top 5, it's that good. Do yourself a favor and check this out!
5.0 Out Of 5.0




Please log in to view RANTS

If you don't have a username, click here to create an account!