ALTER BRIDGE
Live At The Royal Albert Hall Featuring The Parrallax Orchestra
Napalm Records




Review By Thomas Coffman

For about a decade now we have been witnessing ALTER BRIDGE put out a lot of fantastic music. Now with this latest live CD/DVD they have taken things to another level. ALTER BRIDGE with The Parallax Orchestra at The Royal Albert Hall is a perfect combination. Listening to this CD it sounds like they were made for each other.

From the first song "Slip To The Void" to the last song "Open Your Eyes" ALTER BRIDGE shows the talent and charm that has made them famous worldwide. There is one song on here that is rarely ever played live called "Words Darker Than Their Wings and the orchestra gives it new life. Mark Tremonti on guitar is nothing short of spectacular as usual and Myles Kennedy on vocals has such a wide range and his charm just makes you feel like you have known him all of your life. Scott Phillips on drums always keeps precise timing for the band while Brian Marshall pounds the bass and definitely lets you know that he is there.

The additional instruments from the orchestra really add an extra layer to every tune. It's just amazing how well they go together. The crowd favorite is "Wonderful Life"/"Watch Over You" and you can just feel the love for the song from the audience participation. If there is one thing to say about this CD/DVD combo is that it is a must have for any ALTER BRIDGE fan and you won't regret paying a little extra for the combo.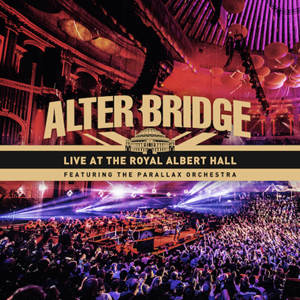 This CD/DVD feels like a celebration and everyone is invited.
The start of the DVD contains the band talking about how this concert came together and then goes straight into kicking your ass with high quality sound and high resolution footage. The performance is so good that you almost forget that the Orchestra is not part of the every day band! It just sounds that good!! Even if you're not the biggest fan of ALTER BRIDGE you will not be able to deny the fact that this performance was one of, if not their best ever!! I will be honest, when I heard that ALTER BRIDGE was releasing another live CD I thought to myself that it was too early since they had just released Live At The 02 Arena in September 2017 but was I ever wrong. This whole project took over a year to make happen....It was worth it in my opinion!
5.0 Out Of 5.0