SLEAZY WAY OUT, INSUFFICIENT FUNDS In Ottawa, Canada


By Andrew Depedro, Ottawa Corespondent
Monday, September 17, 2018 @ 10:35 AM


| | | |
| --- | --- | --- |
| | | Born To Booze But Never Born To Lose: SLEAZY WAY OUT And INSUFFICIENT FUNDS Satisfy The Patrons At The Avant Garde Bar, Ottawa, Canada, August 24, 2018 |
It was the first of two fast-paced shows that would be hitting up the Ottawa area on the last few weeks of sweltering summer heat – and what were the odds of the headlining band's guitarist being the lifelong partner of a KNAC.COM chatroom member too?

Presenting the review where I hung out with the band and got the T-shirt to prove it – and all on the cheap for the financially embarrassed!

Speaking of such, the opening band INSUFFICIENT FUNDS catered well to their audience and lived up to their name. They could have also gone with PISTON BROKE too but that sounds more like a regular tour vehicle problem than a band name. As such, the local garage rockin' trio looked and sounded just as a garage band was supposed to sound – fast, loose and occasionally out of key. Yet, with songs titled "Hetfield", "Just Fine", "Faster Than" and a rousing version of "Master Of Puppets" the band sounded rich in tenacity and fury. Hopefully they can scrape up enough sufficient funds to put out an album of sorts in the near future.

https://www.facebook.com/insfunds/
https://www.reverbnation.com/insufficientfunds7/songs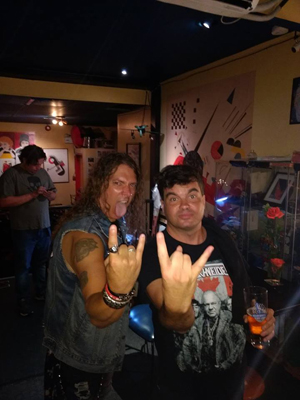 While they weren't the official headliners on this eastern seaboard jaunt billed as the Shady Way Out, Montreal gutter merchants SLEAZY WAY OUT played as if they did. The quartet comprised of Stacey Sleaze (vocals), Xavier (subsonic groove master-er, bass), Joey (drums) and Cleve "Mr. LivingDeadGirl" Hartwick (guitar/KNAC.COM roomie LivingDeadGirl's other half/guy who donated free T-shirt to me) had a near-hour-long set of songs from both studio albums and two covers and teased and glammed up the rest of the night. Frontman Stacey Sleaze can somehow channel the larger-than-life persona of Sam Kinison with the fiery vocal exuberance of Axl Rose just on the opening number "Satisfy Me" alone. And thankfully there's not a slow tempo to be heard anywhere during the show thanks to energetic numbers such as "Hotter Than Fire", "Going Wild" and "Rock The Groove". Closest would maybe be "All The Way To Heaven" but it only serves as a precursor for Stacey to get riled up as the band launches into their cover of TWISTED SISTER's "Burn In Hell". Guitarist Cleve is as much of a match to Stacey's singing with his own low raspy backing vocals and can play a mean axe to match. Xavier's subsonic bass grooves and newcomer Joey's competent drum work round out some quality rhythm section work from a band whose musical style may be out of step with the times in 2018 to the untrained ear. That said, when the past nine months of the year is defined by monotonous SoundCloud hip-hop and R&B divas, it's refreshing to see a band such as SLEAZY WAY OUT working as hard as they can to make an easy – and sleazy – living rockin' the masses as part of their sole mission statement.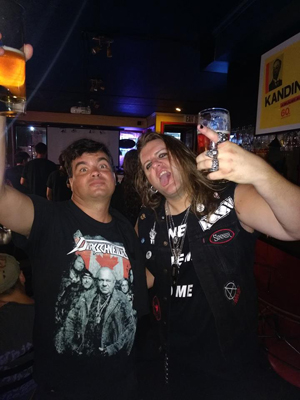 Thanks again to the Avant Garde bar for hosting this event and to the bands that played!
https://www.sleazywayout.com/
https://www.facebook.com/SleazyWayOut/
Setlist:
"Satisfy Me"
"Hotter Than Fire"
"Rock The Groove"
"All The Way To Heaven"
"Burn In Hell" (TWISTED SISTER cover)
"Going Wild"
"You Could Be Mine" (GUNS 'N ROSES cover)
"Wasted Chance"
"Born To Booze"
"I Want It"




Please log in to view RANTS

If you don't have a username, click here to create an account!






DR. PHEABES Army Of The Sun

TRANS-SIBERIAN ORCHESTRA In Portland, OR With Photos!

SLAYER's 2nd To Last Show In Los Angeles With Photos!

CATTLE DECAPITATION Death Atlas

RUNNING WILD Crossing The Blades (EP)

KING DIAMOND In Portland, OR With Photos!

BLACK ROZE Spiritual Hell

DEEP PURPLE Live In Rome 2013

CRASHDIET Rust

VIXEN In Houston Photo Gallery

AFTERSHOCK FESTIVAL Photo Gallery Day 3

AFTERSHOCK FESTIVAL Photo Gallery Day 2

AFTERSHOCK FESTIVAL Photo Gallery Day 1

AVATARIUM "The Fire I Long For"

LEGENDRY The Wizard And The Tower Keep

PLATINUM OVERDOSE Murder In High Heels

CHILD BITE Blow Off The Omens

AS I LAY DYING, AFTER THE BURIAL, FROST KOFFIN In Houston, TX With Photos!

A KILLER'S CONFESSION The Indifference Of Good Men

SLAYER The Repentless Killogy

FIT FOR AN AUTOPSY The Sea Of Tragic Beasts

BELPHEGOR, SUFFOCATION, NECRONOMICON, ABIOTIC In Los Angeles With Photos!

TYGERS OF PAN TANG Ritual

BABYMETAL, THE HU In Portland, OR With Photos!

MACHINE HEAD Live in Dublin, Ireland

MAYHEM Daemon

ALICE COOPER In Orlando, FL With Photos!

SLAYER In Springfield, MA

AGNOSTIC FRONT Get Loud!

LACUNA COIL Black Anima

BLACKTOP MOJO Under The Sun

ROB HALFORD Celestial

SEBASTIAN BACH In St. Petersburg, FL With Photos!

HELLOWEEN United Alive In Madrid

HAMMERFALL's Halloween Ball In Ottawa, Canada

ANGEL WITCH Angel Of Light

BLUE OYSTER CULT, UFO In New York City