PRIMAL FEAR Apocalypse


By Alex Yarborough, Orlando Contributor
Wednesday, October 3, 2018 @ 10:31 AM


| | | |
| --- | --- | --- |
| | | |
PRIMAL FEAR
Apocalypse
2018 Frontiers Records




2018 sees PRIMAL FEAR celebrating their 21st year, and releasing their 12th studio album, Apocalypse. It is the band's sixth album for Frontiers Records, and follows the success of 2016's great album, Rulebreaker. The lineup is the same as it was with Rulebreaker, featuring the talents of vocalist Ralf Scheepers, guitarists Alex Beyrodt and Tom Naumann, bassist Mat Sinner and drummer Francesco Jovino. Session guitarist Magnus Karlsson once again contributes songwriting and playing as well.

Apocalypse starts with the title track, a separate instrumental intro featuring a heartbeat and tolling bell. PRIMAL FEAR has done an intro like this a few times before; the last album to have an intro similar to this was 2012's Unbreakable. The song serves as the segue for the first proper track, "New Rise", a full-on speed-metal attack. The next song, "The Ritual", is one of the best songs on the album in my opinion, and features a trademark snarling guitar riff, with a shredding solo as well. Mr. Scheepers is in equally vicious form on this song. "King Of Madness" resides in that mid-tempo range that PRIMAL FEAR occupy well. A solid track overall, which you can watch the video for on KNAC.COM HERE. Another favorite pops up next, the awesomely-titled "Blood Sweat & Fear". This underdog tale will have the fans pumping their fists. "Supernova" is a power ballad, replete with piano, harmony guitars, and Mr. Scheepers stretching his voice to the limit.

"Hail To The Fear" is a solid track, but plods a little for my taste. I wanted this song to be faster. "Hounds Of Justice" picks up the pace a little more. "The Beast" is a decent song, while "Eye Of The Storm" is a mid-tempo epic, featuring an orchestral middle eight section. It is the longest song on the album at eight minutes in length. Album closer "Cannonball" is up-tempo, and has some nice riffing throughout. Ralf probably hits his highest note on Apocalypse on this song.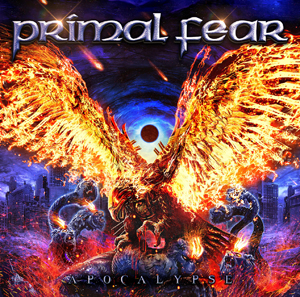 I bought the digibook version of the album, which comes with a "making-of" mini documentary, music videos and three bonus tracks. Fans are going to want to buy this version as the bonus tracks "Fight Against All Evil", "Into The Fire" and "My War Is Over" are all very strong tracks, with tons of brilliant guitar work. One minor complaint I have is that the booklet doesn't list which guitarist plays what on the album. With so much talent on guitar, it would be nice to know at least who played the solos.
Overall, I like Apocalypse a lot. It is another strong entry from the German Metal Commando. I don't think I like it quite as much as Rulebreaker, which I thought was one of the band's best albums. Stan Decker contributes the colorful album artwork. Apocalypse will be the final PRIMAL FEAR album for Frontiers Records, as the band recently announced their return to their former home, Nuclear Blast Records, after 13 years. In fact, the label has already released a new single to announce this reunion. But that's a review for another day. For now, Apocalypse stands as a monument to this band's hard work for the past two years.
Apocalypse is available now on CD, CD+DVD, Box Set, and black, transparent red and transparent blue vinyl.
4.4 Out Of 5.0




Please log in to view RANTS

If you don't have a username, click here to create an account!