SKULL FIST Way Of The Road


By Daniel Höhr, European Correspondent
Tuesday, October 9, 2018 @ 7:13 AM


| | | |
| --- | --- | --- |
| | | |
SKULL FIST
Way Of The Road
Napalm Records, 2018




As the number of recent albums released by a younger generation of bands suggests, there seems to be a real renaissance of classic, no-frills heavy metal going on. There is even an acronym for this movement: NWOTHM (New Wave of Traditional Heavy Metal). One of the bands that certainly qualify for the pigeonhole of Traditional Heavy Metal is the four-piece SKULL FIST from Toronto, Canada. Zach Slaughter (vocals/ guitar), Jonny Nesta (guitar), Casey Guest (bass) and JJ Tartaglia (drums) are to release their third full-length studio effort Way Of The Road on 26 October through the Austrian label Napalm Records and, to get straight to the point, it is absolutely awesome.

The Painkiller-style drum intro to the high speed opener "You Belong To Me" sets off a cluster bomb of riffs, rhythm patterns, guitar licks and vocal lines that are deeply rooted in 1980s Heavy Metal and Speed Metal but are given an extra dose of fuel and explosive power. However, SKULL FIST do not just rely on neckbreaking speed as in the opener or the extra fast "I Am A Slave", but show a wide range of different moods and feels on Way Of The Road. Among the groovier mid-tempo numbers are the second track, "No More Running", with its driving bass, captivating lead guitar melody in the intro and its earworm vocal line, or the sinister stomper "Witch Hunt".

Speaking about vocals, occasionally singer/guitarist Zach Slaughter's high voice somehow reminds me of ARMORED SAINT's John Bush in a "Chemical Euphoria" sort of way. And yet it is not just the vocals that seem to come straight from the Golden Age of Heavy Metal, it is also the riffing, the guitar work, the songwriting and arrangements that bring back long-missed qualities. However, the Canadians add a good dash of creativity combined with stellar musicianship to traditional heavy metal building blocks. The album sounds fresh, energetic and doesn't lose momentum for one second.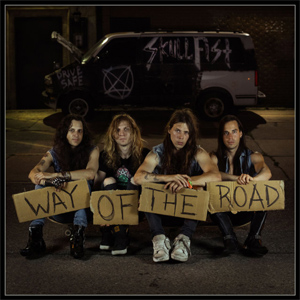 Songs like the Rock 'n' Roll infused title track, solidly based on a dominant and fun-to-listen-to bass groove, or the sing-along inducing "Heart Of Rio" show the band's infectious joy of playing. The guitarists are audibly enjoying themselves on "Better Late Than Never", providing virtuoso twin guitar passages over Casey Guest and JJ Tartaglia's high velocity rhythm section. The three-minute-twenty-two second speed rocker "Don't Cross Me" has some appealing tempo changes and progressive as well as neo-classical instrumental sections while the final track, the anthemic "Stay True", brings a refreshingly laid-back and balladesque melodic feel to this killer album.
Nine outstanding songs, each one a killer, uncompromisingly heavy metal, stellar musicianship and an powerful yet crystal clear production sound make SKULL FIST's third studio album one of the heavy metal highlights of this year. There's a metal legend in the making and Way Of The Road is their first masterpiece, which definitely deserves five out of five.
Go get the album.
5.0 Out Of 5.0




Please log in to view RANTS

If you don't have a username, click here to create an account!