BUTCHER BABIES, KOBRA AND THE LOTUS, SKARLETT RIOT, IGNEA, MAERTYRIUM, In Siegburg, Germany


By Daniel Höhr, European Correspondent
Wednesday, October 24, 2018 @ 1:48 PM


| | | |
| --- | --- | --- |
| | | 19 October 2018 At Kubana Live Club |
Photos By Daniel Hohr
Name three metal bands fronted by women.
Now, I guess that a) DORO and ARCH ENEMY may have been on your list and b) that you had to think longer than you would have if I had asked you to name three metal bands fronted by men.
Even though female artists have occasionally played a more or less major role in metal culture, the scene is generally perceived as driven by testosterone. In an interview published in August 2017, ARCH ENEMY's Alissa White-Gluz says: "It's really not easy for women, actually. We face a lot of criticism, we face a lot of lose-lose situations. […] But I feel like now we got to the point where the definition of metal has become: 'Be yourself, be who you are.'"
That the role of women in metal has been changing in recent years is indeed evident not only in the number of albums that have crossed my desk lately. The live experience I made last Friday has given me confidence that the metal scene is more diverse than ever, not just with respect to the seemingly growing number of female singers but also with respect to the different subgenres of metal getting a much needed dose of fuel in the form of estrogen these days.
The Female Metal Voices Tour 2018 hit the Kubana Live Club in the picturesque German town of Siegburg on Friday, 19 October. The billing that evening included five bands fronted by female singers and hailing from diverse corners of the world, some of which you wouldn't really associate with metal. And their respective subgenres were every bit as diverse as their origins, so there was definitely something for everybody that night.
The first act that took the stage was the Maltese melodic black metal band MAERTYRIUM, fronted by Mikaela Attard since this year. While black metal is clearly not my thing, never has been and never will be, the band's powerful performance was impressive and visually – if not musically – a real treat. With the musicians exhibiting some kind of RAMMSTEIN aesthetics outfitwise and make-up-wise, Mikaela did show quite a lot of skin, looking lasciviously evil into the audience while growling, grunting and shouting her guts out. Musically, the band delivered the usual blastbeats, black metal riffs and keyboard harmonies that are part and parcel of the genre. Personally, I found MAERTYRIUM quite one-dimensional, but towards the end of their set, Mikaela Attard switched over to singing clean vocals, thereby showing that indeed a degree in vocal performance from Berklee College of Music pays off.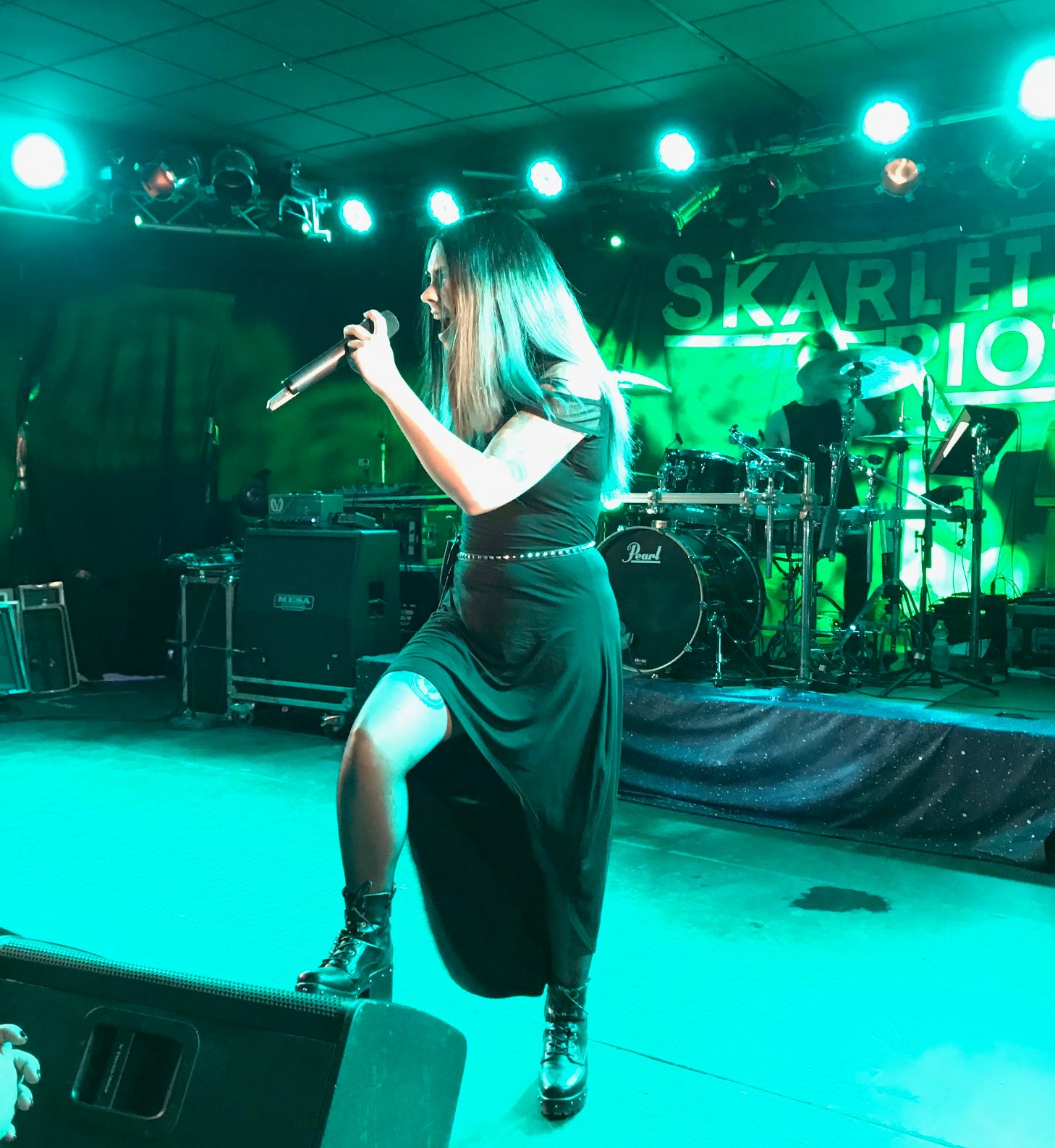 After a short changeover, the Ukranian five-piece IGNEA entered the stage. Their mix of symphonic metal and extreme metal with oriental elements went down really well with the crowd, which had slightly grown since the opening act left the stage. IGNEA's frontwoman, Helle Bogdanova, is a formidable vocalist, delivering growls as well as clean vocals with ease, power, and conviction. Her bandmates, too, played with utmost precision and expression, creating a sonic tapestry of different sounds and exotic style elements that truly deserve the verdict 'unique' in the most positive sense in the word. The music worked extremely well live and the musicians were playing their butts off. Particularly impressive was the moment when keyboardist Evgeny Zhinyuk took the keyboard off its stands and kicked off a solo part with breathtaking virtuosity. Great live act, catch them where you can.
SKARLETT RIOT came on next. The four-piece hails from North Lincolnshire, England and is fronted by Chloe "Skarlett" Drinkwater. By the time the quartet entered the stage, the club, which holds about 500 people, was almost full. SKARLETT RIOT's melodic hard rock/heavy metal with the odd alternative metal element definitely appealed to the KOBRA AND THE LOTUS fans that had already assembled in front of the stage, probably because they were stylistically not too different from the Canadian five-piece. The band's performance was energetic and rousing, the musicians' playing spot-on and Cloe Drinkwater's singing was top notch and occasionally goosepimple-inducing. Unfortunately, she didn't really cut through the mix on occasion but SKARLETT RIOT wasn't the only band that would endure technical problems that night. Never mind, what could be heard was great and Chloe's stage presence and her way to handle the audience made up for the less-than-stellar vocal sound. At some point, Chloe made the audience form a mosh pit to get into gear for the night's headliner, "because the BUTCHER BABIES won't settle for less". During the last song, guitarist Danny Oglesby jumped off the stage and into the centre of the mosh pit. The only slight complaint I had was that when Chloe was talking to the audience, she kept on saying things like "How the fuck are you, Germany?", which came across as slightly odd in such a small club in a provincial town. The name of "Siegburg" isn't too difficult to remember and it would have been appreciated if she had actually used it. But that is a petty thing to complain about, so I'll stop it. With a rhythm section as tight as a duck's arse and a hell-raising guitarist, the band from Lincolnshire turned out to be a real blast and is certainly an act to watch out for.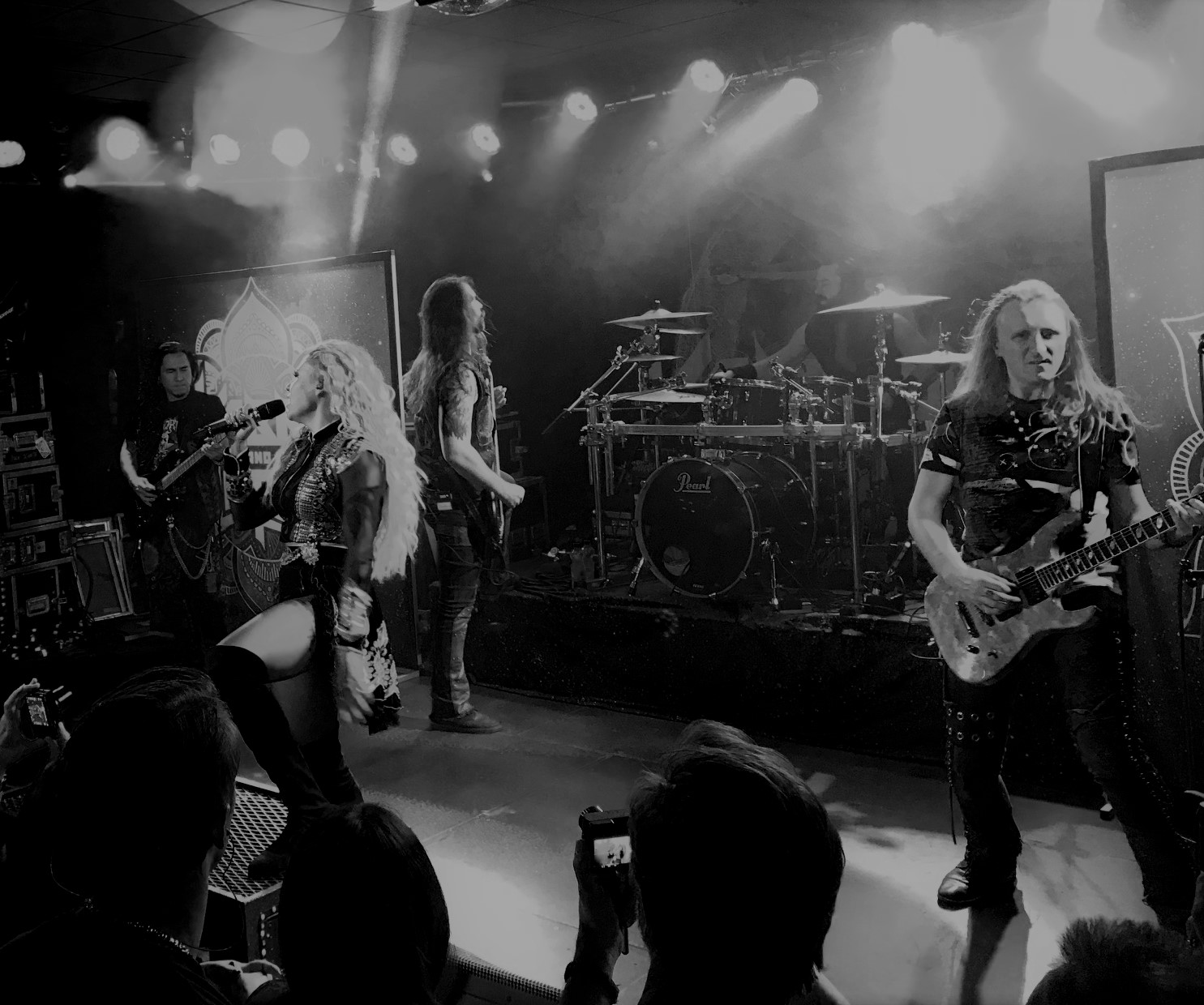 Then the co-headliners, the Canadian hard rock / heavy metal quintet KOBRA AND THE LOTUS took the stage. To be honest, that band was the reason why I went to the show in the first place and, to come directly to the point, they also were the highlight that night – BUTCHER BABIES fans, feel free to disagree here. Having seen KATL twice last year – opening for BRITISH LION in Cologne's Luxor club in August and co-headlining with BEYOND THE BLACK in Essigfabrik, Cologne in December, I couldn't wait to see them again with their new guitarist Ronny Gutierrez. After the intro, KATL opened their set with "Losing My Humanity", the opening track of their recent album Prevail II. Judging from the number of KATL bandshirts and the audience's reaction, I wasn't the only one who were thrilled to see the show. It seems the Canadians have acquired quite a following on this side of the Atlantic and their melodic hard rock / heavy metal definitely meets the taste in music over here. The band was in top form, played tight and proved once again that they are definitely one of the most exciting younger bands. Their set almost exclusively contained tracks from the last two albums, Prevail I and Prevail II, and their performance of the material was just stunning, to say the least. The guitarists Jasio Kulakowski and Ronny Gutierrez played so well together as if they hadn't done anything else before, bassist Brad Kennedy and drummer Lord Marcus Lee once more turned out to be a hell of a rhythm section and Kobra Paige proved again that she is definitely one of the best female metal singers of our time.
Rock 'n' Roll being live music and involving human beings operating complex technology, technical hitches are sometimes inevitable. After the third song, the speedy neckbreaker "Specimen X" from Prevail I, Kobra said she had problems with her in-ear monitor and couldn't hear herself. "But that's rock 'n' roll, you sometimes have to sing without hearing yourself," she said. Not that anybody would have noticed – her vocals were spot-on and she never lost command of her voice. However, after the ballad "Light Me Up", she said that the band were having "a lot of technical problems" and during the next minutes, bass player Brad Kennedy entertained the crowd for a bit and Jasio Kulakowski strummed a few chords while the issues on stage were resolved. It is in situations like those that the spontaneity of bands is tested but KATL, being true rockers and absolute professionals, mastered the situation and after a few minutes continued their show with "Let Me Love You" from the new album. Each and every song went down extremely well with the audience and quite a few people were singing along, especially during the eagerly awaited "You Don't Know", the first single from Prevail I. However, after that song, the band left the stage without much further ado and the audience didn't get to hear "Gotham", which was actually the last song on the setlist. Obviously, there was time pressure and precious time was wasted sorting out technical problems. The audience didn't mind and there will always be a next time. Personally speaking, I can't wait for it.
Setlist
Intro
"Losing My Humanity"
"Triggerpulse"
"Specimen X"
"Light Me Up"
"Let Me Love You"
"Hell On Earth"
"Ribe"
"My Immortal"
"Velvet Rose"
"You Don't Know"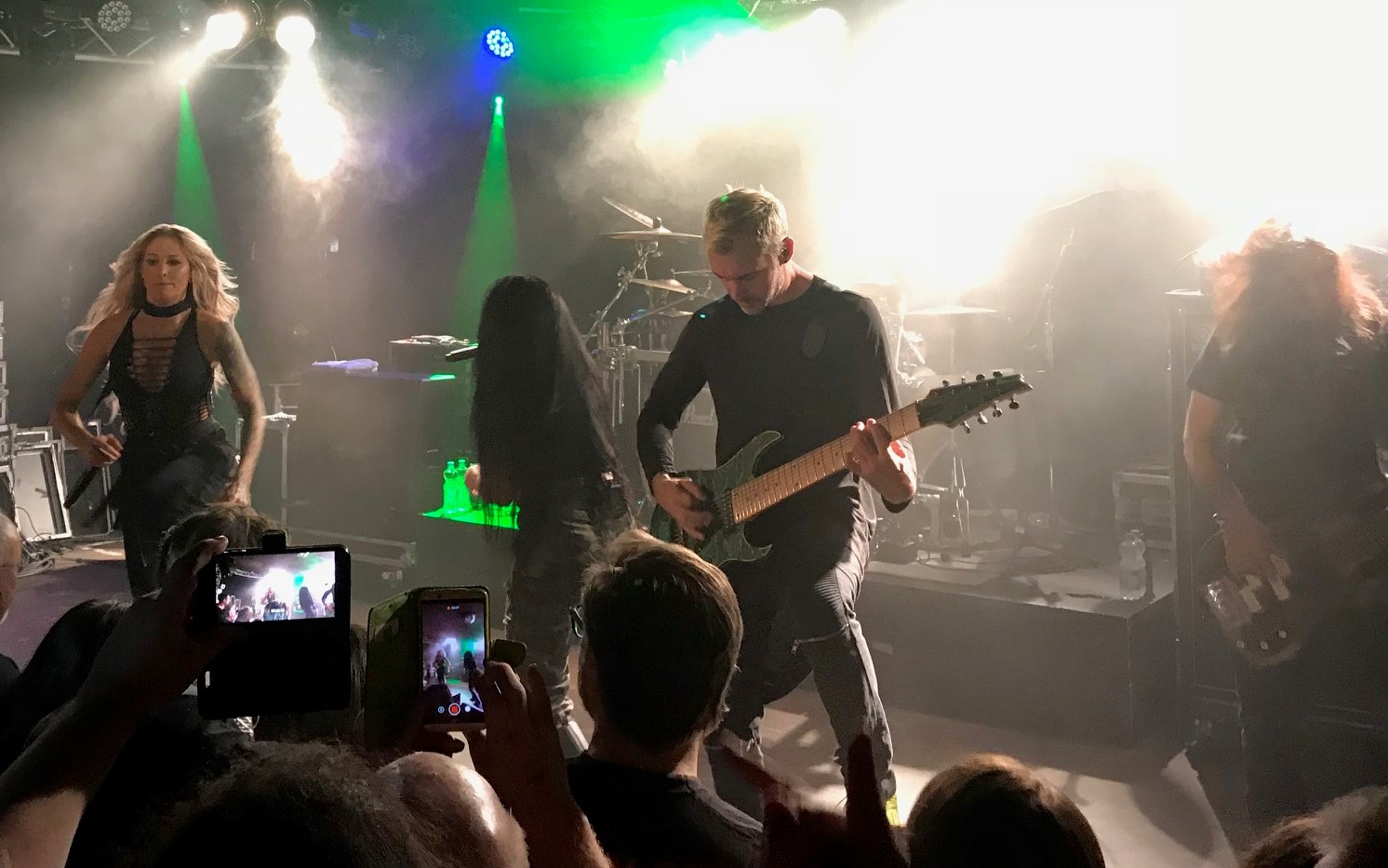 When the headliners, the Los Angeles-based hardcore/nu metal powerhouse BUTCHER BABIES, came on, the small club was boiling and it was almost impossible to get a bit closer to the stage. Their opener "Korover" pretty much set the tone for the show: relentlessly loud, energetic and straight in your face. While I have to admit that I'm not a great fan of this hardcore/new metal/groove metal/whatever you call it stuff, the audience that night in Siegburg were pretty much on fire headbanging, moshing and shouting along. And taste issues aside, even the greatest sceptic cannot but admit that this is an enormously powerful modern metal band fronted by two formidable singers. Heidi Shepherd and Carla Harvey sang and shouted their way through the set, which contained quite a lot of material, namely eight numbers, from their 2017 release Lilith. Four of the songs performed that night were from the previous album Take It Like A Man, while the 2013 debut Goliath was represented by "Grim Sleeper" and "Magnolia Blvd.". The NAPOLEAN XIV cover "They're Coming To Take Me Away, Ha-Haa!", originally released on the 2014 Uncovered EP, was one of the undisputed highlights that night. The band and the crowd were definitely enjoying themselves, the atmosphere was getting hotter and hotter, which was not only due to the lead singers' low necklines. The sheer energy emanating from the stage was as incredible as the musicians' playing. Unfortunately, Carla Harvey was suffering from a cold, so she may not have been the fittest that night, which didn't really stop her from giving an incredible performance.

The Female Metal Voices 2018 show in Siegburg was a great evening comprising a range of different styles, totally different bands and, above all, stunning frontwomen. Of course, a show like that is by no means a competition but if it were, my personal winners that night would have been KOBRA AND THE LOTUS and SKARLETT RIOT. But that is a question of taste and de gustibus non est disputandum.

Setlist
Intro
"Korova"
"Burn The Strawman"
"Monsters Ball"
"The Butcher"
"Headspin"
"Grim Sleeper"
"The Huntsman"
"POMONA (Shit Happens)"
"Dead Man Walking"
"Gravemaker"
"Oceana"
"They're Coming To Take Me Away, Ha-Haaa!"
"Lilith"
"Look What We've Done"
"Magnolia Blvd."




Please log in to view RANTS

If you don't have a username, click here to create an account!