BRITISH LION, CONEY HATCH In Ottawa, Canada


By Andrew Depedro, Ottawa Corespondent
Thursday, November 15, 2018 @ 11:17 AM


| | | |
| --- | --- | --- |
| | | They've Got The Night! The Mane Attraction Roars Into The Brass Monkey Bar With Special Guests/Former Tourmates, November 3, 2018 |
Photos By Andrew Depedro
Monkey bars! Swingin' stars! Countin' cars! And even a Mitch Lafon sighting!
The overdue 35-year reunion of one of the least-known tour pairings in Canadian hard rock history took place at the famed local establishment the Brass Monkey thanks to the venue's owner just happening to be an avid IRON MAIDEN fan who recalled the band's World Piece tour for the band's fourth album Piece Of Mind. MAIDEN had already broken big in North America at the time – mostly thanks to earlier and more receptive exposure in Canada – but the North American leg of the tour back then was seen as not only ambitious for a then-fledgling British heavy metal band headlining their first tour, but also because of the number of bands brought out with them on tour. SAXON and FASTWAY had initially joined the start of the tour before they were forced to leave after four shows due to scheduling conflicts with their own tours at the time. The band that came to replace them for the remaining dates were a fresh quartet from Toronto who were able to join MAIDEN for 40 sold-out shows across North America following much buzz from their second album Outta Hand. They were CONEY HATCH (named after a mental institution in London, England whose famous guests included one of Aleister Crowley's wives and several serial killers) and they won over both the band and their legion of fans thanks to the powerful guitar work of Carl Dixon and the gritty vocals of Andy Curran.
And even 35 years later, they've left enough of an impression on Steve Harris for him to bring them out on tour with him again including at this stop in O-town.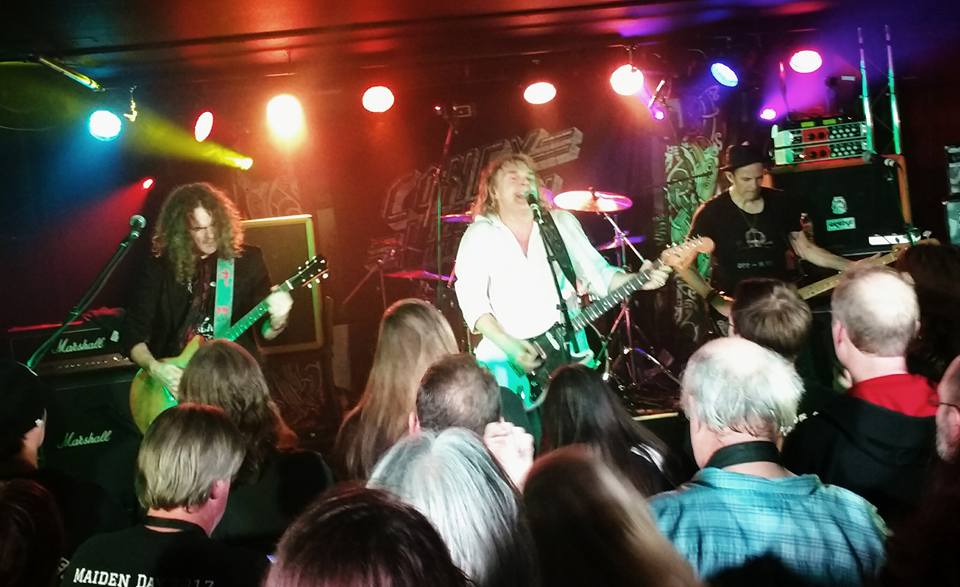 Starting their set with a high-energy performance of "We've Got The Night", the current CONEY HATCH lineup of Dixon, Curran, new guitarist Sean Kelly and drummer Dave "Thumper" Ketchum sounded as every bit as loud as they did in the 80's. Luckily, both Dixon and Curran also still sound as every bit as energetic and clear as they did in the 80's – and Dixon cheated death following a near-fatal head-on collision in Australia a decade ago. And the newfound energy showed as the duo took turns on the classic CONEY HATCH numbers such as "Hey Operator", "Don't Say Make Me", "The Girl From Last Night's Dream" and the closing crowd pleasers "Devil's Deck" and "Monkey Bars" ("You think we'd leave without playing our biggest hit?" – Andy Curran mused). The band threw some surprise numbers in as well: The lesser-known (and likely inappropriately titled) "Boys Club" (Andy Curran basically apologized for the song's content in this day and age, himself being the father of two daughters, before playing it) and a rousing cover of the ANGEL CITY hit "Marseilles", which the band used to play during their club years. New guitarist Sean Kelly (HELIX, NELLY FURTADO, CRASH KELLY) slayed on all of the songs and even matched the bizarre jazz clarinet-like solo on "Monkey Bars" note for note. In closing, CONEY HATCH were an unbridled force of insane musical energy that was impossible to harness that night, let alone keep locked up.
http://coneyhatch.com/
https://www.facebook.com/Coney-Hatch-531314423551196/
Setlist:
"We've Got The Night"
"Stand Up"
"Blown Away"
"Fantasy"
"The Girl From Last Night's Dream"
"Boys Club"
"Don't Say Make Me"
"Marseilles" (ANGEL CITY cover)
"This Ain't Love"
"Fallen Angel"
"Hey Operator"
"Devil's Deck"
"Monkey Bars"
As evidenced by now, the reunion of sorts between CONEY HATCH and one of the members of their former touring colleagues IRON MAIDEN was not just by circumstance, as bassist Steve Harris has been keeping busy in between preparations for his band's upcoming world tour next year with projects of his own. His recent project is BRITISH LION, which came about in 2012 following a previous stint of managing/recording with the band sporadically during the early/mid 90's. The band's self-titled debut was more in line with MAIDEN's influences such as THIN LIZZY and UFO than to MAIDEN's own sound. With a lineup comprised of singer Richard Taylor, guitarists Graham Leslie and David Hawkins and drummer Simon Dawson, the LION was poised to make its arrival with a roar as the band kicked off their set with solid opener "This Is My God".

From onwards, BRITISH LION ruled the stage with fang and claw. Frontman Richard Taylor kept a modest presence at first as he tested the audience reaction after the first song but it didn't take him long to win them over. Thankfully, enough of the audience are fans of anything Steve Harris lends his name to and the result was both parties feeding energy off from each other. Harris, in particular, felt completely in his element even though he's long been removed from the early club days back from when IRON MAIDEN started out. His playing, while still as stellar as ever, was also more relaxed thanks to a new playing style of letting the strings "fall dead" – something he's never done while playing in MAIDEN. And as someone who's seen MAIDEN three times, I can attest that the only time Harris ever lets the bass sound dormant is between the end of one song and the beginning of the next.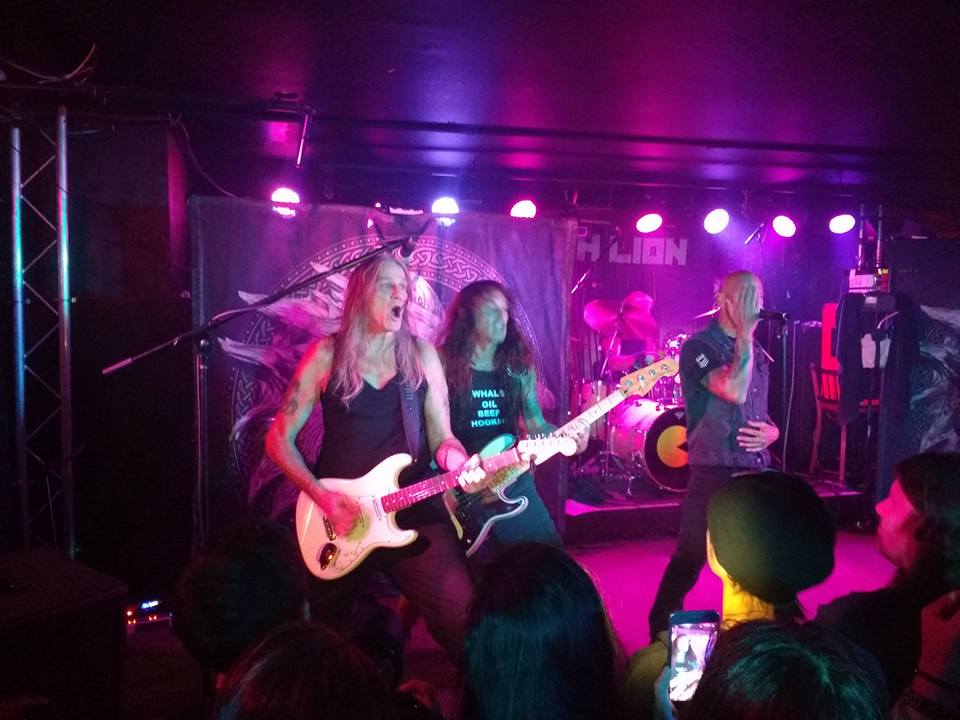 Meanwhile, the chemistry between Harris and his bandmates was clearly evident in songs such as "Father Lucifer", new song "Spitfire", "Bible Black", "Us Against The World" and an homage to CONEY HATCH's Andy Curran with a surprise cover of his solo hit "Nickels And Dimes". The closing numbers "A World Without Heaven" and "Eyes Of The Young" had some hints of powerful MAIDENesque riffs and even a bit of Harris' signature galloping bass grooves but they were also numbers which stood on their own even with one of the progenitors of classic metal playing amongst them.
2019 stands to be both a busy and interesting year for Steve Harris as he'll be focused both on the release of BRITISH LION's follow-up album as well as IRON MAIDEN's upcoming world tour. Look for the band to be taming a couple more lands soon enough in South America and Japan as this beast's number won't be up anytime soon.
https://steveharrisbritishlion.com/
https://www.facebook.com/steveharrisbritishlion/
Setlist:
"This Is My God"
"Lost Worlds"
"Father Lucifer"
"The Burning"
"Spitfire"
"The Chosen Ones"
"These Are The Hands"
"Bible Black"
"Nickels And Dimes" (Andy Curran cover)
"Last Chance"
"Us Against The World"
"Lightning"
"Judas"
Encore:
"A World Without Heaven"
"Eyes Of The Young"




Please log in to view RANTS

If you don't have a username, click here to create an account!