Texas Terri Bomb
Your Lips… My Ass!


By Frank Meyer, Contributing Editor
Tuesday, June 22, 2004 @ 9:04 AM


| | | |
| --- | --- | --- |
| | | (TKO Records) |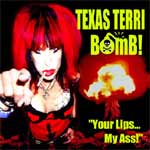 Hollywood by way of the Lone Star State, punk rock 'n roll legend Texas Terri returns with her long-awaited sophomore effort with a new backing band and a slew of guest stars in tow. And for an album executive produced by legendary knobsmith Jack Douglas (the guy who did all the great Aerosmith albums, among others), boy, is this a raw and randy affair! But that's what ya want from the bastard offspring of Iggy Pop and Wendy O' Williams, right?

"One Hit Wonder" opens ups the disc nicely with a one-two punch of punk 'tude and fast paced riffing. "Dirty Action" and "Never Shut Up" are sleazy odes to debauchery that Nikki Sixx would likely wish he had penned for the last Crue record. "Dream Wrecker" and "Oh Yeah" are leftovers from her previous backing band days, the Stiff Ones, but are both strong tunes. In fact, the riff in "Oh Yeah" (penned by Loren Molianare of Little Caesar and The Dogs) has got to be one of the best in recent years. "Mafia" and "Raunch City" are punky blasts of heat, while "Love Hates Me" injects some tenderness into the sordidness.

Augmented by guitars by Wayne Kramer (MC5), Sonny Vincent (Testors), and members of the Dwarves, Dickies, Motochrist, Alice Cooper band and Pigmy Love Circus, Terri offers up a 14-track affair that rocks non-stop from top to bottom with her patented brand of glamy punk. Faster Pussycat's Taime Downe even steps in for backing vocals on "Strike 3" and "To The Top," adding some of his screechy gutter wail to the mix. But the best of the bunch is Runaways vocalist Cherrie Currie, who does a spirited duet with Terri on Thin Lizzy's "The Rocker," sounding like she hasn't aged a day since she dropped "Cherry Bomb" and changed rock forever.

Ironically, the least impressive thing here is the mix. With the mighty Jack Douglas at the helm, you'd expect and pretty huge sound. What you get though is the Raw Power treatment, all vocals and lead guitars up front, with the rhythm section trying desperately to be heard in the mix. Appropriate? Yes. Impressive? Hardly. Production-wise, it don't sound much better than her last one (which, sounded just fine, by the way). The vocals also sound doubled on just about every song, which is cool for Robin Zander, but for Texas Terri? First off, amazingly, the gal can actually sing, so you don't really need all the effects. Secondly, even if she couldn't sing, who cares? This ain't the kinda music you need polished vocals on anyways.

Good shit, though.

* * * *




Please log in to view RANTS

If you don't have a username, click here to create an account!






UFO, DAMON JOHNSON In Cleveland, OH With Photos!

BLUE OYSTER CULT In Portland, OR With Photos!

FRAMING HANLEY Envy

GOD DETHRONED Illuminati

METAL ALLEGIANCE In Los Angeles, CA With Photos!

DELAIN Apocalypse & Chill

THEORY OF A DEADMAN Say Nothing

ALTER BRIDGE In Nashville, TN With Photos!

DIRTY HONEY In Nashville, TN With Photos!

VINNIE MOORE Soul Shifter

ROSS THE BOSS Live In Ottawa, Canada

THE THREE TREMORS In Orlando, FL With Photos!

SEPULTURA Quadra

SONS OF APOLLO In Hollywood, CA With Photos!

SUICIDE SILENCE Become the Hunter

BRIAN POSEHN Grandpa Metal

LOVE AND WAR Edge Of The World

STEVE HARRIS' BRITISH LION In Nashville, TN With Photos!

THE THREE TREMORS The Solo Versions

LORDI Killection (A Fictional Compilation Album)

QUEENSRYCHE, JOHN 5, EVE TO ADAM In Houston, TX With Photos!

MARKO HIETALA Pyre of The Black Heart

ANVIL Legal At Last

BRITISH LION The Burning

KIRK WINDSTEIN Dream In Motion

MAGNUM The Serpent Rings

THE ACACIA STRAIN It Comes In Waves

DENNER'S INFERNO In Amber

SONS OF APOLLO MMXX

AMORIELLO Dear Dark (EP)

SERIOUS BLACK Suite 226

MARK MORTON Ether