AMARANTHE Helix


By Halo, Heavenly Contributor
Thursday, January 17, 2019 @ 12:29 AM


| | | |
| --- | --- | --- |
| | | |
AMARANTHE
Helix
Spinefarm




Helix is AMARANTHE's 5th studio Album. The last album released was Massive Addictive in 2016. I am able to say with much appreciation I've had the pleasure of reviewing the last three albums and live shows to go along with the tours. If this review seems biased, well it is. I believe this band is one of the best Swedish bands and all around bands out in the dare I say the "metal" scene. They don't consider themselves just metal . They have been embraced by the Metal scene but they are so many music genres wrapped into one. Helix is Rock, Melodic Metal, Death Metal,T echno and pop-ish. I don't care what any other person says in their review, this band has something for everyone if given a listen. This album has Nils Molin who has taken over the male clean vocals when Jake E departed to start is own band CYHRA. Jake E is a fantastic vocalist. Nils slid right into this position and is killing it. He adds a sound that rivals 80s Power ballads vocalists. This adds electricity to Elize's vocals in a few of the tracks that have the ballad sound.

The singles released were "365","Countdown" and "Inferno". When "365" was released along with the video not only does it kick your ass, the sex appeal was one of my first observations. This video was a perfect first release. It was a great introduction to Nils as well, but the sex appeal is well..quite frankly hot. Does that sound Metal? Perhaps not, but they aced the metal look and sound and showcased every band member with a Sexy intro with gorgeous Elize. I listen to this track and Henrick pulls you in as well. Olof & Elize again wrote and composed this and they never disappoint. Moving along to another track that gets your blood pumping is "Inferno". Johan, bass player, is awesome in this one. Morten on drums rivals in my opinion the speed of drummer Joey Jordison. He is such a badass in several of these tracks.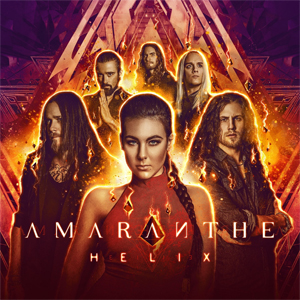 "GG6" is another drum intro by Morten. Holy shit he's fast! Henrick jumps in with his metal growl/rap hard vocals. This is probably one of the hardest tracks on this album. Henrick co-composed this track along with "My Haven". Yes, he's more than a sexy hard vocalist. "Dream" is a favorite of mine. Elize's voice showcases her ability to make rock mixed with a pop/ballad sound perfect. Nils shows his 80s ballad sound in this and mixes with Elize beautifully. Olof has a solo that is perfectly composed and makes this track a song that I believe could cross genres and be a #1 hit.
At the beginning of this review I admitted to being bias. I think AMARANTHE hits a homerun with every release. They again hit the charts. US top rock album sales Billboard at #19. US top Hard rock Album Billboard #7. US Heatseakers Album Billboard #1. I do believe this band does not yet have the notoriety and respect they deserve. They bring everything to the table. If you've never given AMARANTHE a try, DO IT! This band should be playing huge venues here in the States, not just overseas. I am such a fan, I know it shows, but they truly are full of talent. See them live on tour if able. You will thank me.
5.0 Out Of 5.0




Please log in to view RANTS

If you don't have a username, click here to create an account!






THE END MACHINE In Los Angeles Photo Gallery

TRUTH CORRODED Bloodlands

THE IRON MAIDENS In Houston, TX Photo Gallery

THE RAVEN AGE In Paris, France With Photos!

ENFORCER Zenith

NOTHING MORE In Houston, TX With Photos!

KISS Live In Ottawa, Canada With Photos!

KIX In New Bedford, MA With Photos!

PERIPHERY IV: Hail Stan

GARY HOEY Neon Highway Blues

BLOODBOUND Rise Of The Dragon Empire

ANTROPOMORPHIA Merciless Savagery

AS STRANGE AS ANGELS Mirror Mirror EP

HYPOCRISY, FLESHGOD APOCALYPSE In Dallas, TX

ARCH ENEMY In Bangkok, Thailand

WHITECHAPEL The Valley

THE RAVEN AGE Conspiracy

TYGERS OF PAN TANG Hellbound, Spellbound Live 1981

SPIRITS OF FIRE Spirits Of Fire

EXUMER Hostile Defiance

BURNING RAIN Face The Music

MOTLEY CRUE's The Dirt Movie

MIKE TRAMP In New Bedford, MA

DEVIN TOWNSEND Empath

QUEENSRčCHE The Verdict

MEGADETH Warheads On Foreheads

QUEENSRYCHE, FATES WARNING In Worcester, MA

Y&T In New Bedford, MA With Photos!

EXPERIENCE HENDRIX In Clearwater, FL With Photos!

OVERKILL, DESTRUCTION, FLOTSAM & JETSAM In Munich, Germany

TORA TORA Bastards of Beale

THE ELYSIAN FIELDS New World Misanthropia

IRON SAVIOR Kill Or Get Killed

BEAST IN BLACK From Hell With Love