MALEVOLENT CREATION The 13th Beast


By Larry Petro, News Monkey
Wednesday, February 20, 2019 @ 1:02 PM


| | | |
| --- | --- | --- |
| | | |
MALEVOLENT CREATION
The 13th Beast
Century Media




Review By Francisco Zamudio

It is so pleasing to the ear knowing that Old School Death Metal still reigns. The under-rated, under-appreciated fan base is larger than most mainstream fan bases. While new breeds push the extreme metal scene this way and that way with over-programmed and produced music that is lacking speed, and what We call "feel" - today's technology gives an advantage to groups whose root vibe is now accentuated and augmented so that these old school bands now sound so massive, the way they were meant to. Such as the case with veterans MALEVOLENT CREATION with their 13th full-release to date properly titled The 13th Beast (Century Media). The clarity of the low end, aggressive vocals, thick drums and thrashing guitars – together sounds so well rounded, thanks to Dan Swano at Unisound.

The 13th Beast is not only a landmark album with over 30 years of blood, sweat and tears behind it - but it marks many firsts in this new era for MALEVOLENT CREATION. Still fresh in many of our minds is the recent passing of frontman Bret Hoffman, who succumbed to cancer in July 2018 (FUCK CANCER!). The legendary vocalist dominated the mic since 1991's monumental debut album, The Ten Commandments. Now with a big task ahead of him, filling in Hoffman's shoes is Lee Wollenschlager. Not only has the South African born and now UK native become the frontman but also takes the role of guitarist. Joining Lee for recording debuts are Josh Gibbs on Bass and Phil Cancilla on Drums. Props and respect to Phil Fasciana for keeping MC alive, at least for another record in memory of Hoffman.

Opening with a roaring track, "End The Torture" is a clear statement Lee emphasized here in his new position. The word "unrelenting" gets thrown around so much it might as well be its own genre, but BRUTAL Death Metal seems to fit just as well as Old School Death Metal. The 13th Beast by definition is exactly all this. Thrash-infused grooves not at all lacking technical or excessive (and sometimes awkward) progressive writings. This is a straight punch to the gut blasting a hole in you. The bone crushing guitars are only matched by the intense blast beats. While it is possible the listener's attention may get lost in the constant barrage and monotonous tone of the vocals, there are enough breaks (not breakdowns) to catch your breath.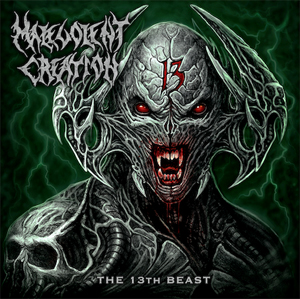 The raw feel of The 13th Beast will take many long-time Death Metal fans back to 90s. It will also give the modern fan, new or novice, a fresh perspective and hard reality- check so absolutely needed when it comes to, not only Extreme Metal as a whole, but American Extreme Metal. A genre with many modern bands who are trying to compete with each other, and with MALEVOLENT CREATION unleashing this Beast, it's a great example of a constant working formula. Speed-groove-blast-grind-growl...Repeat.
The 13th Beast is full of enthralling tunes that surely would get a pit moving. Many showoff the brutality this album holds, like "Agony For The Chosen", with a face peeling "dive-bomb" solo. The 7 minute blitzkrieg "Born of Pain". The maniacal "Decimated" coming in with blistering blast-beats countered with near SLAM-like groove that will have the crowd chanting along, "DECIMATED!"
MALEVOLENT CREATION have unleashed a monster in The 13th Beast giving a proper goodbye as well as a well articulated dedication to Bret Hoffman. Call it a comeback album if you want but this is definitely an album demonstrating that Old School Brutal Death Metal is defined by the great bands still pumping out monster upon monster albums.
4.0 Out Of 5.0




Please log in to view RANTS

If you don't have a username, click here to create an account!