Y&T, GILBY CLARKE In Houston, TX With Photos!


By Larry Petro, News Monkey
Thursday, February 28, 2019 @ 2:13 PM


| | | |
| --- | --- | --- |
| | | Bay Area Legends Celebrate 45 Years With Legendary Show At Warehouse Live |
All Photos By Larry Petro/Petrofyed Photography
Less than 24 hours after the first show of a back-to-back double concert whammy I found myself right back at Warehouse Live, just outside of the downtown Houston area, for a second helping of hard rock goodness, this time in the form of legendary Bay Area rockers Y&T, who are out on the road in celebration of the band's 45 Anniversary. In tow for this jaunt was former GUNS N' ROSES guitarist Gilby Clarke.
Gilby and his backing musicians, drummer Troy Patrick Farrell and bassist EJ Curse, took the stage relatively early for a Sunday night, but I guess with work the next day lingering over the majority of the crowd (I was off the following day for the holiday), it was probably for the best. Clark and company kicked off their set at 7:45 with "Wasn't Yesterday Great", a track from his 1997 solo album The Hangover and while I wasn't really sure what to expect from his performance, impressed was the word that immediately came to mind right from the start. And although the musician has 4 solo releases to his credit, the 12 song set was overwhelmingly comprised of cover tunes, and that was quite alright by me. There was "It's Only Rock 'n Roll (But I Like It)", "Knockin' On Heaven's Door", "I'm Eighteen", "Won't Get Fooled Again" and of course, the gratuitous GNR song, "It's So Easy". Clarke was all smiles as he showed his chops on the guitar and awed the crowd with his vocal abilities. Drummer Troy Patrick Farrell, a journeyman himself, having played for the likes of WHITE LION, THE RASKINS, TANTRIC and others, is an absolute beast behind the kit while bassist EJ Curse kept the fans entertained while holding down the backbone. This was certainly a great way to get things started.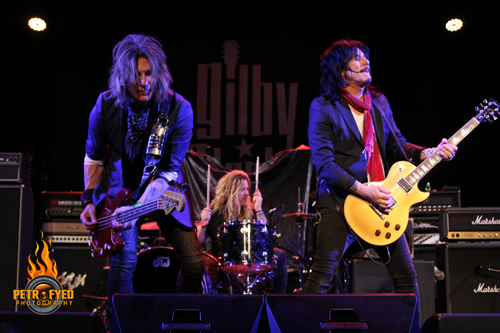 Setlist:
"Wasn't Yesterday Great"
"Under The Gun"
"It's Only Rock 'n' Roll(But I Like It)" (ROLLING STONES)
"Motorcycle Cowboys" (KILL FOR THRILLS)
"Knockin' On Heaven's Door" (BOB DYLAN)
"It's So Easy" (GUNS N' ROSES)
"Cure Me...Or Kill Me"
"I'm Eighteen" (ALICE COOPER)
"Monkey Chow" (SLASH'S SNAKEPIT)
"Won't Get Fooled Again" (THE WHO)
"Cowboy Song" (THIN LIZZY)
"Tijuana Jail"
Then it was Y&T time. When they took the stage at 8:45 I thought to myself, "This is going to be an early night". Little did I know what was in store. Y&T continues to run circles around their contemporaries, showing bands half their age exactly how it's done, turning in a 23 song, 2 and 1/2 hour performance! The band was completely on top of their game right from the opening notes "Hurricane". Following the opener, guitarist, vocalist and mainman Dave Meniketti address the crowd to inform us that, being their 45th anniversary this year, they were going to play for 2 hours and 15 minutes (they went longer) and were going to perform at least one track from every studio album. They kicked back into the jams with "Lonely Side Of Town" and took those in attendance on a musical journey of the band's career. Gems like "Face Like An Angel", "I Want Your Money" and "21st Century" were dusted off much to the surprise and delight of the crowd.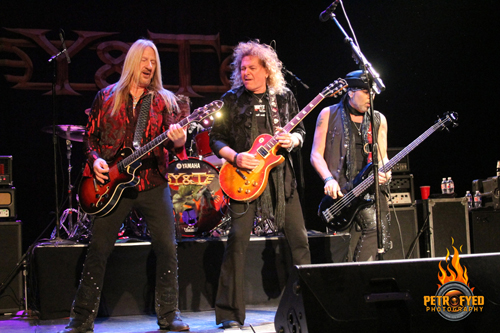 Meniketti is an ageless wonder, so much so that I am convinced that he found the Fountain of Youth early in his life and kept it all for himself. He hasn't lost a step, musically OR vocally, in the last few decades as if time has stood still for him and he still plays with 100% passion. Whether it was rocking tracks like "Don't Stop Runnin'", "Black Tiger", "Mean Streak", "Contagious" or "Summertime Girls" or slower, soulful numbers "I Believe In You" or "Forever", his performance was mesmerizing. His bandmates, longtime guitarist John Nymann, drummer Mike Vanderhule and new bassist Aaron Leigh are certainly no slouches either, complimenting Dave's prowess with their own.
Following the closer "I'm Coming Home", the band returned for "Sail On By" before letting the audience choose the next encore number. Several suggestions were made and then by way of crowd response, "Lipstick And Leather" (incidentally suggested by your truly) won out. Y&T finished off the night with "Dirty Girl" and the usual night finisher, "Forever". Having seen them at least 3 times now over the past 5 years or so, the band never disappoints! The setlist gets changed up every time and the band gives the fans every single penny's worth and more and they never charge for a meet and greet, obliging those that stick around afterwards with photos, autographs and general storytelling. You definitely should not miss this band when they come to your town!
Setlist:
"Hurricane"
"Lonely Side Of Town"
"Don't Stop Runnin'"
"Black Tiger"
"Come In From The Rain"
"Mean Streak"
"Midnight In Tokyo"
"Face Like An Angel"
"Earthshaker"
"Struck Down"
"I Want Your Money"
"I Believe In You"
"Hang 'Em High"
"21st Century"
"Contagious"
"Summertime Girls"
"I'll Cry For You"
"Rescue Me"
"I'm Coming Home"
Encore:
"Sail On By"
"Lipstick And Leather"
"Dirty Girl"
"Forever"
Check out some more photos from the show!
All Photos By Larry Petro/Petrofyed Photography




Please log in to view RANTS

If you don't have a username, click here to create an account!