DREAM THEATER Distance Over Time


By Andrew Depedro, Ottawa Corespondent
Monday, March 4, 2019 @ 12:35 AM


| | | |
| --- | --- | --- |
| | | |
DREAM THEATER
Distance Over Time
Inside Out/Sony Music




Intensities in ten cities – or more specifically, cottage country – abound as progressive metal maestros DREAM THEATER get away from it all on their 14th studio opus Distance Over Time and the results are well done. And when your career highlights spanning over 3 decades include being the soundtrack to NBC's coverage of Downhill Skiing at the 2002 Winter Olympics (1996's A Change Of Seasons), snagging the #1 All-Time Progressive Rock Album in a 2012 Rolling Stone poll (1999's Metropolis Pt. 2: Scenes From A Memory) and three back-to-back Top 10 albums (2009's Black Clouds & Silver Linings, 2011's A Dramatic Turn Of Events and 2013's self-titled release), you can afford to kick back and chill with some bros over some BBQ every now and then – and that's exactly what the band did.

Retreating to the secluded, five-acre Yonder barn studios in Monticello, NY, the DT crew of James LaBrie (vocals), John Petrucci (guitars), Jordan Rudess (keyboards), John Myung (bass), and Mike Mangini (drums) moved into the property's country-house where they shared memories, took turns manning the BBQ and fortifying lifelong friendships as the music happened organically and spontaneously throughout the summer in the beautifully converted barn only footsteps away. And they also brought to life one of their most balanced albums in their catalogue.

Opening number "Untethered Angel" starts off with a soft clean acoustic intro before it ascends to a hypnotic cadence with the band giving it 100% - from LaBrie's powerful melodic vocals to Petrucci's sweeping solos. Jordan Rudess also excels with a baiting yet loose Hammond organ duel with Petrucci right up to the song's climax. Makes perfect sense considering that the song's message is about individuality and resisting the fear of the unknown. Follow-up number "Paralyzed" invokes much of DT's ethereal Scenes From A Memory period while the intro to "Fall Into The Light" features a crunchy arena rock riff reminiscent of 70's rockers ANGEL before it launches into a wide-berthed fast-paced prog rock opus. The album's longest track "At Wit's End" is perhaps the album's stand-out and most socially woke song with its outlining message of physical/mental abuse, seeing its effects from the woman's perspective in an abusive relationship.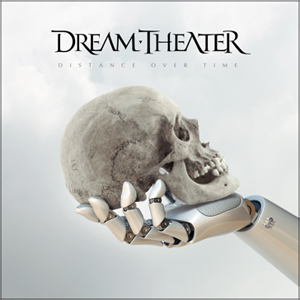 For those who may be doubting DREAM THEATER's ability to conjure up intricate conceptual storylines in their lyrics with as much impact as in their music on this album, you'll be plenty impressed with the riveting number "Barstool Warrior", a song about small town lore with cinematic lyrics focused around such an individual who has become "prisoner of the monster on his back". Ditto the mysterious "Room 137" featuring Mike Mangini's first take at collaborating lyrics since joining the band. Another first for DREAM THEATER is LaBrie expanding his lyrical horizons even further with the poetic ballad "Out Of Reach", and finally, the band channel their inner Carl Sagan with an ode to what Petrucci describes as "humankind's fleeting nature and our responsibility to deal more kindly with one another" in "Pale Blue Dot". And whatever the bonus track "Viper King" is about – likely about an ATV journey – it closes Distance Over Time nicely with its bouncy rhythm and groove thanks to Jordan Rudess' mad Hammond organ skills. Distance Over Time might not be the ultimate catchy go-to song collection to groove to around the bonfire at 2 AM overlooking the lake, but the labor of love going into its creation is still worthy of a decent soundtrack while toasting s'mores and craft beer with friends whether it's the long weekend or any other day of the year.
5.0 Out Of 5.0
https://www.facebook.com/dreamtheater/
http://dreamtheater.net/




Please log in to view RANTS

If you don't have a username, click here to create an account!