THE ELYSIAN FIELDS New World Misanthropia


By Francisco Zamudio, Metal X Candy 2.0
Tuesday, March 12, 2019 @ 10:54 AM


| | | |
| --- | --- | --- |
| | | |
THE ELYSIAN FIELDS
New World Misanthropia
Hammer Of Damnation




So the year is 2005 and Bombings in India, Egypt and London took place resulting in over 200 deaths combined. The LIVE 8 concerts took place, in observation of the world's poverty. Hurricane Katrina kicked the The Southern United States' ass. "Dubbya" starts his 2nd stint as POTUS. Pope John Paul II dies and Michael Jackson was acquitted of child molestation charges. And Greece's Symphonic Metal duo, THE ELYSIAN FIELDS released their last album Suffering G.O.D. Almighty (Black Lotus Records). Now more than a decade later, the pair of Michael K and Bill A have returned with a new comeback opus, New World Misanthropia (a Hammer of Damnation release).

We get so caught up on labels and whether or not you're a true supporter of extreme music, you are aware to the various sub-genres. It helps differentiate what you like and what you don't like. Unless you're one of those less-passionate and less-informed and say "nah man. It all rocks or it just doesnt" or "yeah they sound like that other metal band". This is upsetting at times because if you don't know what you want on your pizza, how are you going to get what you want?! So if I were to describe to you the great band as Avant-garde Symphonic Blackened Death Metal, how many would actually understand this? One needs to simply sit and listen to the masterpiece that THE ELYSIAN FIELDS has produced here with New World Misanthropia because it is a great example of how that length label easily fits.

There's not only a large gap in time since their last release in 2005 but a large difference from the style whereas Suffering G.O.D. Almighty had a heavy New Wave, Electro Gothy tone, not that that was a bad thing at all because it actually was a really good album. And the vibe on New World Misanthropia has a different focus embracing an Avant-Garde direction in its symphonic roots and a bit more technicality. Not like 2001's 12 abLAZ3e (Black Lotus Records) where it was more groove-oriented and a lot more lean on the symphonic/piano aspect. Again, that's not a bad thing at all. THE ELYSIAN FIELDS have been consistently putting out great albums since 1995's gloom and doom debut Adelain (Unisound Records). Now in 2019, having only released their FIFTH full length, it has easily proven to be their best material to date and easily already one of the best releases in 2019.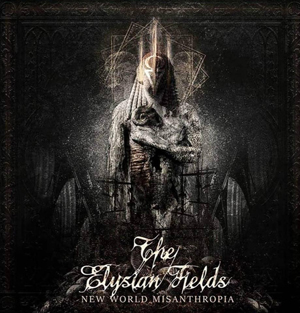 Although a majority of everything was programming, it does not give off that saturated and over-produced feel that a lot of modern Death Metal has. The symphonic elements on this album are filled with great mood and tyranny, not only complimenting the basic foundation of the "band" aspect but it takes it to an evil and haunting level on its own. It's immaculate and fills the halls of your mind, painting them black with all the atmospheric sounds the pair has developed. A sound so massive and haunting that the wind and string instrumentation have you believing in a war of gods is being waged in your stereo. Earth-moving mastodons colliding, the clashing of weapons forged from the hottest and coldest of elements unimaginable, channeling the dead of the world's most horrifying armies, a commanding scornful woman demanding the heads of every man. So many climatic moments premeditated by threatening compositions. There is plenty of groove woven in very subtly so as not to sway away from the volatile vibe of the music. It has many faces, so many characters as this story unfolds through 9 amazing tracks. Many are already familiar with the other Greek greats SEPTIC FLESH and ROTTING CHRIST and fans who appreciate this kind of depth in their music will love this soundtrack for an apocalyptic tale.
5.0 Out Of 5.0




Please log in to view RANTS

If you don't have a username, click here to create an account!