EXUMER Hostile Defiance


By Francisco Zamudio, Metal X Candy 2.0
Sunday, March 31, 2019 @ 8:49 AM


| | | |
| --- | --- | --- |
| | | |
EXUMER
Hostile Defiance
Metal Blade Records




With the uncertainty that a lot of modern up and coming bands bring, itís comforting to hear and see that long-standing Veteran bands are still pumping out great albums and are able to demonstrate that vigor in concert. German Thrashers EXUMER have ripped their way through 3 decades full of trends and distractions in Rock and Metal. Although they exited the Metal highway for some time, their style never swayed and they always stayed in their lane. They have carried that raw sound that was incumbent of so many great bands from the late 80ís and early 90ís. A trait I donít believe enough new bands have. After such a long hiatus that started in the late 80ís right after the release of 1987ís RISING FROM THE SEA up to the new millennium, Mem Von Stein (vocals) and Ray Mensh (guitars) re-established the group in 2008 after their performance at the 2001 Metal monster festival known as WACKEN OPEN AIR. Several years later they then released 2012ís FIRE AND DAMNATION (Metal Blade), their comeback that set the tone for what we now know EXUMER to be - a prominent old school name still going strong in the Modern Thrash era. THE RAGING TIDES was a pinnacle album capturing some great rage that manifested from 3 decades of ups and downs, such as the passing of Guitarist Holger Kolb who died of lung cancer in 2014. Now with the follow-up to such a great album, along with the ongoing member roster of T. Schiavo on bass, Matthias Kassner on drums Marc B. on guitars - EXUMER release HOSTILE DEFIANCE continuing the drive these German Thrashers possess.

Not simply a thrash-and-go record, HOSTILE DEFIANCE has a lot more thought put into the songwriting incorporating some (but not too much!) melodic tones which carry along a lot of the thrash-groove aspect very well. It wonít be a surprise if loyal EXUMER fans will take a step a back and view this record a little different considering the slight change of tone on this record. I believe the modern thrash fan both young and old, long-time and newbies Ė are a bit more tolerant and open minded when a band like this adds a lot more dynamic to their style without losing any of the aggression and power. Every song is a great ride with rhythms that hold you for a while and with a great message it carries along with it. It also maintains a bit of the traditional Hardcore (Thrash/Punk crossover) vibe that has been part of EXUMERís style such as the case as the intro to "Raptor and Dust Eater". You might feel like they let up on the intensity with some breaks in stride and slower tempo parts but they simply are allowing some head-spinning solos and riffs to build up. The track "Descent" is a good example of this. Itís that 1 song on a cassette tape at the end of Side A that brings a a great close to a blazing first half, only to whip you back into a frenzy on side B with "Trapper". Thereís no stagnation on this record that starts the blitz from the get-go with the title track and a great short and sweet closer in "Splinter" As a drummer myself, I have a great appreciation in Matthiasí work here accentuating every fitting corner of the songs with fills and rolls leading in and out of songs and between solos. Some lucky listeners (Special orders) will be able to hear bonus track covers of Germanís own greats, SCORPIONSí "Heís a Woman, Sheís a Man", and Swedish Death Metal Veterans ENTOMBEDís ripper "Supposed to Rot".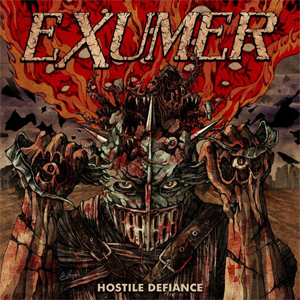 Lyrically, itís all quite identifiable, relatable and personable connecting on issues that naturally come to the minds of impressionable youth or anyone who has had that war inside their head due to so many traumatic and tragic occurrences, especially lately. Touching on the subject, Von Stein is a trained professional in the field of psychiatry. Being a licensed Social Worker he explains the importance how he feels Mental Health must be recognized. ďI am a firm believer that the more we accept and normalize mental illness like any other malady - heart disease, diabetes or hypertension - we can remove the stigma around it and make people more comfortable/accepting of unmet mental health needs and the need for treatment.Ē
Which one of Us growing up hasnít felt that hostility and angst, and somehow Metal seems to greet Us at the door. It comforts and at the same time pushes Us to get through the hardships and to stand up for ourselves and to rise above it all. Stein goes on to say, ďHostile Defiance comes from the term Oppositional Defiant Disorder where a person - mostly teenagers - experience states between contrition and hostile defianceĒ. And HOSTILE DEFIANCE will continue that long standing therapy needed for Us to relate and rely on. Despite the gap in time between releases (RISING FROM THE SEA and FIRE AND DAMNATION) from 1987 to 2012, EXUMER havenít lost a step if not proved that they have a step ahead where other similar bands have lost.
4.5 Out Of 5.0




Please log in to view RANTS

If you don't have a username, click here to create an account!