TYGERS OF PAN TANG Hellbound, Spellbound Live 1981


By Rob McNees, Vinyl Aficionado
Sunday, March 31, 2019 @ 8:51 AM


| | | |
| --- | --- | --- |
| | | |
TYGERS OF PAN TANG
Hellbound, Spellbound Live 1981
Target Records




As a huge unapologetic fan of the NWOBHM, I could sit here for days and name bands that should have become household names but for whatever reasons did not. One particular band with an unforgettable name is the TYGERS OF PAN TANG. Originally formed in Whitley Bay, Tyne and Wear England in 1978, I myself draw a very large comparison to the biggest NWOBHM band of all time IRON MAIDEN. Both bands early releases were raw and heavy, and as members would eventually change, so too did the bands sound. And just as MAIDEN changed members, including singer Paul Di'Anno, the TYGERS also went thru some growing pains of their own.

From the 1st release, a 7" single "Don't Touch Me There", released on Neat Records in 1979, the band consisted of guitarist Robb Weir, bassist Rocky, drummer Brian Dick and vocalist Jess Cox. Constant gigging and a healthy following helped land them a recording contract with MCA Records, which resulted in 2 more singles, "Rock 'N Roll Man" & "Suzie Smiled" before the aural assault of the first full length album Wild Cat, released in August of 1980 clawed it's way into the hearts of punters everywhere. But as January of '81 unfolds, a change in the ranks of the band would alter the rawness of the early material with a more polished and refined, but no less heavy sound. Gone was Jess Cox and in his stead comes the amazing vocals of ex-PERSIAN RISK frontman Jon Deverill. But also added to the mix was ex-STREETFIGHTER axeman John Sykes. Yes, he of THIN LIZZY/WHITESNAKE/BLUE MURDER fame. But that's later down the road. The release of Spellbound in April of '81 saw the new, improved TOPT a formidable machine, added a new sheen to the heaviness of before. Unfortunately I never saw this or any incarnation of the band as they never made it to Texas back in the day.

So when word filters out that Target Records/Mighty Music out of Denmark had not only secured the rights but was going to release a double live album of this incarnation of the TYGERS, I honestly couldn't believe my eyes!

But it's here, in all its monumental glory. Originally recorded in Nottingham Rock City on April 23rd, 1981 by the legendary Chris Tsangarides, it received a 21st century remix/remaster in September 2018 by Soren Anderson. And a blistering sound it has too my friends.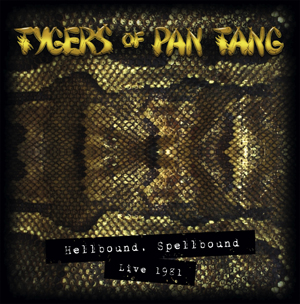 Opening with "Take It" off the at the time brand spanking new Spellbound album, the band fires on all cylinders right from the get-go. The title track from the 2nd single with former singer Cox, "Rock and Roll Man", comes out swinging next and of course with Deverill and Sykes now in the band takes on a completely different sound. Two more cuts off of Spellbound, being "Blackjack" and "Tyger Bay" are next and let you know that just because the band is a bit more polished than before, in no way have they softened up the Metal. Unfortunately that comes a few years later. A couple from the Wildcat album, "Insanity" and "Euthanasia" give you a 1-2 gut-punch. The sound is amazing, the band is tight, and the audience was well into the show. The band slow things down a bit with the balladesque "Mirror" before cranking right back up with the debuts title track "Wildcat" being sung by guitarist Tyger Robb and also "Money". Hearing Jon take on Jess's songs give them a whole new vibe considering that both men have utterly different styles & voices. Four from Spellbound are next with "Don't Stop By" and "Gangland" with the energy of a live setting really giving the songs, especially the slower "D.S.B." a newfound power from an already amazing song. And an interesting little factoid is that German Thrash titans KREATOR have covered "Gangland". That should give you an idea of its initial heaviness if you're a first time listener. "Silver and Gold" and another stormer "Hellbound" show the band still kicking arse & taking names. "Slave to Freedom" from the debut leads into set ender "All or Nothing", a SMALL FACES cover.

If you've somehow missed the boat on this sorely underrated band then this is a perfect way to fix that misstep. If you're a fan then this is a special document of a powerful band in all its glory. Either way, this is a live album worthy of any self-respecting Hard Rockers hard earned cash. The double Vinyl has loads of pics & info. A well put together package indeed. Buy or die!!!

Yes Vinyl familia, it's available! Also a box set with limited edition Gold Vinyl and other goodies!

4.9 Out Of 5.0 Skulls




Please log in to view RANTS

If you don't have a username, click here to create an account!