THE RAVEN AGE Conspiracy


By Shelly Harris, Chicago Contributor
Sunday, March 31, 2019 @ 8:53 AM


| | | |
| --- | --- | --- |
| | | |
THE RAVEN AGE
Conspiracy
Corvid Records




Majestic, mythical, and mighty; those and quite a few other M words pop to mind when listening to THE RAVEN AGE's truly stunning - even jaw-dropping - sophomore album, Conspiracy.

The album crosses over into multiple metal categories, while holding true to some of the most important cornerstones of its pedigree and ancestry: Thumping, predominant, and infectious bass and drum grooves, dashes of harmony guitar, and historical, mythical,or socially conscious story-telling lyrics (fit for a soundtrack or movie). The apple definitely doesn't fall far from the tree with the sound and themes the band has conjured here (after all, the band founder, George Harris, is the eldest son of IRON MAIDEN's Steve Harris), and with Conspiracy the band shows it has leaped up a significant notch to earn its spotlight in prime time. With the double-edged sword that the close MAIDEN association might be at times, THE RAVEN AGE is positioned to cast off any negative assumptions and proving its mettle with this effort.

While it may not be every old-school or traditional metalist's cup of tea, Conspiracy will likely check off all the boxes of many of Generation X and Z, and yes, even some Boomers who continue to listen to music beyond the 80s and 90s. Guitarist and songwriter George Harris, along with impressive new vocalist Matt James, new guitarist Tony Maue, and brickhouse bassist Matt Cox and drummer Jai Patel, have created an explosive cauldron of the old and new, featuring infectious hooks, dynamics and time changes, along with a combination of smooth and harsh vocals that soar over a transcendent melodicism. It is real hybrid of old and nouveau hard rock and metal of the highest caliber, seeping in tones of progressive metal, hard rock, melodic metal core, and more, and there simply is not a weak track or groove in the mix.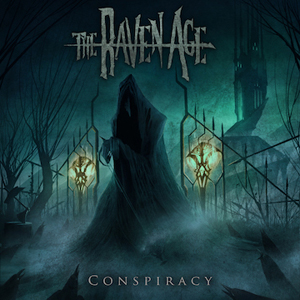 That said, single "Fleur de lis," with its whirling, addictive refrain and power hook, is likely the record's most mainstream cut, but others like "The Grave of the Fireflies" showcase the band's real strengths with respect to musicianship, lyricism, and ability to deliver an aural knockout.
Conspiracy is available in vinyl, as well as traditional formats, but has also been made available for streaming on You Tube, which is where I have listened to it multiple times. However, details of the credits and inter workings of the band and the new album remain mysterious- but an issue to be resolved in attending an upcoming gig with interview on the the band's current solo European tour - a definite warm up for taking the new material to the next level while opening in US barns and stadiums on the summer IRON MAIDEN tour. As Conspiracy proves with a certainty, THE RAVEN AGE is palpably ready to launch into that stratosphere.
4.5 Out Of 5.0




Please log in to view RANTS

If you don't have a username, click here to create an account!