HYPOCRISY, FLESHGOD APOCALYPSE In Dallas, TX


By Wendy Jasper, Fort Worth Correspondent
Tuesday, April 9, 2019 @ 3:54 PM





The currently running Death…Is Just The Beginning Tour, featuring double headliners FLESHGOD APOCALYPSE and HYPOCRISY is the must see death metal tour of the spring! Both bands bring their unique styles of Symphonic and Melodic death metal to sold out crowds! Don't miss it!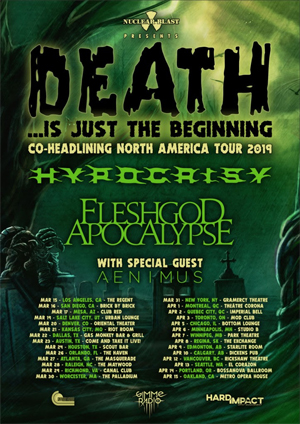 Please log in to view RANTS

If you don't have a username, click here to create an account!






FALLUJAH Undying Light

JOHN 5, JARED JAMES NICHOLS In Anaheim, CA With Photos!

L.A. GUNS In New Bedford, MA

...AND JUSTICE FOR ART – Stories About Heavy Metal Album Covers – Volume 2

THE END MACHINE In Los Angeles Photo Gallery

TRUTH CORRODED Bloodlands

THE IRON MAIDENS In Houston, TX Photo Gallery

THE RAVEN AGE In Paris, France With Photos!

ENFORCER Zenith

NOTHING MORE In Houston, TX With Photos!

KISS Live In Ottawa, Canada With Photos!

KIX In New Bedford, MA With Photos!

PERIPHERY IV: Hail Stan

GARY HOEY Neon Highway Blues

BLOODBOUND Rise Of The Dragon Empire

ANTROPOMORPHIA Merciless Savagery

AS STRANGE AS ANGELS Mirror Mirror EP

HYPOCRISY, FLESHGOD APOCALYPSE In Dallas, TX

ARCH ENEMY In Bangkok, Thailand

WHITECHAPEL The Valley

THE RAVEN AGE Conspiracy

TYGERS OF PAN TANG Hellbound, Spellbound Live 1981

SPIRITS OF FIRE Spirits Of Fire

EXUMER Hostile Defiance

BURNING RAIN Face The Music

MOTLEY CRUE's The Dirt Movie

MIKE TRAMP In New Bedford, MA

DEVIN TOWNSEND Empath

QUEENSRŸCHE The Verdict

MEGADETH Warheads On Foreheads

QUEENSRYCHE, FATES WARNING In Worcester, MA

Y&T In New Bedford, MA With Photos!