HYPOCRISY, FLESHGOD APOCALYPSE In Dallas, TX


By Wendy Jasper, Fort Worth Correspondent
Tuesday, April 9, 2019 @ 3:54 PM





The currently running Death…Is Just The Beginning Tour, featuring double headliners FLESHGOD APOCALYPSE and HYPOCRISY is the must see death metal tour of the spring! Both bands bring their unique styles of Symphonic and Melodic death metal to sold out crowds! Don't miss it!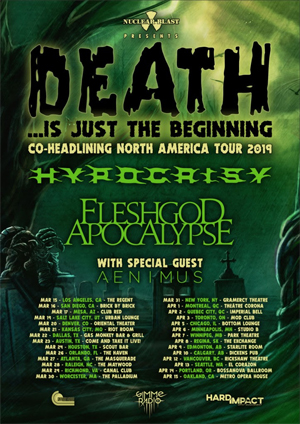 Please log in to view RANTS

If you don't have a username, click here to create an account!





BARONESS Gold & Grey

THE HOLLYWOOD VAMPIRES Rise

HATE Auric Gates Of Veles

SLAYER, LAMB OF GOD, AMON AMARTH, CANNIBAL CORPSE In Ottawa, Canada

MAJESTIC DOWNFALL, HELEVORN, NORILSK In Ottawa, Canada

L.A. GUNS The Devil You Know

D-A-D A Prayer For the Loud

ALICE IN CHAINS In Dublin, Ireland

DEATH ANGEL Humanicide

DORO, METAL CHURCH In New Bedford, MA

THE END MACHINE The End Machine

FLESHGOD APOCALYPSE Veleno

WARRIOR SOUL Rock 'N Roll Disease

WHITESNAKE Flesh & Blood

CHEAP TRICK In Houston Photo Gallery

MICHAEL SCHENKER FEST In Worcester, MA

SLAYER, LAMB OF GOD, AMON AMARTH & CANNIBAL CORPSE In Columbia, MD

SUNN0))) Life Metal

Head Bangin' Radio Book

VENOM INC. In Ottawa, Canada

VIXEN In New Bedford, MA

ARCH/MATHEOS Winter Ethereal

A NEW REVENGE Enemies & Lovers

RINGWORM "Death Becomes My Voice"

AMON AMARTH Berserker