ANTROPOMORPHIA Merciless Savagery


By Francisco Zamudio, Metal X Candy 2.0
Tuesday, April 9, 2019 @ 4:00 PM


| | | |
| --- | --- | --- |
| | | |
ANTROPOMORPHIA
Merciless Savagery
Metal Blade




There's a likelihood that The Netherlands could be flying under people's radar when you think of Extreme Music and Death Metal. Truth is there have been some great bands coming out of Holland (one and the same yet, they're not). And as the name would describe, Underground Metal exists in the least expected places, and some great bands at that. One such group is ANTROPOMORPHIA who have been in existence since about the mid-90's, going back to their demos BOWEL MUTILATION and I HAVE MY WAY and their romantically titled EP, NECROMATIC LOVE SONGS. Now marking their 10 year anniversary of their reunification, the Blackened Death Dutch band will release MERCILESS SAVAGERY (Metal Blade). A self-produced group working on its own schedule that while it was freeing, guitarist and vocalist Ferry Damen felt it as "intense, stressful, tiring, disturbing but most of all inspiring, liberating and illuminating." Working from the studio of long-standing member, drummer Marco Stubbe helped paved the way for the accuracy ANTROPOMORPHIA was aiming to produce.

MERCILESS SAVAGERY takes a darker (if that was even possible) turn with more down-tempo structures and drawn out songs. Launching with the title track, they get right to the meat-and-potatoes (or Bitterballen, a Dutch delicacy) of ferocity. The elements produced by such sounds are haunting. Black Metal fans have to appreciate what they do here. Descending deeper into abyss with songs like "Womb ov Thorns" and has you feeling weightless, unable to tell if you're falling up or falling down. The repetitive nature of the songs embraces you with its black shroud, corrupting you with every high-tone sequence.

The term "Old School Death Metal" had become synonymous with the sound of late 80's to EARLY 90s bands, mostly European and some American and if we can consider that label when it applies to modern bands, this record carries a lot of that old school feel where the songs are allowed to play out and build character, heavy on the groove and not over-doing it on the technicality but enough to change things up and keep you listening. Much like bands INCANTATION and IMMOLATION, MERCILESS SAVAGERY is full of epic songs that are drawn out. Too often, modern bands song structures are too quick, short and teasing, and catering to a fan-base with a short attention span. Sadly, catchy riffs are what the consumer wants these days. But I digress…MERCILESS SAVAGERY still gives the intensity of blast-beats and fast-tempo songs, but it's equally matched with drony and doom style elements that a focused listener will pleasantly get sucked into.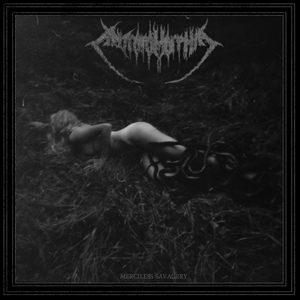 A darker direction from the last couple of releases, SERMON OV WRATH and RITES OV PERVERSION yet a bit similarity to their Metal Blade debut from 2012, EVANGELIVM NEKROMANTIA. In keeping with that good relationship, the newest effort is dated but with all the things that make that Old School sound prevalent and very significant in today's multi-branched genre. The dark romanticism added in making this album comes with help from long-time friend, Farida Lemouchi (THE DEVIL'S BLOOD, MOLASSES) bringing her voice to "Luciferian Tempest" which is another stand out favorite on this album.
ANTROPOMORPHIA really put in their all for this record that is full of gloom and doom and death. All these emotions are certainly felt here and will have the listener thoroughly entertained with depth of the songwriting. It's catastrophic and apocalyptic, just as they wanted it to be, and as Damen states,"a soundtrack to the end of all worthless life on this whoring planet." Songs like this make me wish the world would end sooner, because this would certainly be on my playlist as we watch the world end.
4.0 Out Of 5.0




Please log in to view RANTS

If you don't have a username, click here to create an account!