PERIPHERY IV: Hail Stan


By Peter Atkinson, Contributor
Tuesday, April 9, 2019 @ 4:04 PM


| | | |
| --- | --- | --- |
| | | |
PERIPHERY
IV: Hail Stan
3DOT Recordings




While billed as the fourth album by D.C.-area metallurgists PERIPHERY, IV: Hail Stan (which I, like just about everyone else, mistypes as "Hail Satan" every friggin' time) is actually the band's sixth full-length. For those counting, 2015's Juggernaut was issued as two separate parts - Alpha and Omega, officially albums three and four - at the same time in January 2015, with Greek letters replacing Roman numerals. But semantics and practical matters hardly seem to be an issue for the band, which has shown itself to be one of the more adventurous and even whimsical acts in the typically rigid djent/prog/tech metal framework.

Case in point, after the comparatively streamlined listener-friendliness of 2016's Grammy-nominated III: Select Difficulty, with its taut songs and ample inviting melodies, IV: Hail Stan opens with the sprawling opus "Reptile", its bombastic swells contrasted by classical orchestration over a 17-minute roller-coaster ride with loads of steep dives and sharp turns. It is then followed by near death metal of "Blood Eagle", one of the most fearsome songs PERIPHERY has ever unleashed with its hulking, MESHUGGAH-like thrum and Spencer Sotelo's roaring vocals.

"Blood Eagle", or the equally bludgeoning "CHVRCH BVRNER" that comes right after, might have made a more logical choice to kick off the album than "Reptile", as they are a particularly effective one-two punch. But, as noted, PERIPHERY is a band that likes to play by rules of its own making. Or no rules at all, as the case may be.

And, as such, IV: Hail Stan ends up a rather mixed sonic bag – no offense intended. Jagged metallic thunder and symphonic grandeur blend with the hard rock punch of "Garden In The Bones" and "It's Only Smiles", boasting Sotelo's soaring cleans. "Smiles" actually takes on an emo feel with his earnest delivery and the mostly gentle, melodious licks from the band's three guitarists.

The shuddering djent of "Follow Your Ghost" is oddly countered by sporadic, wispy "ahh, ahh" gang backing vocals, and the anthemic, electro-pop throb of "Crush" eerily recalls LINKIN PARK – until the Alfred Hitchcock film score-ish strings tacked on at the end, that is. If LINKIN ever goes looking for someone to replace late frontman Chester Bennington, Sotelo is the first guy the band should talk to as their range and tone are remarkably alike.

The brisk "Sentient Glow", a reworking of the song by guitarists Misha Monsoor and Mark Holcomb's side project HAUNTED SHORES, is a bit of an odd duck, mixing pop punk and thrash with a splash of DRAGONFORCE-inspired power metal in its fleet, widdly-widdly riffing. But it's catchy as hell, as is "Crush", both of which take a page from III: Select Difficulty.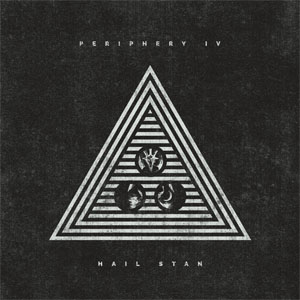 The nine-plus minute "Satellites" closes things out on a surprisingly romantic note, at least over the first half, with its soulful balladeering – all the way down to the schmaltzy boy band-like harmony lines. But the hammer comes down, so to speak, over the back half with its booming hooks, Sotelo's far more emphatic wail and darker lyrical tone – though the cheesy harmonies carry over. And the song ends with a nod to South Park's Eric Cartman in its "suck my balls" final word. So the band's signature goofy humor hasn't gone anywhere.
Nor, seemingly, has ex-bassist Adam "Nolly" Getgood. Though he left the band in 2017, Getgood returns on IV: Hail Stan to help out Monsoor with the production as well as play bass. Thus, the familiar booming bottom end and the crystalline crunch remain. And while III: Select Difficulty might have been easier to warm up to out of the gate, IV: Hail Stan emerges as just as resonant and engaging an album, despite its rather different approach.
But one of PERIPHERY's great strengths has been its knack for balancing unpredictability with consistency. The band experiments each time out, yet maintains a sound that is both familiar and distinctive, keeping its daring and quirks within reason – most of the time, anyway. And though sticking to convention might have been more lucrative for PERIPHERY, its moxie and desire – to borrow the title of a song from III: Select Difficulty – to be a "Habitual Line-Stepper" are to be applauded, even the execution doesn't always work or the math doesn't quite add up.
4.0 Out Of 5.0




Please log in to view RANTS

If you don't have a username, click here to create an account!