SUNN0))) Life Metal


By Francisco Zamudio, Metal X Candy 2.0
Monday, May 20, 2019 @ 8:55 AM


| | | |
| --- | --- | --- |
| | | |
SUNN0)))
Life Metal
Southern Lore Records




The modern oversimplification of art in a musical context has diminished many minds that are new to heavy and dark Metal. Long gone are the days that intelligence was linked to bands that go even farther back than that influence PINK FLOYD had or say perhaps Mahavishnu Orchestra, or more alike another Seattle band known as SOUNDGARDEN. The genre "Drone" can be traced back even farther than that that the aforementioned, but are good examples defining the exploration of sound and the vast effects that space can have on you. That space between notes that breaks any predictability and will sometimes get in your head. It may very well get you into your head as well. You may or may not like what you find there but there's no doubt that a stagnant object and sound can have a viral and powerful effect, as any art should. Enter the avant-garde style of former Seattle now Los Angeles transplants SUNN0))) (pronounced simply "SUN") with their latest in a 20 year existence, Life Metal, through their very own label, Southern Lore Records.

If you can stand it to focus on the waves coming from your speaker and allow your mind to breathe and if you must, close your eyes to visualize what is being painted by their sound. This continued experimentation between Stephen O'Malley and Greg Anderson resonates (pun intended) with people who aren't simply content with "traditional" songwriting such as "verse-chorus-verse-chorus". While these compositions are lengthy and can easily lose an inexperienced listener or non-fan, it does take quite a bit of effort to absorb the energy being generated by their sound. With every changing chord that ranges anywhere from 10 seconds to nearly a full minute, it leaves you in anticipation for the next blow. By then you may have forgotten where the previous note laid.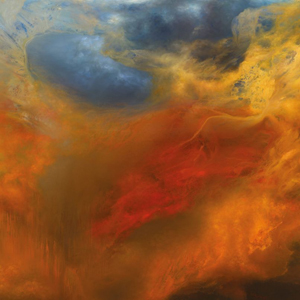 The opening track with a length of over 12 minutes, provides the little diversity available on Life Metal, with the vocalization of Hildur Guðnadóttir who also plays the Electric Cello and Haldorophone on the album. Also joining in on the album is T.O.S. Nieuwenhuizen on the moog, Tim Midyett on Bass Guitar and Bass Crotales, and Anthony Pateras on the Pipe Organ. You can imagine a Classical Symphonic composition in the undertone O'Malley and Anderson are looking for, and successfully find on this 4-track gamma-radiated slug. It is all nearly super simplified or amazingly complex in their compositions. That would be for the listener to decide.
While admittedly not a fan of their take, I had to listen to this under various states of "influence" and fell into a dark place for what must have seemed like an eternity – which for me is a very enjoyable feeling. You want that type of reaction from a listener, something that can scare you, if not just simply entertain you. Can constant sustain and feedback really hold your attention? It's not Metal. It's not Rock. The label "Music" is certainly debatable. It's Audio-Art! While the sometimes bias and thirsty Sludge, Doom, Hipster crowd will soak up this noise (a term not at all meant in derogatory fashion), it's the application of the "less is more" theory into the journey that will test any music-fan's patience and musical boundaries. It may still hold water and creates an epic tidal wave of sound through their namesake amplifiers.
3.5 Out Of 5.0




Please log in to view RANTS

If you don't have a username, click here to create an account!