D-A-D A Prayer For the Loud


By Daniel Höhr, European Correspondent
Tuesday, June 4, 2019 @ 8:23 AM


| | | |
| --- | --- | --- |
| | | |
D-A-D
A Prayer For the Loud
AFM Records, 2019




It's been almost eight years since Danish veteran rockers D-A-D released their eleventh studio album DIC·NII·LAN·DAFT·ERD·ARK. 2014 saw the release of the compilation Disn30land Af30r D30k and since then it's been very quiet on the D-A-D front, at least as far as records are concerned. Now Jesper Binzer (lead vocals, guitar), Jacob Binzer (guitar), Stig Pederson (bass) and Laust Sonne (drums) are back with eleven brand new tracks, which, according to the band, the four-piece worked on for three years.

The danger of spending such a long time in the studio is that the result sounds constructed and overproduced. Well, fear ye not, neither be afraid: the opener, the throbbing "Burning Star", literally blasts away any shadow of a doubt. D-A-D sound rejuvenated, fresh and energetic and unmistakably D-A-D. The title track is bluesy, it begins in a laid-back, sort of Southen Rock fashion but soon explodes dynamically, showcasting Jesper's expressive vocal abilities. The main riff of "Nothing Ever Changes" bears more than a superficial resemblance to Alice Cooper's "School's Out" and, just like Alice Cooper's classic, this track with its anthemic chorus is a real party rocker. With "The Sky Is Made Of Blues" the Danes drop down a gear tempowise and come up with a catchy and groovy blues rocker with real hit potential. "The Real Me" is tailor-made for live performances. You can literally hear the sweat dripping out of each and every pore of this anthemic and pulsing rocker, which is just so much fun to listen to.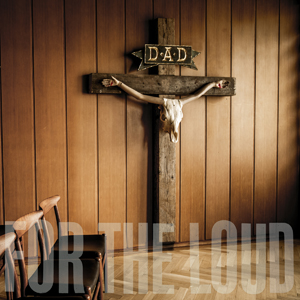 And if you think you can't get any more D-A-D than that, listen to "No Doubt About It", which, just like the previous track, will be a killer song live. This is pure rock music, raw and explosive. After so much gasoline, "A Drug For The Heart" provides the well-deserved balladesque moments with acoustic guitars, a heartache guitar solo and all – great track. D-A-D turn it up a notch or two on "Musical Chairs", a sweat-drenched uptempo rocker built on a captivating guitar run and featuring a straight-in-your face chorus. "Time Is A Train" is oozing with groove while "Happy Days In Hell" is once again a rock song featuring all the virtues D-A-D are revered for: driving rhythm parts, catchy melodies, slightly unusual harmonies and a lot of energy. Just like they did on the previous album, the Danes wrap up A Prayer For The Loud with a slower song. The power ballad "If The World Just" sets yet another highlight on the new D-A-D album, which is about to go on heavy rotation over here.
A Prayer For The Loud is an outstanding album proving that D-A-D are definitely back with pure rock energy, honest, raw and unique. Definitely one of the best releases so far this year.
5.0 Out Of 5.0




Please log in to view RANTS

If you don't have a username, click here to create an account!