MAJESTIC DOWNFALL, HELEVORN, NORILSK In Ottawa, Canada


By Andrew Depedro, Ottawa Corespondent
Friday, June 7, 2019 @ 12:25 AM


| | | |
| --- | --- | --- |
| | | Bands Cast A Shadow On Café Dekcuf With WHISPERS IN THE MAZE, May 18, 2019 |
Photos By Andrew Depedro
35+ years notwithstanding, it turns out that Spanish metal isn't just a KNAC.COM ranter handle after all but a fairly burgeoning and vibrant music scene both on the Iberian peninsula and its trans-Atlantic southern cousins. More specifically, it's been the progressive/doom metal scene that's been casting some mad shade on the Iberian/Latin mainstream – and its popularity seems to be reciprocal as two of the genre's up-and-coming bands have also started to take a shine to a few local bands on the Shadowing Of The North Canadian tour.
And what local bands would they be? Because I promised at least one of them a proper KNAC.COM review since that ill-fated review of THE SKULL last year that never happened. So, come bad Marmite reaction or high water, this is a way overdue review for that same band who'll be waiting for their moment of exposure once I've reviewed the first official band on the bill.
Opening with the revealing prog/doom number and first song of the evening "I Can Show You Everything" would be WHISPERS IN THE MAZE. The Gatineau-based quintet fronted by the towering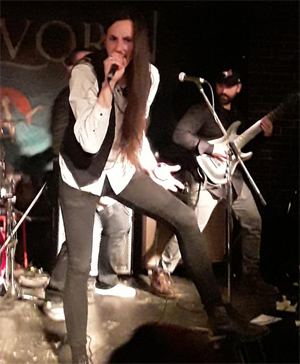 persona of one Marc Alain Bonenfant pride their craft as being one without borders while blending the elements of heaviness, melody, progression and poetry. Backing his brooding vocals would be Emine Topcu and Vitto on guitars, bassist Ben Bertrand and drummer Mike Berrigan, all of whom whose heavy cacophony of downtuned goodness and thundering rhythm on songs such as "Chained To The Grave", "Behind Your Eyes" and "Bleeding Pain" emanate an intimidating sense of magic and loss. And for a band that's only been active for a little over 3 years, WHISPERS IN THE MAZE seem to have navigated their opening slot with ease and precision. Hopefully over time, quiet becomes the new loud for 'em soon enough.
https://www.facebook.com/WhispersInTheMaze/
With the decibel level of frontman Nicholas Miquelon's bass and Nick Richer's drums combined to echo the heavy panoramic-sounding guitars of Matt McIvor and Thomas Hansen, Gatineau doom merchants NORILSK are the next band to conquer the stage. With three full-length studio albums to their name including last year's critically-acclaimed Weepers Of The Land, the band's ominous black/doom thunder resonates just as solidly with the local audience as well as their growing overseas fanbase; in fact, one can credit their broadening appeal abroad for allowing NORILSK to not only land on this tour but to help bring it over to O-town. Perhaps one could credit the band's song lyrics being mostly in French that could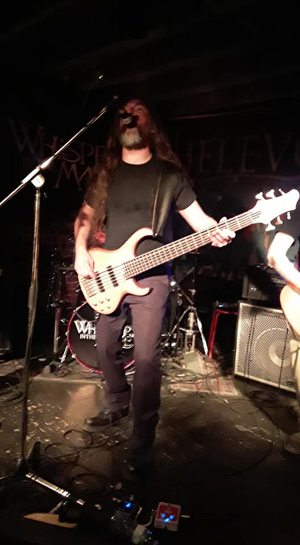 explain their international appeal, as the masses headbanged to "Nature Morte", "La Voie Des Morts", "Japetus" and the odd English track or two such as "The Way". Even more captivating about NORILSK's live performance is the manner in which Nicholas Miquelon's voice can transcend an unholy guttural roar as if he's summoning Odin mid-song one minute and then reverting to his placid-sounding himself while introducing a song in between the next. Regardless, their lyrical imagery was the only frigid part of NORILSK's chillin' and killin' live performance.
https://norilskdoom.com/
https://www.facebook.com/NorilskDoom/
Touted as "doom metal from the depths of the Mediterranean" and "the band that traveled the furthest to come to the night's show" would be Palma De Mallorca, Spain-based doom dealers HELEVORN. Yes, that same Palma De Mallorca that's often known for Rafael Nadal, its beaches and cheap package tourism can now boast a thriving doom metal scene. Technically, HELEVORN are the community's thriving doom metal scene since forming in 2000 but they've been active nonetheless with countless tours and four studio albums to their credit including their most recent offering titled Aamamata. Frontman Josep Brunet leads this impressionable sextet whose songs such as "A Sail To Sanity", "Goodbye, Hope", "The Inner Crumble" and "Burden Me" draw some subtle comparisons to early MOONSPELL and SAMAEL with their deep melancholy keyboards, dark-sounding riffs and Brunet's own haunting vocals. More specifically, HELEVORN draw much of their own inspiration from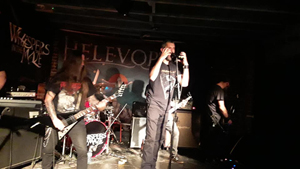 much-missed Canadian doom pioneers WOODS OF YPRES, as Josep pays homage to the band's late vocalist David Gold with a stunning cover of their best known song "I Was Buried In Mount Pleasant Cemetery" to the delight of the crowd. In turn, HELEVORN's own dark hearts appeared to have melted with adoration for their new Canadian fan base after the night's performance.
https://www.facebook.com/helevornband/
http://www.helevorn.com/
Closing the night's events would be the one-man project led by frontman/bassist Jacobo Córdova but touring quartet known as MAJESTIC DOWNFALL, straight out from Santiago De Queretaro, Mexico but currently based in Dallas, Texas. The band itself have been active for about 13 years whereas Jacobo himself has an extra decade of touring/recording experience stemming from his time playing with Mexican death metallers ANTIQUA before opting to diversify a bit more with his own European doom metal influences. Perhaps that would explain why he subbed for HELEVORN's absent bass player during their earlier performance. For his own performance, Jacobo has the backing talent of guitarists Dah and Aly and drummer Alfonso. The songs from their 5-album catalogue are indeed heavy, brooding and surprisingly long despite the insane velocity of both Dah and Aly's playing. "Temple Of Guilt", "A Bird's Departure", "Collapsed Pitch Black" and "Swallow: Pride"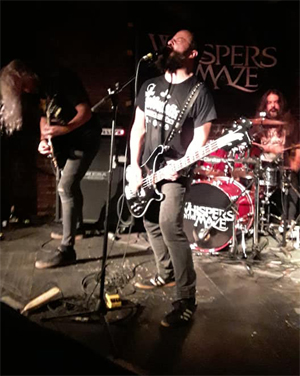 range between 6 to 9 minutes long and harken back to early OPETH and ENTOMBED in parts, Jacobo channeling his inner Mikael Akerfeldt throughout the entire set. Amazingly, MAJESTIC DOWNFALL manage to majestically play a near-full set of about 10 songs despite their 55-minute slot, closing with the fiery (and the shortest song in their repertoire at 5 minutes) number "Veins" from last year's Waters Of Fate.
For both MAJESTIC DOWNFALL and HELEVORN's first cross Canadian tour, the crowds never expected the Mexican/Spanish Invasion and were proof that pure rock and metal can thrive beyond all borders.
Setlist:
"….When Dead"
"Escape My Thought"
"Temple Of Guilt"
"A Bird's Departure"
"Collapsed Pitch Black"
"Unexpected"
"Swallow: Pride"
"The Blood Dance"
"Veins"
https://www.facebook.com/majestic.downfall/




Please log in to view RANTS

If you don't have a username, click here to create an account!