THE HOLLYWOOD VAMPIRES
Rise
earMusic




The super trio THE HOLLYWOOD VAMPIRES have come back into the light with Rise, their second album, due to be released June 21st. The last release, their self titled debut album was released in 2015.

Rock royalty Joe Perry, Hollywood royalty Johnny Depp and shock rock icon Alice Cooper are incredibly excited to deliver this album and perform live. This project was completely different from their first in that Rise is primarily original material. All three of the guys wrote on this album. Tommy Henriksen, producer said "In the true spirit of VAMPIRES' original mission, there are three covers of songs originally written and recorded by some fellow rockers who died far too young: an intimate and intense version of David Bowie's "Heroes", beautifully performed by Johnny Depp; The late JIM CARROLL BAND's "The People Who Died" and Johnny Thunder's "You Can't Put Your Arms Around a Memory", sung by Joe Perry.

The first single "Who's Laughing Now" is very much a song that portrays their attitudes and is completely a track that explains their live riotous, wild stage performances. "The Boogieman Surprise" is just a good 'ol fashion rock arena anthem in my opinion. "Welcome to Bushwackers" was a change. It has rockabilly sound that was different from the other tracks. This track features Jeff Beck and John Waters. The lyrics "If you're feeling froggy, I'll slap you black and blue" are some of my favorite on this album. Dare I say that I prefer Johnny Depp's cover of "Heroes". It was done perfectly and David I'm sure would approve. Track #7, "The Wrong Bandage" I really thought was a beautiful interlude with the sound of rain and gorgeously haunting piano. "Mr. Spider" is a gothic, dark rock song that could easily be in a psychedelic horror Tim Burton movie. This song showcased the collaboration of all three musicians. All three styles of the VAMPIRES' came through in this song.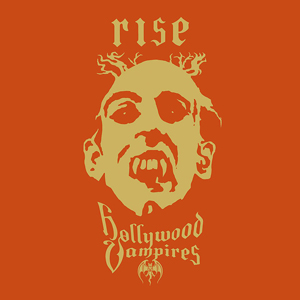 Joe Perry's cover of "You Can't Put Your Arms Around a Memory" was done such an enticing way that you can almost see him singing in the studio into an old ribbon microphone. Last but not least, I have to say their politically comedic, cheeky song "We Gotta Rise" is the answer to Alice's "Elected"; Lies and politics of which he had more than enough of material to pull from I'm quite certain. All 16 tracks have different styles of musicianship and it's well produced album that the fans that have eagerly awaited.
"There was no pressure or deadlines, allowing us to write and record an album that is one of the freest and most honest sounding records I've been part of. I can't wait to perform some of the tunes live for our fans."...Joe Perry
"Rise is not only a totally different animal than the first VAMPIRES' album, it is unique to anything I've ever been a part of", Each of us; Joe, Johnny, and Tommy and myself have written songs on this album. What is different though is that I didn't try to change any songs to be more 'Alice-like.'...Alice Cooper
Go to THE HOLLYWOOD VAMPIRES official website www.hollywoodvampires.com for upcoming tour dates.
5.0 Out Of 5.0