THE RODS Brotherhood Of Metal


By Andrew Depedro, Ottawa Corespondent
Monday, June 17, 2019 @ 10:56 AM


| | | |
| --- | --- | --- |
| | | |
THE RODS
Brotherhood Of Metal
Steamhammer/SPV




"THE RODS were born in 1982!"

Over the course of nearly 60 years, there has never been any shortage of material produced from the vast musical family tree of Ronnie James Dio. From the bluesy swagger of to the sonic heaviness of RAINBOW and BLACK SABBATH leading to his mammoth solo career, RJD's legacy has borne many legendary bands through direct and indirect affiliation. Perhaps the most intriguing though the least known band from that proverbial umbrella would be New York-based metal titans THE RODS. Fronted by vocalist/guitarist David 'Rock' Feinstein who was not only a former bandmate of RJD from their years in ELF but also his cousin, THE RODS were a high-energy raw power trio whose lineup also boasted the talents of Carl Canedy (drums) and Garry Bordonaro (bass) and rose from underground cult status in 1980 with their debut album Rock Hard, their streak of countless tours with IRON MAIDEN, OZZY, RAINBOW, MOTORHEAD and METALLICA running over the course of four years and a further four studio albums culminating in 1986 before resurfacing in 2011 with their comeback album Vengeance. The lineup has remained consistent throughout their on-and-off career and likely could have rivaled RUSH and ZZ TOP in terms of longevity; with that said, despite the large gaps in between their career, THE RODS have found themselves enjoying life on the road and in the studio more and more since their return, their seventh and latest studio album Brotherhood Of Metal reflecting on the strong bond that the band have boasted throughout their career.

With 11 songs to its credit and a twelfth remastered track "Crank It Up (35 Years)" included as a bonus track on the vinyl edition, Brotherhood Of Metal is an album that is steeped in much of the enthusiasm and spark of what made THE RODS come as one unbreakable unit. The title track demonstrates this notion in the form of a 7-minute piano-opening anthem which has been a common staple at their recent shows, breaking into a towering crescendo midway through. Moreso would be the retrospective banger "1982" which details the band's early career, namedropping the tracklist of their breakthrough album Wild Dogs released that same year in the lyrics. The musicianship is as impressive as Feinstein's sharp memory in recounting the history of the band in minute detail in the lyrics.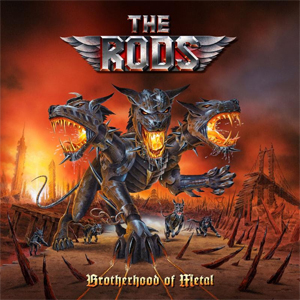 Other notable tracks on the album would include the driving numbers "The Devil Made Me Do It", "Smoke On The Horizon", the Lemmy-toasting "Louder Than Loud" and "Tyrant King". Feinstein's playing is both skilled and modestly passionate throughout the album and combined with Bordonaro's thundering bass riffs and Canedy's drumming being as rock solid as his engineering skills on this album, with his other past engineering successes also including ANTHRAX's Armed And Dangerous and Spreading The Disease and EXCITER's Violence And Force. Even with the lyrics occasionally verging on a lot of straightforwardness and even a bit of repetition throughout the album ("I'm on the highway to hell" being a literal repeat offender here as it's featured on two songs), they make for a lot of the songs' catchy hooks otherwise.

So while THE RODS may not have always had the reliability and consistency of the music industry to guarantee them a durable career compared to many of their peers, they've still been able to pride themselves in keeping true to themselves and their music over time. Brotherhood Of Metal has thankfully tested the band's resolve – a test in of itself that the band has passed and surpassed, giving THE RODS more sticking power than ever before.

4.5 Out Of 5.0

http://www.therods.com/
https://www.facebook.com/RodsFanPage/




Please log in to view RANTS

If you don't have a username, click here to create an account!






MAYHEM Daemon

ALICE COOPER In Orlando, FL With Photos!

SLAYER In Springfield, MA

AGNOSTIC FRONT Get Loud!

LACUNA COIL Black Anima

BLACKTOP MOJO Under The Sun

ROB HALFORD Celestial

SEBASTIAN BACH In St. Petersburg, FL With Photos!

HELLOWEEN United Alive In Madrid

HAMMERFALL's Halloween Ball In Ottawa, Canada

ANGEL WITCH Angel Of Light

BLUE OYSTER CULT, UFO In New York City

TOOL, KILLING JOKE In Houston, Texas With Photos!

L.A. GUNS, JOHNNY SOLINGER In Houston Photo Gallery

NIKKI STRINGFIELD Harmonies For The Haunted

JON ZAZULA Heavy Tales: The Metal. The Music. The Madness. As Lived By Jon Zazula

MICHAEL SWEET Ten

LAST IN LINE In Houston Photo Gallery

THE DEFIANTS Zokusho

NILE Vile Nilotic Rites

SONATA ARCTICA Talviyö

RINGS OF SATURN Gidim

ARCH ENEMY In Denver, CO

ENTRAILS Rise Of The Reaper

MURDERBIRD Pillars of Creation

ALTER BRIDGE Walk The Sky

EXHUMED Horror

AIRBOURNE Boneshaker

MOTORHEAD 1979 Box Set

RAY ALDER What The Water Wants

ARIA, CHERNYJ KOFE In Cologne, Germany With Photos!

TOXIC HOLOCAUST Primal Future: 2019

BMG And MOTORHEAD 1979 40th Anniversary Box Set Premiere

DREAM THEATER In Canton, OH With Photos!

ALICE COOPER Breadcrumbs EP

AMON AMARTH, ARCH ENEMY, AT THE GATES, GRAND MAGUS In Portland, OR With Photos!

MUNICIPAL WASTE The Last Rager EP

THE DARKNESS Easter Is Cancelled