SISTER SHOTGUN Fragments


By Daniel Höhr, European Correspondent
Friday, July 26, 2019 @ 8:46 AM


| | | |
| --- | --- | --- |
| | | |
SISTER SHOTGUN
Fragments
Pavement, 2019




This one's been out for a few months now and, to cut a long story short, if you dig female-fronted bands, if modern, melodic and alternative metal with guitars as heavy as a black hole and compelling vocals are your cup of tea and if you haven't got the album yet, go and get it now.

Things aren't as simple as that, of course, particularly not if you try to put the band's musical genre in a nutshell. SISTER SHOTGUN were founded in Birmingham, West Midlands, UK in 2012. The five-piece released their first full-length studio album in April this year and it is the combination of a host of different styles to something utterly unique and modern which makes this album thoroughly appealing.

The bold opener "Sacred Heart" bears more than just a superficial resemblance to music we have heard from EVANESCENCE. Bone-dry, heavy guitars, syncopated rhythms and melodic and expressive vocal lines with the occasional shouts are the main ingredients of this captivating opener. Throughout the album, vocalist Chloe Ozwell, guitarists Benji Tatlock and Niall Wills, bassist Tim Chambers and drummer Dave Harvey, take the listener from one musical highlight to the next. Be it the ultra-melodic "She Lives", the groovy "From The Ashes", or the balladesque, laid-back but still magically energetic titles track – SISTER SHOTGUN create an enchanting sonic tapestry of nu-metal, metalcore, and modern rock. And then there is the traditional heavy metal element, which is mostly manifest in the vocal lines, which are elaborate but catchy, straight-in-your-face but at the same time extremely expressive. "Miss Fortune" leaves not doubt that lead vocalist Chloe Ozwell is a hell of a singer and definitely one of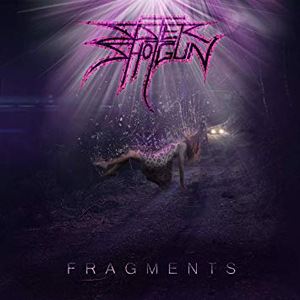 the best ones I have heard in a long time. Amid the enormously heavy guitars there is always enough room for quieter moments and "For the Love of Hate" is such a moment that guarantees goosebumps galore. The ensuing "Kill the Light" comes across as more technical and rhythmical but nonetheless convincing. "Silhouettes" starts off in a folky kind of way but soon turns out to be a modern, hypnotic rocker with a good dash of melancholic energy. "Mourning Iris" features another stadium-compatible, sing-along chorus, restless riffing and driving rhythms. "Scorn" unleashes raw energy with high-octane rhythm parts, tempo changes and soaring vocal lines. Quite why "No Hope" ended up as the bonus track on Fragments is beyond me. Never mind, this up-tempo rocker adds a good dose of rock 'n' roll to the album.
With a powerful but crystal-clear production sound, SISTER SHOTGUN's debut album turns out to be a real blast and is one of the best albums that have crossed my desk so far this year.
5.0 Out Of 5.0




Please log in to view RANTS

If you don't have a username, click here to create an account!