THE DARKNESS Easter Is Cancelled


By Krishta Abruzzini, Pacific Northwest Writer
Tuesday, October 8, 2019 @ 6:56 AM


| | | |
| --- | --- | --- |
| | | |
THE DARKNESS
Easter Is Cancelled
Cooking Vinyl




British rockers THE DARKNESS release their first album after two-years titled Easter is Cancelled on Cooking Vinyl. Known for their over-the-top flamboyant style and singer-guitarist Justin Hawkins outrageous falsetto, this new record is a concept album. The band likes to explore the idea of a Multiverse theory, in which there are alternate universes that exist synchronously. What if Jesus didn't die on the cross? Justin explains that on the day of the crucifixion, Jesus declares, "Fuck that! I'm going to use my supernatural abilities to stop this from happening!"

Justin along with his brother Dan Hawkins (rhythm guitar), bassist Frankie Poullain and drummer Rufus Tiger Taylor (son of QUEEN's Roger Taylor) first hit commercial success with Permission to Land (Atlantic) in 2003. A sophomore attempt with One Way Ticket to Hell...and Back in 2005 wasn't as successful per critics, but it sold over a million copies. Justin says of this, "If we had an album now that sold one-million, I'd gladly give you both of my testicles." With a 5-year hiatus, the band has been back together since 2011, with <>Easter is Cancelled being their sixth studio album released.

The artwork has been banned by some overseas streaming platforms for its religious connotations. The image depicts Hawkins as Jesus, affixed to a cross while breaking free from the crucifix, and his brother and guitarist Dan, bassist Frankie and drummer Rufus strike Roman guards with swords and drumsticks. Hawkins explains, "There is a baseline level of fear toward religious people in me because I am an atheist. But I don't do it to provoke, the concept isn't "Wouldn't it be funny if …? The concept is Multiverse theory we're talking about. If we're allowed to assume that there are an infinite number of alternate universes, where every possibility is reality, then there must be a reality. If we acknowledge that there was a Christ figure with supernatural powers, there must be an alternative reality somewhere in the Multiverse where Jesus and the three Marys decided to use that ability to prevent the crucifixion. Just to finally go, when the nail goes in, 'Oh, I'm not having this!' There must be a universe like that. And I don't think it's blasphemous to assume that. We're talking about science fiction, not religion. We're not the first people to subvert religious iconography in artwork, and we're certainly not saying that we're Jesus. We're not doing any of those things. I think it's a legit exploration, and I haven't felt compelled for anything yet, so I must be believing it."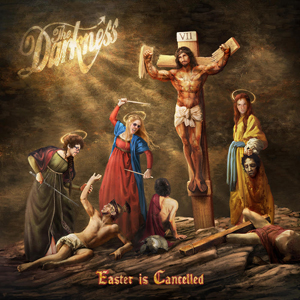 The band has always been a bit tongue in cheek. The seventh song on the record, titled "Heavy Metal Lover", has Hawkins crooning "You're so metal, I'm afraid you'll rust." Perhaps not as cheeky as video release of the first song on the album, "Rock and Roll Deserves To Die", with the rock being so heavy, it blows everyone's wigs and clothes off, revealing Hawkins' bum. Check it out on KNAC.COM HERE.
The new album is solid. With songs such as "We Are the Guitar Men", showcasing a bit of humor with a healthy dose of pomposity, to the profound feelers of "How Can I Lose Your Love" it's promising that Hawkins will not have to give up his two testicles to reach the million album sales mark. This will be an either love or hate it album amongst the fans and critics. There is not much mediocrity with this band, they are over-the-top big, as is their intention of not being a formulaic cookie-cutter band.
3.5 Out Of 5.0




Please log in to view RANTS

If you don't have a username, click here to create an account!