RINGS OF SATURN Gidim


By Peter Atkinson, Contributor
Thursday, October 24, 2019 @ 8:56 AM


| | | |
| --- | --- | --- |
| | | |
RINGS OF SATURN
Gidim
Nuclear Blast Records




RINGS OF SATURN has at best a rather dubious reputation in technical death metal circles, with eyeballs rolling at the Bay Area band's almost comically over the top delivery and questions about just how genuine that delivery really was having dogged it from day one. Five albums in, not a whole lot has changed.

The accusations are studio fakery are not quite so persistent, since so many tech-death bands have taken to using readily accessible technology and gimmickry to mask their shortcomings or enhance their chops, but controversy persists where RINGS is concerned. Mainman Lucas Mann has, of late, faced claims of cheating former band members of writing credits, etc., and, more recently, stealing riffs for "The Husk" on the band's new album. Sigh!

Through it all though, RINGS remains one of the most defiantly mind-boggling technical bands around, as evidenced by the epileptic fits of guitar and whiplash-inducing tempo changes on Gidim, the band's fifth overall. RINGS doesn't waste any time getting right down to business either. Despite the deathcore stomp that kicks off the opener "Pustules", things get spasmodic in short order as guitar nerd Charles Caswell of BERRIED ALIVE joins in for the electro-shock blips, bleeps and bloops that punctuate the track.

And it's moments like this where it's easy to hear just how and why people have been calling bullshit on RINGS for so long. The hummingbird-like, widdly twiddly licks and dub steppy rhythmic twitchiness seem to defy human agility and ability – and simple physics. A constant refrain where RINGS is concerned is "I'd like to see these guys try to play this live." And, well, I'd sure like to see these guys pull off some of the stuff here live – not that I'd actually care to see them live, but whatever.

For example, "Tormented Consciousness", which features Japanese phenom Yo Onityan, "Face Of The Wormhole" or the aforementioned "The Husk" with their otherworldly sweeps and furious fret work. They seem something more out of Bill and Ted's air guitar fantasy world than real world, well, reality.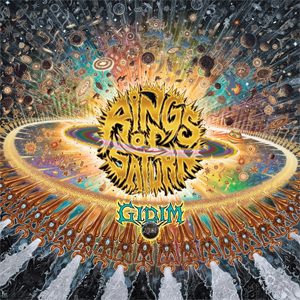 "The Husk", oddly enough, also showcases some of the album's most soulful and genuine lead work with Mann and Joel Omans' displaying deft harmonies, as does the djenty instrumental title track that closes the album and the otherwise ridiculous "Mental Prolapse". Too bad there's not more of where that came from here as it's obvious these guys can do more than just wank away.
And tracks like "Divine Authority", "Genetic Inheritance" or "Hypodermis Glitch", however fleet and flighty they may be, still seem within the realm of human possibility and make for some pretty decent technical death-core as the fluttery guitar lines dart above crunching breakdowns and supersonic blasts from session drummer Marco Pitruzella. "Hypodermis Glitch" offers the added brutality of ENTERPRISE EARTH vocalist Dan Watson's pukey gutturals, something RINGS frontman Ian Bearer seems to have no trouble handling himself on the Jekyll and Hyde-like "Bloated And Stiff", which is contrasted by moments of unexpected elegance.
Indeed for all of its faults, Gidim is nowhere near the train wreck of bogosity it could have been – or that past history might lead one to believe it was destined to be. I could barely tolerate the band's earlier efforts, but this one stood up to repeated listens with little difficulty – and without constantly setting off the bullshit detector.
2.5 Out Of 5.0




Please log in to view RANTS

If you don't have a username, click here to create an account!