ANGEL WITCH Angel Of Light


By Daniel Höhr, European Correspondent
Monday, November 4, 2019 @ 11:58 AM


| | | |
| --- | --- | --- |
| | | |
ANGEL WITCH
Angel Of Light
Metal Blade Records, 2019




Let me be honest. I thought that it was going to be another episode of Long Thought Dead NWOBHM Band Is At It Again. Expecting to find a lukewarm attempt to warm up former glory, I downloaded the promo, played the first track and – lo and behold – seconds later I scolded myself for being such a prejudiced prick. The main riff of "Don't Turn Your Back" is electrifying, old school but not old at all, and by the time Kevin Heybourne's vocals set in, I had turned up the volume and found myself headbanging in front of my laptop.

In their now 43-year history, ANGEL WITCH have gone through many different incarnations, have disappeared completely, have resurrected and fallen into oblivion again. Including the present release, their discography numbers only five studio albums released between 1980 and 2019. And yet the band, which originally hailed from Kent, England, are said to have had an enormous impact on illustrious musicians such as Dave Mustaine, CELTIC FROST's Tom G. Warrior, and Chuck Schuldiner (DEATH).

Back in 2012, guitarist and vocalist Kevin Heybourne, bassist Will Palmer and drummer Andy Prestridge released As Above, So Below, the first ANGEL WITCH studio album since 1989. It was widely considered one of the few records by a band of such vintage to stay true to the music's original spirit. And yet it seemed to be a mere precursor to the present release. The present eight tracks laid down by Kevin Heybourne, bassist Will Palmer, rhythm guitarist Jimmy Martin and drummer Fredrik Jansson Punkka under the auspices of producer James Atkinson at the Stationhouse in Leeds are fresh and raw, bursting with heavy metal energy and couldn't be further away from NWOBHM nostalgia. Instead, the four-piece translate classic ANGEL WITCH virtues into a cutting edge sound with a fresh attitude.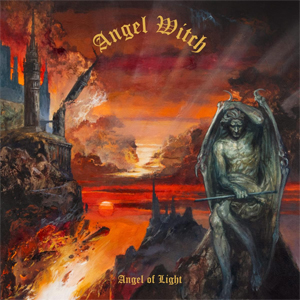 The thunderous opener "Don't Turn Your Back" is followed by the dramatic science-fiction-themed "Death from Andromeda", which culminates in an epic twin-guitar harmony. The biting dissonances that mark the beginning of "We Are Damned" are most suitable for the subject-matter of that song but stand in stark contrast to the anthemic vocal line in the chorus. The ballad "The Night Is Calling", whose doomy riff in the middle section betrays some BLACK SABBATH influence, is, in fact, an ANGEL WITCH classic that existed only as a bootlegged live version. It is hardly believable that the song wasn't recorded in four decades. Also, "Condemned" is riffy, anthemic and a real killer track. The high-octane galloping and sludgy riffs on "Window of Despair" make this track a relentless up-tempo assault while Kevin Heybourne and his bandmates turn it down a notch for the groovy metal hymn "I Am Infamy". Finally, the climactic title track offers a good dose of end-time intensity coupled with a generous dash of demonic grandeur.
The eight tracks on Angel of Light are true killers, fresh, doomy and relentless. The new ANGEL WITCH album may well be the comeback of the year and will delight not only long-standing fans of the band but will go down extremely well with disciples of all metal genres, especially those who like it fast, hard and gloomy.
5.0 Out Of 5.0




Please log in to view RANTS

If you don't have a username, click here to create an account!