HAMMERFALL's Halloween Ball In Ottawa, Canada


By Andrew Depedro, Ottawa Corespondent
Tuesday, November 5, 2019 @ 10:18 AM


| | | |
| --- | --- | --- |
| | | They Make Halloween Rock! Swedish Metallers Nail Their First Soaking O-Town Appearance With Special Guests At Mavericks |
Despite this year's Halloween requiring the use of an ark in order to engage in any household visits for candy, this would be an October 31 for many to remember in the metal community – moreso for me as I finally got to check out Ottawa's first-ever exclusive metal-themed burger restaurant known as the Koven and shared a pic or two with the legendary Swedish headliners of the Halloween Ball.

And absolutely moreso for the four local bands who got the opportunity to open up for the aforementioned legendary Swedish headliners.

Initiating the festivities of the night would be local power metallers MACHINE MESSIAH as they play a fairly energetic 30-minute set. Fronted by the grandiloquent-sounding Bobby Stones (who I swear sports more golden bling than most hip-hop artists), the band's setlist from when I'd last caught them opening for WARRIOR SOUL last year hasn't been drastically altered that much outside of dropping "My Way". Nevertheless, their performance hasn't slowed down by much since then either. The dual guitar work of Everett Mayhew and Brennan Whitworth is still cohesive on tracks such as "Rise From The East", "Crown Of The Realm" and their DIO-inspired "The Valley Of The Kings". Presumably, their schedule after a couple more shows will include continuing to demo more songs including the ones they'd played during their set in time for a couple of six-song EP's set for release in the near future. They prefer not to be rushed in the process of doing so as they are only humans being.

https://www.facebook.com/machinemessiahcanada/
https://www.reverbnation.com/machinemessiahcanada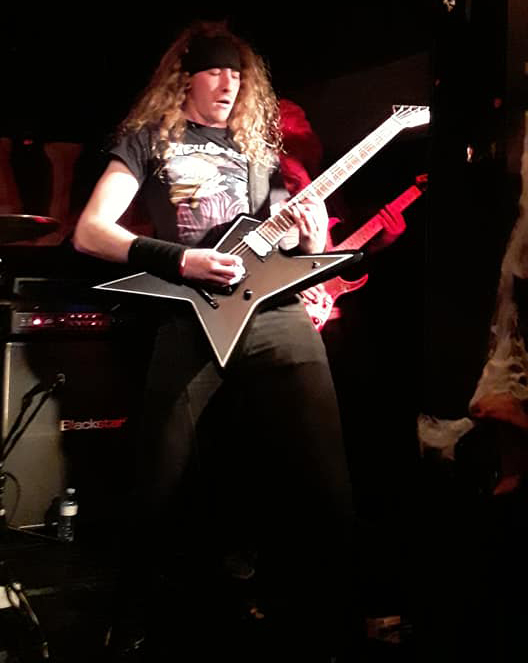 Following MM's set would be the equally fast and furious performance by SCEPTER, whom I swear I've reviewed before in some capacity – which could have been either the opening slots for THOR and BATTLE BEAST back in September that I ended up having to pass on due to babysitting commitments. In any case, with their own influences more steeped in trad metal – particularly the New Wave Of British Heavy Metal – and European power metal such as STRATOVARIUS and RUNNING WILD to name a few, it made sense for the energetic quintet to appear on this bill. One could credit original frontman Kelsey Graham for helping to shape the 4-year old band's sound over time. And many of us did as he would be moving back to the UK within a few days after his last-ever set with the band. Decked out in his Halloween costume of what appeared to be Fish from MARILLION gone old school steampunk, Graham wailed out a couple of early SCEPTER tunes such as "Burn Bundy Burn" and "Drink On", the latter with a pretty obvious yet distinctive ALESTORM meets RUNNING WILD vibe to it. Otherwise, the stage belonged to newcomer Ben in his Teenage Mutant Ninja Turtle costume as he put his own mark on "Protector Of The Skies" and "Shadows In The Tower". The chemistry between him and the rest of the band seemed to gel quite well as he challenged the dual guitar fury of Josh Collins and Rob Bell (both of whom were born for the stage given their energetic soloing). Also, a moment of recognition for the quick actions of Taylor Butler who subbed on drums a few days before the show on behalf of original skinsman Dmitri "The Russian Percussion" Elizarov who was sidelined due to injury; may the rest of the SCEPTER crew anoint you with a proper nickname on the same level as Russian Percussion.
https://www.facebook.com/sceptermetal/
https://sceptermetal.bandcamp.com/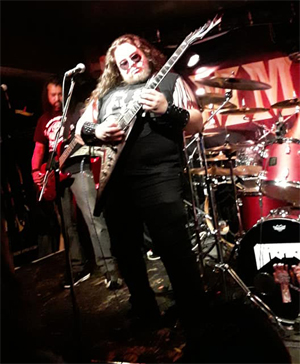 Playing the first of a couple of literal warm-up slots before they screech up north for Newfoundland's November Mayhem festival in about two weeks' time, Skyrim-savvy metallers LYCANTHRO get their game on with opening number "Crucible". With last year's The Four Horsemen Of The Apocalypse EP gaining recognition thanks to the solid touring hoof work of James Delbridge (vocals/guitars), David Shute (guitars) and newcomers Karl-Anthony Kalli (bass) and Panos Andrikopoulos (drums), the quartet have been finding themselves on more large scale national metal festivals. Credit the 14-minute long opus "Pale Rider" for much of the EP's success even if it means that its otherwise wild live rendition limits LYCANTHRO's stage time to three songs in total including a fiery cover version of HELLOWEEN's "Heavy Metal (Is The Law)". Otherwise, this was a fine performance for the band to break in their new rhythm section bit by bit before the cries of the November Mayhem from out east get louder.
https://www.facebook.com/Lycanthrokills/
http://www.lycanthro.ca/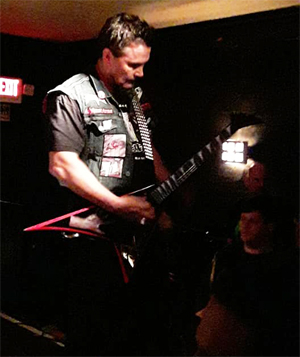 The last local band of the evening in the form of thrashers INFRARED have about a good decade or so of longevity over the headliners though just not as active until about 5 years ago when they got back into playing live and recording again, a full-scale opening slot alongside ATROPHY in 2017 having boosted interest amongst both local and global metal fans alike. Opening with "Project Karma", the quartet of Armin (vocals/guitar), Mike Forbes (bass), Alain Groulx (drums) and Kirk Gidley (guitars) brought forth their well-primed thrash licks and raging vocals to the masses. Two new songs would be premiered that night – "DemiGod" and "One Mouth, Two Faces" from their EP Back To The Warehouse – and the crowd went wild. With last year's comeback album Saviors having brightened their path to belated stardom, INFRARED can now claim this show as the latest in high-profile co-headlining conquests. Even KNAC.COM's started posting their videos and MP3 recordings so evidently their future's becoming a lot more rosy than expected.
https://www.facebook.com/infraredmetal
http://infraredmetal.ca/index.html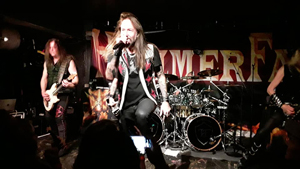 They might have traversed by air to North America and by bus across the continent for about the past week or so and for the next month and a half, likely making their way onto Greta Thunberg's shitlist because of that nagging carbon footprint reduction plan, but while the former is making the planet woke, headliners HAMMERFALL would make Ottawa rock. Nevertheless, with the weather being all rainy and frigid outside, it was up to the Swedish power metal quintet to provide their own brand of Nordic global warming even if it meant providing the equivalent of four planets' worth. Much of that unbridled energy was courtesy of the release of their 11th and latest studio album Dominion, which champions the birthing of the power metal movement from the early years from 80's-era PRIEST and Yngwie Malmsteen to the new breed such as SABATON. Even if the album's lead-off single "(We Make) Sweden Rock" sounds auspiciously like a 4-minute long tourism ad in parts, it's a catchy number that surprisingly transcends over well to all audiences familiar with the history of the whole genre. For the Ottawa crowd to whom HAMMERFALL were playing to for the first time, they were a welcome surprise given their tendency to overlook this market during their previous North American tours; even their upcoming spring tour with BEAST IN BLACK will be making the usual Toronto/Montreal/Quebec City trip. Thankfully, out of the previous occasions I'd been lucky to catch 'em – first at Heavy MTL in 2008 and again in Hollywood in 2010 – this would be the first time I'd be seeing the mighty Swedes in my hometown.
Opening with the new number "Never Forgive, Never Forget", the Gothenberg, Sweden-based quintet comprised of Joacim Cans (vocals), Oscar Dronjak and Pontus Norgren (guitars), Fredrik Larsson (bass) and David Wallin (drums) delivered a high-energy performance for the next hour. Tales of victory, glory and the gathering of the Templars (the band's name for their fans) abounded throughout the set with newer songs such as "One Against the World" and the title track off the new disc. Familiar tracks such as "Riders Of The Storm", "Renegade", "Any Means Necessary" and the show closer "Hearts On Fire" a.k.a. Sweden's women's curling's official anthem were easily prompted by some raised horns and a bit of moshpit action in between thanks to the rousing energy of Joacim's stage swagger. The band itself were musically tight throughout the entire concert, given that while most diehard HAMMERFALL fans are more familiar with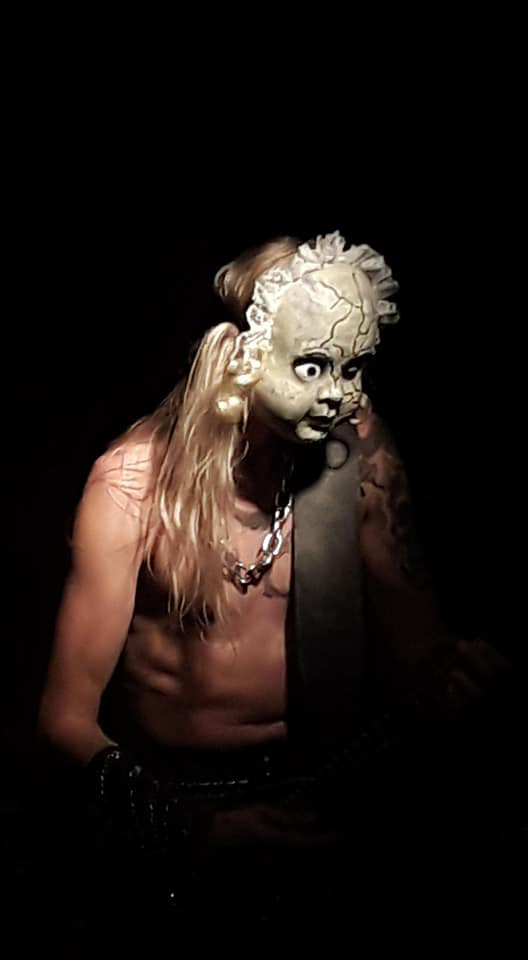 the Stefan Elmgren era of the band, his replacement Pontus Norgren (ex-THE POODLES), having been in the band since 2008, has perfect chemistry with Oscar Dronjak whenever the pair are in solo dueling mode on earlier classics such as "The Dragon Lies Bleeding" and "Let The Hammer Fall". The latest newcomer to the group, drummer Peter Wallin who joined in 2014 and has been an on-off member for the past two years, creates a solid and well-rounded sound for the band with his magnetized metronomic playing and gives the band an overall raw vibe in their music. Dominion and this tour overall showcases just how much of a conquering force HAMMERFALL have been in the power metal genre for the past quarter century.
With thanks to Christina and CHORD Productions for bringing this tour over to Ottawa.
Setlist:
"Never Forgive, Never Forget"
"One Against The World"
"Riders Of The Storm"
"Renegade"
"Hector's Hymn"
"Blood Bound"
"Any Means Necessary"
"Dominion"
"The Dragon Lies Bleeding"
"Last Man Standing"
"Let The Hammer Fall"
"Hammer High"
"(We Make) Sweden Rock"
"Hearts On Fire"
https://www.hammerfall.net/
https://www.facebook.com/hammerfall/




Please log in to view RANTS

If you don't have a username, click here to create an account!