AGNOSTIC FRONT Get Loud!


By Peter Atkinson, Contributor
Tuesday, November 12, 2019 @ 10:15 AM


| | | |
| --- | --- | --- |
| | | |
AGNOSTIC FRONT
Get Loud!
Nuclear Blast Records




"The Godfathers of Hardcore" may be reaching the age where they could be considered "the Grandfathers of Hardcore", but no bother, the five guys of AGNOSTIC FRONT are still more than ready to Get Loud!, as the title of the band's latest effort declares.

Longtime main members, vocalist Roger Miret and founding guitarist Vinnie Stigma, are now in their mid 50s and early 60s, respectively – and AGNOSTIC is approaching 40 itself, if you include the five-year mid-'90s hiatus. Yet the band hits as hard as ever on Get Loud!, bolstered by an almost unprecedented run of lineup stability - with the same members who played on 2015's The American Dream Died returning here, just the second time AGNOSTIC has managed something like that.

Get Loud! really doesn't offer any surprises, but with a band like AGNOSTIC FRONT that's not a bad thing. Five years of touring has made this an especially tight and confident unit, and it delivers 14 tracks with the usual brutal efficiency, no bullshit and perhaps some extra crossover-style oomph. "New York hardcore" energy and urgency are the order of the day here, as six songs race by in less than two minutes with the nostalgic anthem "I Remember" standing as the album's lone "epic", barely breaking three minutes.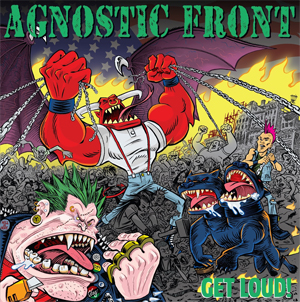 The crunching "Spray Painted Walls" gets things rolling with its inviting, rally cry vocal lines and mean-ass hooks before the band breaks into a dead sprint with the ferocious "Anti-Social" and its "stay the fuck away" sentiments. This encapsulates the dichotomy that has always been at the heart of AGNOSTIC's bluster: one half attack dog barking socially aware invective ("Snitches Get Stitches", "Attention", "Conquer And Divide", "Urban Decay"), one half head coach preaching hardcore as a team sport (the title track, "In My Blood"). Yet the band – and Miret in particular – presents both sides of its personality with equal power and passion.
As NYHC pioneers and lifers, AGNOSTIC doesn't have anything left to prove, so Get Loud! stands as a testament to the band's seemingly limitless tenacity and the remarkable staying power of the movement it helped create, if nothing else. But those are flags the band still flies proudly, as evidenced on "In My Blood" where Miret bellows that New York hardcore "keeps me alive, with all my heart." And there is certainly no reason to doubt that.
So much for growing old gracefully.
4.0 Out Of 5.0




Please log in to view RANTS

If you don't have a username, click here to create an account!