BLACK ROZE Spiritual Hell


By Daniel Höhr, European Correspondent
Sunday, December 1, 2019 @ 2:02 PM


| | | |
| --- | --- | --- |
| | | |
BLACK ROZE
Spiritual Hell
Self-Release, 2019




Every now and again you come across artists on social media you wouldn't have heard about otherwise unless you lived in the country they're from. I mean bands that are starting out, putting their heartblood into their music and performances, and working their arses off to write, record and release an album without the support of a record label or promoters.

One of those bands I have come across on Facebook is BLACK ROZE from Kent, England. Formed in 2015, the female-fronted five-piece started off doing covers and quickly acquiring their loyal fan base. Original material was written, a three-track EP was released, the venues they played got bigger and bigger, and in October this year, their first full-length studio effort, Spiritual Hell, was released. BLACK ROZE are difficult to pin down stylistically but take a generous dose of sleaze rock, a handful of classic metal riffs, a good dash of goth feel and musical expression in abundance and you will come close.

BLACK ROZE are vocalist Viixen, guitarists Baz Roze and Jaime Cortinas, bassist Steve Rankin, and drummer Vic Finch. The ten tracks on Spiritual Hell are as diverse as they possibly could be. The atmosperic mid-tempo stomper "Obscenity", which opens the album, has a bit of a folky feel about it and the chorus soon turns out to be the first of a series of earworms on this album. "Godz N Queenz" combines a killer groove with tons of sleaze, particularly in the vocals, and lead guitar work that is reminiscent of Appetite For Destruction-era GUNS N' ROSES. The energetic up-tempo rocker "Why Don't You" features some great bass playing and a chorus that's gonna stay in your head for quite a while. "Soul on Fire" showcases BLACK ROZE's ultimate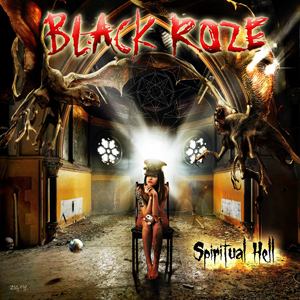 strength, namely musicality and expression. Be it the recurrent lead guitar melody, be it Viixen's emotional singing, the melodic bass line or the climactic double-time development of the song – this composition is throbbing with passion and dripping with heartblood. The catchy "Snow White Angel" brings in some good-times rock vibes while "In The Darkness (Hell)" has a doomy BLACK SABBATH feel to it. Viixen and her bandmates turn up the tempo a fair notch on "Curse of the Black Roze", a sinister song that is deeply rooted in classic 1980s heavy metal. "So Sleazy" is much more lighthearted and picks up the good feel of "Snow White Angel". BLACK ROZE wrap up their debut album with a reprise of "In The Darkness" – but this time it's "In The Darkness (Spiritual)". The gloomy riffing is now replaced by acoustic guitar sounds, a steady groove and atmospheric keyboards. And once again it is Viixen's singing that sends myriads of shivers down my spine.
The ten tracks on Spiritual Hell make me want to listen to more music of BLACK ROZE and leave no doubt that the five-piece are seasoned musicians. Producer David Salter did a great job giving those tracks a punchy sound that is honest and direct. Still, there are moments on this album where the sound could do with a bit more transparency and brilliance – but this is high-level whinging now. This album is definitely recommended and will hit the spot with fans of GUNS N' ROSES, THE DOGS D'AMOUR and SKID ROW as well as metal heads who appreciate classic British heavy metal.
4.5 Out Of 5.0
The album can be orderd through the BLACK ROZE webshop
https://blackroze.wixsite.com/website/shop




Please log in to view RANTS

If you don't have a username, click here to create an account!