AMORIELLO Dear Dark (EP)


By Alex Yarborough, Orlando Contributor
Friday, January 17, 2020 @ 11:46 AM


| | | |
| --- | --- | --- |
| | | |
AMORIELLO
Dear Dark (EP)
2020 Ice Fall Records




AMORIELLO is the studio project of guitarist Thomas Amoriello. Dear Dark is the project's new EP, and follows in the footsteps of the successful eponymous debut album released in 2018. Again, you will find elements of neoclassical heavy metal and a healthy influence of Yngwie Malmsteen and DEEP PURPLE. Joining Mr. Amoriello on this five-song EP are: Carlos Zema (OUTWORLD, IMMORTAL GUARDIAN) on vocals, Anthony Stahl (KING'S RAGE) on keyboards, Ken Stravropoulos (CACOPHONY) on drums, and Emilio Martinez (Yngwie Malmsteen) on bass. There are several other guest musicians of note, which I will get into later.

Track one is the title track, "Dear Dark", which marches along with an epic mid-tempo stomp. The backing organ gives this an old school metal feel, and Amoriello adds his smooth solo to the track. "This Burning Evil" picks up the pace a bit. The song is inspired by horror movies like Susperia, The Omen, and The Exorcist. Stahl provides an atmospheric keyboard base while Zema's contrast between a smooth and frantic vocal delivery is intriguing.

The third track I would consider to be the centerpiece of the EP, seeing as it's the middle track, and possibly the most defining. The instrumental shred feast "Thirty Four Strings of Fury" features guest solos by Ronni LeTekro (TNT), Toby Knapp, Alex Masi (MASI), and Glen Drover (EIDOLON, MEGADETH). Thomas Amoriello provides rhythm guitar and a solo here as well. James Pulli (IMPELLITTERI) plays bass on this song.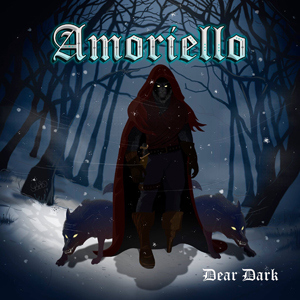 The fourth song is probably my favorite among the bunch. "Magic Wand (Abracadabra)" features the most menace of any song here, both musically and vocally. This track would have fit well on Malmsteen's debut album. The EP ends with the short ballad "Milan's Dream", which acts as an outro.
A note about the production (by Luke DeMuro and Nick Perez) and mastering (by Mark Trewella): this EP sounds amazing, and that bottom end is absolutely lethal. Ice Fall Records is releasing this EP physically only on cassette, which is a cool retro marketing idea. Dear Dark will appeal to traditional epic metal fans of bands like JUDAS PRIEST, YNGWIE MALMSTEEN, KING DIAMOND and SAVATAGE. Dear Dark does a great job setting the stage for the next AMORIELLO album. You can view a teaser for the EP HERE.
4.5 Out Of 5.0




Please log in to view RANTS

If you don't have a username, click here to create an account!