SUICIDE SILENCE Become the Hunter


By Krystiee Lee, Editor
Monday, February 3, 2020 @ 12:44 AM


| | | |
| --- | --- | --- |
| | | |
SUICIDE SILENCE
Become the Hunter
Nuclear Blast




Deathcore metal band SUICIDE SILENCE from Riverside, California announced the release of their 6th studio album Become The Hunter, which was produced by Steve Evetts (THE DILLINGER ESCAPE PLAN, HATEBREED, SEPULTURA), mixed by Josh Wilbur (TRIVIUM, GOJIRA, LAMB OF GOD) and mastered by the esteemed Ted Jensen (PANTERA, SLIPKNOT, THE EAGLES) and will be available for your metal-loving eardrums on February 14.

Known for their penetrating beats, growling vocals, and constant breakdowns, the 2002-formed band is still keeping the genre ĎDeathcoreí at its greatest and I donít think they will ever change that. With past line-up changes, the band members currently include Alex Lopez (drums), Chris Garza (Guitar), Mark Heylmun (Lead Guitar), Dan Kenny (bass), and Eddie Hermida on vocals following the unfortunate passing of past vocalist Mitch Lucker in 2012. Thankfully, Eddie kept the vibe of the original SUICIDE SILENCE and continues to do so to this day.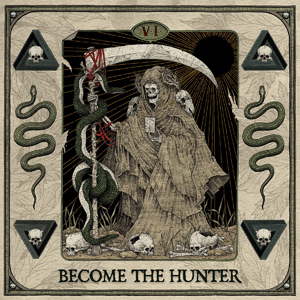 After listening to Become The Hunter I was actually pretty damn impressed. I mean literally right off the bat "Meltdown", the first instrumental track basically gets you intrigued, pumped, and ready for more. It fully grabbed my attention and pulled me in until the very last second of the last song.
I canít even explain to you how fantastic each song is on this album, and Iíll be honest, after the huge amount of backlash and negative opinions on their last self-titled album, released in 2017, I was almost dreading doing this review. But holy hell, Iím so glad I did! If you are looking for A full force, emotion filled lyric masterpiece, stabbing guitar riffs, and insane drums to sum it all up, this is an album for you to straight up blow out your eardrums and not regret it. Each track, and I mean EACH track is exactly what you want from SUICIDE SILENCE and the whole record builds up so much intense pressure that it will completely blow your mind if you already consider yourself a longtime fan.
4.0 Out Of 5.0




Please log in to view RANTS

If you don't have a username, click here to create an account!